Details
2000 Watt Voltage Converter • Step Down Voltage Transformer
With an International THG-2000 Type 1 Step Down 2000 Watt Voltage Converter from 220 Electronics enables to power devices that require conversion from 110 volts to 220 volts. In most countries of the world 220 volts is the standard. This transformer will step that voltage down to 110 volts. This means you can use appliances like a well pump. Don't forget that the device you are using should never be rated 2 to 3 times higher than the wattage rating of your converter. Purchase your 220 Electronics 2000 watt voltage converter today to insure the safe use of your product.
Weighs 24 lbs. (10.9 kg)
Dimensions: 6 in x 7 in x 5 in (15.2 cm x 17.8 cm x 12.7 cm)
For use of 110 Volts electronics in 220 volt countries
One grounded outlet in front of unit (accepts 3 or 2 prong US and Euro plugs)
Heavy-Duty Continuous Use Transformer
Hardwired for Euro Plug also Usable for Asian Countries.
Durable Design with a Heavy-Duty Cord
Step Down Voltage Converter
This Voltage Transformer Steps 220-240 Volts Down to 110-120 Voltsm which enables 110 volt appliances to be used in 220, 230 or 240 volt countries.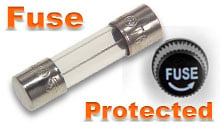 Fuse Protected Voltage Transformer for Your Safety
All of our Transformers are fuse protected for your safety and for the protection of the 110 volt to 240 volt appliances which are connected to them.
Voltage Converter Comparison Chart • Voltage Transformer Comparison Chart
Roll Over
for More Information
Type 1
Type 2
Type 3


Diamond Series

Type 4
Type 5


Diamond Series

Step Down Converter
Step Up Converter
On/Off Switch
w/ Indicator Light

For Continuous Use

The Heavy Duty Design of ALL our Voltage Transformers allows them to be used on a continuous basis. Be sure to purchase the correct wattage Voltage Converter for you needs.

Heavy Duty Design

Fuse Protected

In case there is voltage irregularity, unstable voltage, voltage spikes, or surges, this converter is designed to protect your expensive equipment. In most cases, the built in fuse will blow before anything can reach your equipment.

Extra Strong
Lifetime Copper Coil
Recommended for
High Value Items
Extra Durable Lifetime Coil
Limited Warranty
1 year
1 year
5 YEAR
1 year
5 YEAR
Universal Output Plug

Built-in Voltage Regulator

In some countries, the voltage fluctuates so much that it can damage electronics. These voltage transformers with built-in voltage stabilizers protect your valuable electronics.

Starting Price...
$7.99
$9.00
$19.80
$30.00
$89.88
Star Rating
4 Stars

4½ Stars

5 Stars

4½ Stars

5 Stars

Shop Now!
Type 1
Type 2
Type 3
Type 4
Type 5