Details
Sharp LC-19A35M Multi System LCD TV; PAL, NTSC and Secam 100-240 Volts:
The Sharp LC-19A35M is a excellent Small Sized multi system LCD TV. It supports all Pal/NTSC/SEcam inputs, and has world wide tuners for almost every part of the world. It is 110-240 volts like all our televisions and can be used anywhere in the world. It's elegant Piano black finish, wit a hint of silver make it a real beauty. Yacths, bedrooms, small rooms in the house, offices, and RVs are great places to use this TV. Best of all the Sharp LC-19A35M is small enough to fit almost anywhere and can be easily mounted on the wall using are inexpensive wall mount that you can order below. Don't forget to purchase our HDTV cable package on Sale for $59 which is 50% off normal prices. It includes 4 cables that are 6 ft long that can be used with this TV. They are all commercial grade heavy duty cables and include a HDMI cable, Component cable, RCA cable and S-video Cable.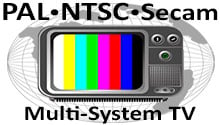 Multi-System TV - PAL, NTSC and Secam
This multisystem TV is compatible with PAL, NTSC and Secam video formats. You can use this television anywhere in the world with ANY type of video device!
Worldwide Voltage - 110v, 120v, 220v, 230v and 240 volt!
Global Dual Voltage on this Multi-system TV means it can be used anywhere. Multi-voltage TV's can be used in any country with voltage from 110 volts to 240 volts!
Space-Saving LCD Flat Panel Technology
Multi-System LCD TV's offer stunning video performance and a great value. Enjoy High Definition video in a space-saving flat panel design with this multisystem TV.
Sharp LC-19A35M Multi System LCD TV Specifications:
Designs and specifications are subject to change without notice.
16 X 9, 1366 X 768 Resolution, Wide Screen LCD Hi Definition TV
NTSC/PAL/PAL-60/SECAM/ Color System - Watch any video signal on this TV!
World Wide NTSC M/ PAL/Mesecam BG, DK, I TV tuners enables you to plug your cable TV line right into the TV and start watching.
HDMI input supports HDTV for 1080i Resolution
18.5" Active Matrix TFT ASV (Advanced Super View) LCD Panel Sharp proprietary panel with Black TFT low reflection coating.
AQUOS Liquid Crystal Televisions are very bright, so you can put them anywhere even near windows, doors or other light sources and their picture will still be vivid.
60,000-Hour Lamp Life
Sharp's LCD backlight life is long enough to give you viewing pleasure for many years.
Allows you to invert the image upside-down or "mirror" image if you need to hang it in an unconventional manner.
170º/170º Viewing Angles
are so wide you can view AQUOS Liquid Crystal Televisions from anywhere in the room!
Carry Handle/Table Stand is the ultimate in convenience! Carry it easily from room to room or detach the one-piece stand for wall mounting.
4-line digital comb filter
800:1 contrast ratio provides incredible images whether you're watching dark or bright scenes!
Pixel Resolution: 1366 X 768
Brightness: 300 cd/m
Lamp Life: 60,000 hours
Matte Black Cabinet Color
Headphone Connection
EZ Setup with Auto Clock Function
Color Temperature Adjustment
Brightness Adjustment
On-Screen Display Languages: English, Spanish, French
V-Chip Parental Control
Sleep Timer, Wake-Up Timer
Picture Flip Function
Audio System: 2.5W + 2.5W
HDMI Input
Component Input (Y/Pr/Pb)
S-Video Input
Composite (AV) Video Input
Composite (AV) Video Output
Audio Output: RCA: L/R x 1
ENERGY STAR Compliant
Power Consumption AC: 77W
462mm Wide X 360mm high X 75mm deep with stand
462mm Wide X 320mm high X 75mm deep without stand
Weight: 17.5 lbs. (With Stand), 15.5 lbs. (Display Only)
World-wide Dual Voltage 110-240 volts 50-60 hertz
1 year parts and labor Limited Warranty from Sharp
← Back to product description



HD 720

720p is a progressive HDTV resolution signal format with 720 horizontal lines. All major HDTV broadcasting standards include a 720p format which has a resolution of 1280×720. The number 720 stands for the 720 horizontal scan lines of image display resolution (also known as 720 pixels of vertical resolution), while the letter p stands for progressive scan.



Built-In Analog Pal, NTSC, and Secam TV tuner

Analog Pal, NTSC, and Secam tuner built in for world wide use for analog tuning. If you are in a country that utilizes digital tuning such as DVBT or ATSC a Cable Box or Satellite receiver is needed. If You have any questions regarding this please call us. With the appropriate setup this TV can be used anywhere in the world.
← Back to product description