Details
Sharp LC-19LE150m 19" Multi System Aquos LED TV 110 220 240 volts Description
This LC-19LE150M was built for the 220-240 volts, 50-60 hertz market! This Sharp supports 720p resolution and a wide viewing angle allowing the TV to be placed anywhere in your home. This Sharp LC-19LE150M 19" AQUOS Multisystem LED TV features a USB port for service only, and a component input so that other multimedia devices can be connected. There is a HDMI input, which allows you to connect your favorite HD device. The black LC-19LE150M 19" AQUOS Multisystem LED TV from Sharp supports NTSC, PAL and SECAM video systems.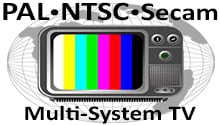 Multi-System TV - PAL, NTSC and Secam
This multisystem TV is compatible with PAL, NTSC and Secam video formats. You can use this television anywhere in the world with ANY type of video device!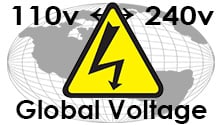 Worldwide Voltage - 110v, 120v, 220v, 230v and 240 volt!
Global Dual Voltage on this Multi-system TV means it can be used anywhere. Multi-voltage TV's can be used in any country with voltage from 110 volts to 240 volts!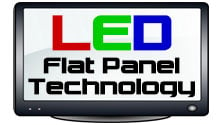 Space-Saving LED Flat Panel Technology
Multi-System LED TV's offer stunning video performance and a great value. Enjoy High Definition video in a space-saving flat panel design with this multisystem TV.
Sharp LC-19LE150m 19" Multi System Aquos LED TV 110 220 240 volts Specifications
Model: SHARP LC19LE150M
Type:LED
Screen Size Diagonal:19" (48 cm)
Aspect Ratio:16 : 9
Native Display Resolution:1366 : 768
HDTV Display Capability: Yes, 720p
3D Supporting: No
Converting 2D to 3D: No
Supporting 24p True Cinema:Yes
Brightness: 250 cd/m2
Contrast Ratio (DCR): 50000 : 1
Audio Output Power: 6 W
Number of speakers:2
Surround System:Yes
Dolby® Digital Decoder: No
Inputs: Component, HDMI, USB (photo, music), S-Video, RGB
Outputs:Headphone
PAL-B/G, PAL-D/K, PAL-I, NTSC-M: Yes
SECAM-K1, SECAM-B/G, SECAM-D/K: Yes
NTSC 4.43, PAL 60Hz, PAL, SECAM: Yes
Interntet capability: No
Color:Black
TV with stand (WxH): 46 x 34 cm
TV without stand (WxH):46 x 32 cm
LED TV:SHARP 19LE150M
← Back to product description



HD 720

720p is a progressive HDTV resolution signal format with 720 horizontal lines. All major HDTV broadcasting standards include a 720p format which has a resolution of 1280×720. The number 720 stands for the 720 horizontal scan lines of image display resolution (also known as 720 pixels of vertical resolution), while the letter p stands for progressive scan.



Built-In Analog Pal, NTSC, and Secam TV tuner

Analog Pal, NTSC, and Secam tuner built in for world wide use for analog tuning. If you are in a country that utilizes digital tuning such as DVBT or ATSC a Cable Box or Satellite receiver is needed. If You have any questions regarding this please call us. With the appropriate setup this TV can be used anywhere in the world.




USB Input

USB stands for Universal Serial Bus. A USB port is a cable connection interface used on personal computers and consumer electronics. USB ports allow stand-alone electronic devices to be connected via cables to a computer or to each other.
← Back to product description