Voltage Converter Buying Guide
What is a Voltage Converter?
A voltage converter (also known as a power converter or voltage transformer) is an electric power conversion device which is used to change the electrical output of a power source. The most common use for these converters is to change the voltage from 220 volts down to 110 volts, or from 110 volts up to 220 volts. When an electronic device, appliance or power tool was built for a specific voltage which is not available, the only way the device can be used is by converting the power up or down to the correct level. The need for a voltage converter often arises for people who travel abroad or take overseas vacations and bring electronics along with them.
The video above contains helpful, detailed information about international voltage differences as well as the various types of converters. Please watch the video and then read the information below to have a complete understanding of how a voltage converter works, the different types of converters, and how to identify the proper converter for your specific needs.

Step Down and Step Up Voltage Converters: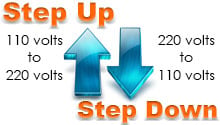 Step Down voltage converters are used to step down the electricity in the countries that use 220 volts, 230 volts, or 240 volts. These step the electricity down to 110 volts so you can use 110 volt electronics and appliances.
Step up voltage converters allow the user to step-up from 100 to 220 volts. Additionally, all of the step up converters we carry also work for step down, meaning they can be used in both ways - to step up voltage from 110 volts to 220 volts, and also to step down voltage from 220 volts to 110 volts. This style of converter is commonly known as step-up/step-down, or a 2-way converter.
We carry a complete line of step up and step down converters available in sizes up to 25,000 watts.
Click here to see our selection of Voltage Converters.
Which Type and Size of Voltage Converter Do You Need?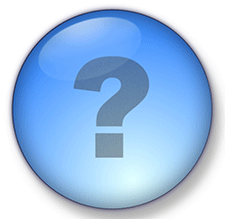 If you plan to take electronics or appliances that were purchased in a 110 volt country and use them in a 220 volt country, a "Step-Down" converter is needed. If you plan to take electronics or appliances that were purchased in a 220 volt country and use them in a 110 volt country, a "Step-Up" converter is needed. To determine whether you'll be best suited with a step up or a step down converter, use our global voltage guide map as a reference. This will help you to identify the correct voltage being used in the area(s) you'll be traveling to. Next, see our voltage converter comparison chart for more information on the different types of converters and the features they offer.
The size of a voltage converter is defined by the wattage. Therefore, the size you'll need depends on which devices you'll be powering and the number of watts they use. We would recommend using a voltage converter / transformer which has a Wattage that is 2 to 3 times higher than your appliance. Certain appliances such as power tools, motors, laser printers and TVs require a converter 2-3 times the Watts that the appliance is rated for because they require a surge of power when they are turned on. This extra wattage is a precautionary measure to ensure that your equipment will function properly and that the voltage converter will not be damaged. Keep in mind that a transformer with a higher watt rating will never hurt your appliance, however if you buy one that is not strong enough, it will not work.
How To Find the Watts On Your Appliance and Select the Proper Voltage Converter
To determine the correct model of voltage converter or heavy duty transformer you need, you'll first have to identify the wattage of the electronic devices or appliances that you plan to take with you. You can find this information listed on the manufacturer's label which is located on the back or bottom of the device or appliance, or in the specifications section of the appliance owner's manual.
IMPORTANT NOTE: Watts may be abbreviated as W on your appliance. However if you can't find Watts or W on the label of your appliance, then you may be able to find Amps, also known as amperage or A. This can be converted to Watts in order to select the correct converter.
If only the amperage rating is shown, multiply the input voltage by the amperage rating to find the wattage rating. Use the following example as a guide: Volts x Amps = Watts or 110V x 1.5 A = 165W
What is a Voltage Stabilizer and Do I Need One?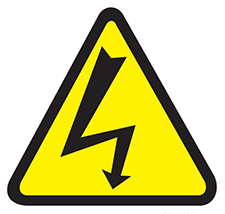 In certain countries, the power supply's voltage can fluctuate up and down, much more than just a few volts. These are called "brownouts", and they are very common in some areas. A brownout occurs when the regular voltage drops far below normal, causing lights to nearly dim out. For electronics and appliances, this is worse than if the voltage went completely out. Many times when a brownout happens, this low voltage condition rises back to normal with a sudden surge of power (watts) so strong that it can damage electronics and appliances.
To help you protect valuable electronics from sudden power surges, we offer high quality converters containing built-in voltage stabilizers. Our Type 4 and Type 5 voltage transformers keep the output voltage at a stable level regardless of how much the input voltage varies. If conditions cause extreme fluctuations in voltage, the converter will simply shut down, preventing any damage to your equipment.
What are Hertz - 50 Hz vs. 60 Hz?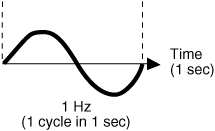 Hz is an abbreviation for Hertz, or cycles. One cycle per second equals one herts, or 1Hz. North American 110-120 volt electricity is generated at 60 Hz (60 cycles per second) alternating current. Most foreign 220-240 volt electricity is generated at 50 Hz (50 cycles per second) alternating current. This cycle difference will cause analog clocks and timing circuits that use alternating current as a timing base to keep incorrect time. However, most modern electronic equipment including cellular phone chargers, computers, printers, stereos, tape and CD players, VCR/DVD players, CRT, Plasma, or LCD TVs and Monitors, etc. will not be affected by the difference in cycles.
110 Volts vs. 120 Volts or 220 Volts vs. 230 Volts vs. 240 Volts?
Voltage converter ratings are generally within a voltage range. Appliances rated for 110 volts or 120 volts can usually operate from anywhere between 100 volts and 127 volts. Likewise, 220 volt or 230 volt appliances can usually operate from anywhere between 220 volts and 240 volts. Therefore, any quality Step-Down voltage converter will allow any 110 volt appliance to operate in 220 volt, 230 volt or even 240 volt countries. This is also true with a quality Step-Up voltage converter, which will allow any 220 volt appliance to be used in any 110 volt or 120 volt countries.
What is a Foreign Plug Adapter?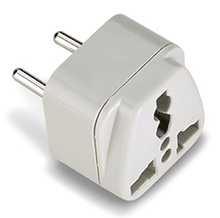 A plug adapter is not a converter, but a simple adapter that allows the plug on your electronic devices or appliances to connect with the electrical socket/outlet. There are quite a few different outlet and plug styles that often vary from country to country, and they will only accept electronics and appliances with a native plug. Adapter plugs are also sometimes needed for voltage converters depending on the plug type it has, and depending whether or not it came with any adapters.
Products that are dual voltage, or worldwide voltage can operate on either 110-volts or 220 volts. These products do not require a voltage converter but still require a plug adapter to be used overseas. If you travel overseas frequently or travel to various countries, your best bet would be to purchase a foreign plug adapter set, offering various adapters for all outlet types.

Voltage Converter Comparison Chart • Voltage Transformer Comparison Chart
Converter Features
Type 1
Type 2
Type 3


Diamond Series

Type 4
Type 5


Diamond Series

Step Down Converter
Step Up Converter
On/Off Switch
w/ Indicator Light

For Continuous Use

The Heavy Duty Design of ALL our Voltage Transformers allows them to be used on a continuous basis. Be sure to purchase the correct wattage Voltage Converter for you needs.

Heavy Duty Design

Fuse Protected

In case there is voltage irregularity, unstable voltage, voltage spikes, or surges, this converter is designed to protect your expensive equipment. In most cases, the built in fuse will blow before anything can reach your equipment.

Extra Strong
Lifetime Copper Coil
Recommended for
High Value Items
Extra Durable Lifetime Coil
Limited Warranty
1 year
1 year
5 YEAR
1 year
5 YEAR
Universal Output Plug

Built-in Voltage Regulator

In some countries, the voltage fluctuates so much that it can damage electronics. These voltage transformers with built-in voltage stabilizers protect your valuable electronics.

Starting Price...
$7.99
$9.00

$19.80

$30.00

$89.88

Star Rating
4 Stars

4½ Stars

5 Stars

4½ Stars

5 Stars

Shop Now!
Type 1
Type 2
Type 3
Type 4
Type 5

Global Voltage Guide Map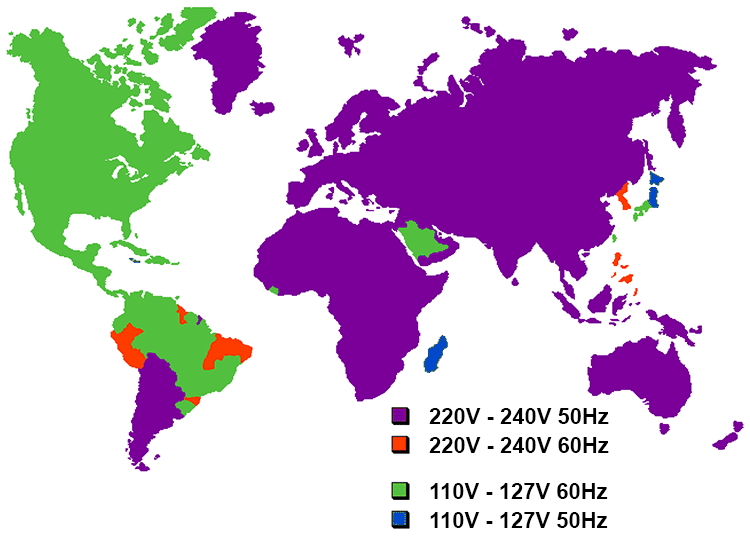 Voltage Details By Country
For a more detailed breakdown of the exact voltage standards by country, use the table below.
| | | |
| --- | --- | --- |
| COUNTRY | VOLTAGE | FREQ |
| Afghanistan | 220 V | 50 Hz |
| Albania | 230 V | 50 Hz |
| Algeria | 230 V | 50 Hz |
| American Samoa | 120 V | 60 Hz |
| Andorra | 230 V | 50 Hz |
| Angola | 220 V | 50 Hz |
| Anguilla | 110 V | 60Hz |
| Antigua | 230 V | 60 Hz |
| Argentina | 220 V | 50 Hz |
| Armenia | 230 V | 50 Hz |
| Aruba | 127 V | 60 Hz |
| Australia | 230 V | 50 Hz |
| Austria | 230 V | 50 Hz |
| Azerbaijan | 220 V | 50 Hz |
| Azores | 230 V | 50 Hz |
| Bahamas | 120 V | 60 Hz |
| Bahrain | 230 V | 50 Hz |
| Balearic Islands | 230 V | 50 Hz |
| Bangladesh | 220 V | 50 Hz |
| Barbados | 115 V | 50 Hz |
| Belarus | 230 V | 50 Hz |
| Belgium | 230 V | 50 Hz |
| Belize | 110/220 V | 60 Hz |
| Benin | 220 V | 50 Hz |
| Bermuda | 120 V | 60 Hz |
| Bhutan | 230 V | 50 Hz |
| Bolivia | 230 V | 50 Hz |
| Bosnia | 230 V | 50 Hz |
| Botswana | 230 V | 50 Hz |
| Brazil | 110/220 V* | 60 Hz |
| Brunei | 240 V | 50 Hz |
| Bulgaria | 230 V | 50 Hz |
| Burkina Faso | 220 V | 50 Hz |
| Burundi | 220 V | 50 Hz |
| Cambodia | 230 V | 50 Hz |
| Cameroon | 220 V | 50 Hz |
| Canada | 120 V | 60 Hz |
| Canary Islands | 230 V | 50 Hz |
| Cape Verde | 230 V | 50 Hz |
| Cayman Islands | 120 V | 60 Hz |
| Central African Republic | 220 V | 50 Hz |
| Chad | 220 V | 50Hz |
| Channel Islands (Guernsey & Jersey) | 230 V | 50 Hz |
| Chile | 220 V | 50 Hz |
| China, People's Republic of | 220 V | 50 Hz |
| Colombia | 110 V | 60Hz |
| Comoros | 220 V | 50 Hz |
| Congo, People's Rep. of | 230 V | 50 Hz |
| Congo, Dem. Rep. of (formerly Zaire) | 220 V | 50 Hz |
| Cook Islands | 240 V | 50 Hz |
| Costa Rica | 120 V | 60 Hz |
| Côte d'Ivoire (Ivory Coast) | 220 V | 50 Hz |
| Croatia | 230 V | 50Hz |
| Cuba | 110/220 V | 60Hz |
| Cyprus | 230 V | 50 Hz |
| Czech Republic | 230 V | 50 Hz |
| Denmark | 230 V | 50 Hz |
| Djibouti | 220 V | 50 Hz |
| Dominica | 230 V | 50 Hz |
| Dominican Republic | 110 V | 60 Hz |
| East Timor | 220 V | 50 Hz |
| Ecuador | 110 V | 60 Hz |
| Egypt | 220 V | 50 Hz |
| El Salvador | 115 V | 60 Hz |
| Equatorial Guinea | 220 V | 50 Hz |
| Eritrea | 230 V | 50 Hz |
| Estonia | 230 V | 50 Hz |
| Ethiopia | 220 V | 50 Hz |
| Faeroe Islands | 230 V | 50 Hz |
| Falkland Islands | 240 V | 50 Hz |
| Fiji | 240 V | 50 Hz |
| Finland | 230 V | 50 Hz |
| France | 230 V | 50 Hz |
| French Guyana | 220 V | 50 Hz |
| Gaza | 230 V | 50 Hz |
| Gabon | 220 V | 50 Hz |
| Gambia | 230 V | 50 Hz |
| Germany | 230 V | 50 Hz |
| Ghana | 230 V | 50 Hz |
| Gibraltar | 230 V | 50 Hz |
| Greece | 230 V | 50 Hz |
| Greenland | 230 V | 50 Hz |
| Grenada (Windward Islands) | 230 V | 50 Hz |
| Guadeloupe | 230 V | 50 Hz |
| Guam | 110 V | 60Hz |
| Guatemala | 120 V | 60 Hz |
| Guinea | 220 V | 50 Hz |
| Guinea-Bissau | 220 V | 50 Hz |
| Guyana | 240 V | 60 Hz |
| Haiti | 110 V | 60 Hz |
| Honduras | 110 V | 60 Hz |
| Hong Kong | 220 V | 50 Hz |
| Hungary | 230 V | 50 Hz |
| Iceland | 230 V | 50 Hz |
| India | 240 V | 50 Hz |
| Indonesia | 230 V | 50 Hz |
| Iran | 230 V | 50 Hz |
| Iraq | 230 V | 50 Hz |
| Ireland (Eire) | 230 V | 50 Hz |
| Isle of Man | 230 V | 50 Hz |
| Israel | 230 V | 50 Hz |
| Italy | 230 V | 50 Hz |
| Jamaica | 110 V | 50 Hz |
| Japan | 100 V | 50/60 Hz** |
| Jordan | 230 V | 50 Hz |
| Kenya | 240 V | 50 Hz |
| Kazakhstan | 220 V | 50 Hz |

| | | |
| --- | --- | --- |
| COUNTRY | VOLTAGE | FREQ |
| Kiribati | 240 V | 50 Hz |
| Korea, South | 220 V | 60 Hz |
| Kuwait | 240 V | 50 Hz |
| Kyrgyzstan | 220 V | 50 Hz |
| Laos | 230 V | 50 Hz |
| Latvia | 230 V | 50 Hz |
| Lebanon | 230 V | 50 Hz |
| Lesotho | 220 V | 50 Hz |
| Liberia | 120 V | 60 Hz |
| Libya | 127/230 V | 50 Hz |
| Lithuania | 230 V | 50 Hz |
| Liechtenstein | 230 V | 50 Hz |
| Luxembourg | 230 V | 50 Hz |
| Macau | 220 V | 50 Hz |
| Macedonia | 230 V | 50 Hz |
| Madagascar | 127/220 V | 50 Hz |
| Madeira | 230 V | 50 Hz |
| Malawi | 230 V | 50 Hz |
| Malaysia | 240 V | 50 Hz |
| Maldives | 230 V | 50 Hz |
| Mali | 220 V | 50 Hz |
| Malta | 230 V | 50 Hz |
| Martinique | 220 V | 50 Hz |
| Mauritania | 220 V | 50 Hz |
| Mauritius | 230 V | 50 Hz |
| Mexico | 127 V | 60 Hz |
| Micronesia, Federal States of | 120 V | 60 Hz |
| Moldova | 230 V | 50 Hz |
| Monaco | 230 V | 50 Hz |
| Mongolia | 230 V | 50 Hz |
| Montserrat (Leeward Islands) | 230 V | 60 Hz |
| Morocco | 220 V | 50 Hz |
| Mozambique | 220 V | 50 Hz |
| Myanmar (formerly Burma) | 230 V | 50 Hz |
| Namibia | 220 V | 50 Hz |
| Nauru | 240 V | 50 Hz |
| Nepal | 230 V | 50 Hz |
| Netherlands | 230 V | 50 Hz |
| Netherlands Antilles | 127/220 V | 50 Hz |
| New Caledonia | 220 V | 50 Hz |
| New Zealand | 230 V | 50 Hz |
| Nicaragua | 120 V | 60 Hz |
| Niger | 220 V | 50 Hz |
| Nigeria | 240 V | 50 Hz |
| Norway | 230 V | 50 Hz |
| Okinawa | 100 V | 60 Hz |
| Oman | 240 V | 50 Hz |
| Pakistan | 230 V | 50 Hz |
| Palmyra Atoll | 120 V | 60Hz |
| Panama | 110 V | 60 Hz |
| Papua New Guinea | 240 V | 50 Hz |
| Paraguay | 220 V | 50 Hz |
| Peru | 220 V | 60 Hz |
| Philippines | 220 V | 60 Hz |
| Poland | 230 V | 50 Hz |
| Portugal | 230 V | 50 Hz |
| Puerto Rico | 120 V | 60 Hz |
| Qatar | 240 V | 50 Hz |
| Réunion Island | 230 V | 50 Hz |
| Romania | 230 V | 50 Hz |
| Russian Federation | 230 V | 50 Hz |
| Rwanda | 230 V | 50 Hz |
| St. Kitts and Nevis (Leeward Islands) | 230 V | 60 Hz |
| St. Lucia (Windward Islands) | 240 V | 50 Hz |
| St. Vincent (Windward Islands) | 230 V | 50 Hz |
| Saudi Arabia | 127/220 V | 60 Hz |
| Senegal | 230 V | 50 Hz |
| Serbia & Montenegro | 230 V | 50 Hz |
| Seychelles | 240 V | 50 Hz |
| Sierra Leone | 230 V | 50 Hz |
| Singapore | 230 V | 50 Hz |
| Slovakia | 230 V | 50 Hz |
| Slovenia | 230 V | 50 Hz |
| Somalia | 220 V | 50 Hz |
| South Africa | 230 V | 50 Hz |
| Spain | 230 V | 50 Hz |
| Sri Lanka | 230 V | 50 Hz |
| Sudan | 230 V | 50 Hz |
| Suriname | 127 V | 60 Hz |
| Swaziland | 230 V | 50 Hz |
| Sweden | 230 V | 50 Hz |
| Switzerland | 230 V | 50 Hz |
| Syria | 220 V | 50 Hz |
| Tahiti | 110/220 V | 60 Hz |
| Tajikistan | 220 V | 50 Hz |
| Taiwan | 110 V | 60 Hz |
| Tanzania | 230 V | 50 Hz |
| Thailand | 220 V | 50 Hz |
| Togo | 220 V | 50 Hz |
| Tonga | 240 V | 50 Hz |
| Trinidad & Tobago | 115 V | 60 Hz |
| Tunisia | 230 V | 50 Hz |
| Turkey | 230 V | 50 Hz |
| Turkmenistan | 220 V | 50 Hz |
| Uganda | 240 V | 50 Hz |
| Ukraine | 230 V | 50 Hz |
| United Arab Emirates | 220 V | 50 Hz |
| United Kingdom | 230 V | 50 Hz |
| United States of America | 120 V | 60 Hz |
| Uruguay | 220 V | 50 Hz |
| Uzbekistan | 220 V | 50 Hz |
| Venezuela | 120 V | 60 Hz |
| Vietnam | 220 V | 50 Hz |
| Virgin Islands | 110 V | 60 Hz |
| Western Samoa | 230 V | 50 Hz |
| Yemen, Rep. of | 230 V | 50 Hz |
| Zambia | 230 V | 50 Hz |
| Zimbabwe | 220 V | 50 Hz |