Details
Toshiba XDE-600 Region Free DVD Player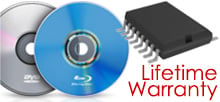 Region Free Playback Guaranteed for Life!
Unlike software or firmware solutions, our region free hardware modifications are guaranteed to play DVD Discs and DVD's from any region for the life of your player!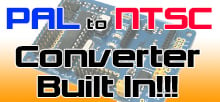 This DVD Player Requires No Extra Video Converter!
No matter where in the world you are, this player works with any TV. Built in NTSC to PAL and PAL to NTSC conversion guarantees DVD playback anywhere!
Toshiba XDE-600 Region Free DVD Player Specifications
Designs and specifications are subject to change without notice.
Key Features:
USB Version 2.0 or Flash Drive 1.1 connection for direct playback of your MP3 using a portable drive.
540 Lines of resolution
Plays DVD, DiVX, Audio CD, DVD-R, DVD+R, Audio CD, MP-3 and WMA on CD-R/CD-RW
Digital PhotoViewer: JPEG, Konica, Fuji Photo, Kodak Photo CD
HIGH DEFINITION DVD PLAYER with HDMI output
HDMI (High Definition Multimedia Interface): The unit's HDMI simplifies A/V connections by carrying uncompressed SD or HD digital video and up to 8 channels of digital audio all in one cable. This unit features HDCP copyright protection technology, and must be connected to an HDCP-compliant device. The output resolution can be set to match the capability of the monitor or projector. HDMI connection is compatible with DVD-Video.
The video output signal format can be set to 480p, 720p or 1080i.
720p, 768p, 1080i, and 1080p up conversion from conventional DVD-Video images (for use with high-definition and HD-ready TVs).
480p Component Output
This player works with any TV: Built-in ,64MB ,video converter allows playback of PAL movies on a NTSC TV, NTSC movies on a PAL TV. Or you can set the output to automatic for use with a multi-system TV. Basically this DVD player will play any DVD movie on any TV without any extra equipment!
Auto sensing region code selection
Video Black Level Expansion and Pluge
3D-DNR (Digital Noise Reduction)
Dolby Digital and DTS Digital Outputs
14-Bit, 108 mhz Video D/A Converter
24-Bit/192 kHz PCM Audio Compatibility
Zoom 4x-Power Picture
Parental Lock
Dynamic Range Control
Multi-Camera Angle Select
Multi-Language Select
Multi-Subtitle Select
Wide screen, Letterbox and Normal Picture Set-up
16X Power Picture Zoom
Bit Rate Meter
With a Bit Rate Meter display, featured on all Toshiba DVD players, videophiles can monitor picture quality.
Icon-Based On-Screen Display
Easy to navigate, colorful on-screen menus allow for easy operation.
100-240 volt 5-60 Hz Automatic switching!
Parallel Audio/Video Outputs
Parallel Video Outputs that let you connect your Toshiba DVD player via Composite, S-Video or Component Video outputs and view simultaneous images from each connected monitor. This feature is ideal for multi-room applications. For added ease of connectivity all models feature Parallel Audio Output of analogue and digital audio signals.

Standard Remote Control
Toshiba has consistently won the praise of reviewers for superior and intuitive remote control design. Ergonomically designed with critically placed fingertip controls make for quick and easy learning and operation. A convenient 4-way compass cursor pad at the center of the remote allows you simple navigation through even the most extensive DVD menu.

Connections:
HDMI
Component Video (Y, Cr, Cb) Output
Composite Video (RCA) Output
Coaxial Digital Audio Output
Analog Audio Output
DIMENSIONS:
Dimensions(W x H x D): 430mm x 41mm x 197mm

Included:
Wireless remote control
RCA Audio Video Cables
Instruction Manual
Toshiba XDE-600 Region Free DVD Player Product Description
INCLUDES FREE HDMI CABLE 6ft long heavy duty quality
Play any region DVD movies from anywhere in the world, Guaranteed. This unit is specially modified to play foreign and domestic movies and on sale
Model: Toshiba SD-900 HDMI output 1080p Region Free DVD player Special Multi-Region Version
Digital Cinema Progressive Scan (3:2 Pulldown)
Plays any region PAL or NTSC DVD from regions 0-6 including RCE/REA movies
This player does not need a multi-system TV or a external video converter.
Built-in PAL to NTSC video converter allows playback of PAL movies on a NTSC TV. Basically this DVD player will play any region DVD movie on an American TV without any extra equipment, even RCE and REA movies.
Play any region DVD movie, on any TV, anywhere in the world. Guaranteed
Guaranteed to play all old, current and future DVD movies including DVDs that are RCE/REA coded.
This model works with any TV any voltage in any Country! This player can also upgrade or "up convert" its video output to match your TV screen's higher resolution. What does this mean? As Video technology progresses, we have any now entered into a age of High Definition Video. Almost all new TVs are High Definition Ready, (HD Ready or HD compatible). Although most of us have purchased these new TVs, many of us have not upgraded our DVD players. This is really a shame because those of us are not utilizing our TVs to their full potential. Buying a DVD player that is High Definition will allow you to receive Video in High Definition outputs such as 720P, 768P, 1080i, 1080p. These output offer a much much clearer, sharper image, with less artifacts. If you don't already have a HD ready TV, then your next TV will probably be HD or HD ready. In my opinion, using a regular progressive scan DVD player with a HD TV is like putting regular fuel into a Race car! It just doesn't make sense. So, to watch your DVD movies with the best picture quality on your TV, we recommend to go with a Hi Definition player that up-converts the signal to 720p, 768p, 1080i or 1080p. The SD-900's digital HDMI video connection helps keep signals pure, giving you better image quality — especially with today's popular plasma, LCD, and DLP televisions.