Details
Toshiba SDP-74S Portable Region Free DVD Player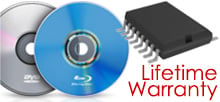 Region Free Playback Guaranteed for Life!
Unlike software or firmware solutions
our region free hardware modifications are guaranteed to play Blu-Ray Discs and DVD's from any region for the life of your player!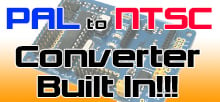 This Blu-Ray Player Requires No Extra Video Converter!
No matter where in the world you are, this player works with any TV. Built in NTSC to PAL and PAL to NTSC conversion guarantees Blu-Ray & DVD playback anywhere!
Toshiba SDP-74S Portable Region Free DVD Player Description:
Excellent Name Brand model, works anywhere in the world!
PLAYS DVD MOVIES FROM ANY REGION IN THE WORLD GUARANTEED
DUAL HEADPHONE JACK & SD/SDHC CARD SLOT
INTERNATIONAL VERSION
Code Free, Region Free, Multi Zone, Multi region
Play any region dvd, Pal or NTSC, on any TV or on Screen, anywhere in the world!!
PAL AND NTSC OUTPUT TO ANY TV, BUILT IN CONVERTER
PLAY ANY DVD ON SCREEN OR ON ANY TV NO MATTER WHAT REGION OR WHETHER IT IS PAL OR NTSC.
Plays any region Pal or NTSC movie On Screen!
Play any region Pal or NTSC on any TV!
Plays Regions 1,2,3,4,5,6,0 and all other Region discs
Plays PAL & NTSC DVD Discs
7" 16:9 TFT Widescreen Monitor
Code Free, Region Free, Multi Zone, Multi region
General Features:
Code Free All Region Version
5 Hour battery built-in,
7" Digital TFT Clear Bright 16:9 Wide Screen LCD monitor

Lifetime All region guarantee on our Modification.

Plays any region PAL and NTSC movies on its own screen plus you can output the signal to any TV.
This unit has a built-in video converter so you can even play PAL movies on an NTSC TV or NTSC movies on a PAL TV!

AV Out lets you watch the DVD player on an external PAL or NTSC TV!
Toshiba SDP-74S Portable Region Free DVD Player Specifications:
Designs and specifications are subject to change without notice.
Convenient and portable, the SDP74S is great for playing DVDs and CDs while you're on-the-go.
Features:
7" diagonal Widescreen TFT LCD with 480x234 resolution makes a great viewing experience possible. On the road, in the plane, or in the home, this player will keep you entertained.
Switchable Audio/Video Input and Output for connection to an external monitor/television or use the SDP74S screen and speakers as the display device for a digital camera or camcorder.
JPEG Viewer enables a user to display digital photographs and slideshows on the DVD player"s LCD screen.
Specifications:
Video
7" diagonal Widescreen TFT LCD
Panel Resolution: 480 x 234
Wide Aspect Ratio
DVD Video
DVD-R (Video)
DVD-RW
DVD VR format -R/-RW
JPEG Viewer**
Video D/A Converter 14bit / 108MHz
Video Adjustments - Brightness, Color
Audio
Audio DAC 192kHz/24bit
Virtual Surround Sound
Built-in Speakers
Dolby Decoding
MP3 Playback (SD/SDHC Card)
Convenience
Invert Display Mode
AC/DC Operation
Zoom Mode
OSD Language English, French, Spanish, German, Polish
Power Supply AC Adapter
Built-in Battery
Playback Time up to 3 Hours*
Jackpacks
A/V Input (1)- (Mini Jack)
Headphone Output (2)
SD Card (with SDHC) (1)
Included Accessories
AC Adapter (100-240V)
Car Cord Adapter
Owner's Manual English, French, Spanish
Remote Control
AV Cable
Approximate Dimensions:
Width: 7.87"
Height: 1.61"
Depth: 6.5"
Dimensions With Packaging: 12.6 x 8.46 x 3.39 (WxHxD)
Approximate Weight:
Unit: 1.96 lbs
Shipping: 3 lbs
Warranty and Support:
1 year parts, 90 days labor, and lifetime all region warranty.
← Back to product description



Battery Hours: 5 Hours




Screen Size: 7 Inch




DVD All Regions

Region Free DVD Playback. Code Free, Multi-Region, Multi-Zone




Will play DVD movies from anywhere in the world.




Plays DVDs from any region including region 0, 1, 2, 3, 4, 5, 6, 7 and 8


Region Free Playback Guaranteed for Life!



PAL / NTSC conversion

Works on any TV, anywhere in the world.




Will convert NTSC to PAL and PAL to NTSC with perfect picture quality.




Plays Pal NTSC and Secam DVDs on any TV with Perfect video conversion.




World Wide Voltage

Works with world wide electricity 100-240 volts volts 50/60 hz. Can be used with electricity in North America or any other place in the world.ALL of our Multisystem TV's operate on ALL Global voltages, including 110, 120 Volts and 220, 230, 240 Volts.
← Back to product description