Details
Toshiba BDX-2300 Region Free Blu-ray DVD Player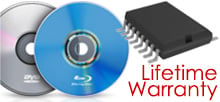 Region Free Playback Guaranteed!
Unlike software or firmware solutions, our region free hardware modifications are guaranteed to play Blu-Ray Discs and DVD's from any region!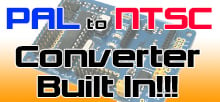 This Blu-Ray Player Requires No Extra Video Converter!
No matter where in the world you are, this player works with any TV. Built in NTSC to PAL and PAL to NTSC conversion guarantees Blu-Ray & DVD playback anywhere!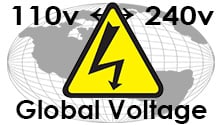 Worldwide Voltage - 110v, 120v, 220v, 230v and 240 volt!
(OPTIONAL)
Global Dual Voltage on Blu-Ray Player means it can be used anywhere. Multi-voltage Blu-Ray Player can be used in any country with voltage from 110 volts to 240 volts!
Toshiba BDX-2300 Region Free Blu-ray DVD Player Specifications:
Overview
1080p Full HD
Video Upconversion via HDMI (720p, 1080i, 1080p)
Dolby Digital, Dolby Digital Plus, Dolby TrueHD, DTS-HD, DTS-HD Master Audio
BD Live (Profile 2.0)
AVCHD, MP3, WMA, JPEG, MKV, HD JPEG, MPEG 4, AVCHD, WMA, AVI playback
HDMI-CEC compatible
MediaShare via DLNA
Smartphone and tablet operation
100 - 240 Volt power supply - use in any country! (optional)
Region A only model comes with 110 volts power supply
Region A, B, C model comes with 110-220 volts power supply and is an optional upgrade. Please see options when adding to cart.
Connectors
HDMI Output: 1 (v1.4) with HDMI-CEC
Digital Coaxial Audio Output: 1
USB Port: 1
Ethernet Port: 1
Approximate Dimensions:
Height: 1.4"
Width: 14.2"
Depth: 7.4"
Approximate Weight:
Unit: 2.2 lbs
Shipping: 4 lbs
← Back to product description



DVD All Regions

Region Free DVD Playback. Code Free, Multi-Region, Multi-Zone




Will play DVD movies from anywhere in the world.




Plays DVDs from any region including region 0, 1, 2, 3, 4, 5, 6, 7 and 8


Region Free Playback Guaranteed for Life!



World Wide Voltage

Works with world wide electricity 100-240 volts volts 50/60 hz. Can be used with electricity in North America or any other place in the world.ALL of our Multisystem TV's operate on ALL Global voltages, including 110, 120 Volts and 220, 230, 240 Volts.



DivX Compatible

With DivX® support, you are able to enjoy DivX® encoded videos.




PAL / NTSC conversion

Works on any TV, anywhere in the world.




Will convert NTSC to PAL and PAL to NTSC with perfect picture quality.




Plays Pal NTSC and Secam DVDs on any TV with Perfect video conversion.




HDMI Output

HDMI output with output resolution selection to the max your tv can handle: 1080p, 720p, 1080i, or 720i




USB Input

USB stands for Universal Serial Bus. A USB port is a cable connection interface used on personal computers and consumer electronics. USB ports allow stand-alone electronic devices to be connected via cables to a computer or to each other.



1080p Upconversion

HDMI upconversion will convert your analog video signals to offer a much clearer, sharper HD image, with less artifacts

Shipping Group: Bluray
← Back to product description