Details
Toshiba 46VL20 Multi-System LED TV
Toshiba's ultra-slim multi-system 46VL20 3D Smart LED TV has a 3,000,000:1 contrast ratio that utilizes the latest in LED technology. It delivers such sharp, clear images that you'll have a hard time being able to tell that what you're watching isn't actually real.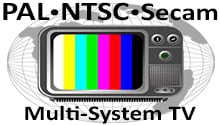 Multi-System TV - PAL, NTSC and Secam
This multisystem TV is compatible with PAL, NTSC and Secam video formats. You can use this television anywhere in the world with ANY type of video device!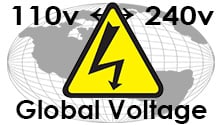 Worldwide Voltage - 110v, 120v, 220v, 230v and 240 volt!
Global Dual Voltage on this Multi-system TV means it can be used anywhere. Multi-voltage TV's can be used in any country with voltage from 110 volts to 240 volts!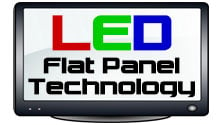 Space-Saving LED Flat Panel Technology
Multi-System LED TV's offer stunning video performance and a great value. Enjoy High Definition video in a space-saving flat panel design with this multisystem TV.
Toshiba 46VL20 Multi-System LED TV Description:
ClearScan 100 Hertz Pro technology adds new frames in between the original transmitted frames to create seemless motion images. It uses 360 degree motion estimation, complex mathematics and 14-bit video processing to calculate the movement required by each pixel. Each frame is held on screen for only 1/100th of a second to eliminate pixel drift and reduce blurring.
With Toshiba Places, you can enjoy and share web-based content and services directly from your Toshiba TV. It provides access to video portals, news services and on-demand TV services, allowing you to create a customised entertainment experience that can be shared with friends.
Internet TV services include built-in access to up to 19 different providers, allowing you to check out videos on YouTube, catch up with your favourite shows on the BBC iPlayer and share photos via Flickr.
All of these services are designed to be used with your remote control. Internet content can be accessed when the TV is connected to your home network via built-in WiFi, USB WiFi dongle or Ethernet cable.
Video Place: The newest way to enjoy movies and other video entertainment is 'Video on Demand' - stream movies to TV. Simply log in to Toshiba Video Place and you can access many great videos from your TV.
Music Place: Enjoy unlimited music on your TV from Toshiba Music Place. Choose from the many music genres for a relaxing moment.
Social Place: Share your photos and videos with family and friends, no matter where they are, on a Toshiba TV enabled for Toshiba Places.
News Place: Stay up to date with news, sports and other information services on your TV.
Game Place: There are various games to play online: games for casual gamers and hardcore players, games for kids, adults and families. Whether you play to relax for a few minutes or enjoy getting really involved, there's something here for you.
Toshiba 46VL20 Multi-System LED TV Specifications:
Key Features:
Worldwide NTSC, PAL BG, PAL I, Secam BG, DK/ PAL DK TV tuners
Worldwide NTSC/PAL/SECAM Color System
Full HD 1920 X 1080p resolution
Power Meta Brain
3-D compatible
Mobile High Definition Link
USB Movie - 28 Video Formats Playback via external HDDs
Intelligent Backlight Control with 3D Colour Management
Active 3D with 2D to 3D Conversion
Wireless LAN, DLNA™
10-Bit Video Processing
4 HDMI input, PC input
USB Media Playback (HD Video/Photo/Music)
Dynamic Contrast Ratio of 3,000,000:1
Clear Voice II
14-bit Video Processing 
Invisible Speakers
Worldwide voltage: 100-240 Volts 50/60 HZ
Automatically enhances and amplifies the sound of the human voice frequency range to help keep dialogue audible when background noise swells.
Intelligent sensor - saves energy by decreasing power consumption. It can analyze the ambient lights in a room and adjusts the backlight of the TV automatically.
24p Real Cinema
Films that are played at 24 frames per second are converted to play at 50 frames per second on regular TVs. Sharp 24p Real Cinema function matches the original frame rate of the film with no judder and provide the Real Cinema experience.
Smart Energy Saving Plus - an eco-friendly way to experience unprecedented picture quality while saving energy at the same time
Voltage: automatic switching between 100-240 volts 50/60Hz for use world wide
More Features:
Meta Brain Premium
14-bit Video Processing
Clear Scan 100
Upscalling Capability to 1080p with Resolution+
Autoview
3D Colour Management
2 HDMI Terminal
HDMI Instaport
Regza Link (HDMI CEC)
Audyssey EQ Surround
Main Specs
Product Type : LED Backlight LCD TV
Screen Type : 46
Aspect Ratio : 16:9
Dynamic Contrast Ratio : 3,000,000:1
Panel Contrast Ratio : 1100:1
Brightness : 500
Resolution : 1920 x 1080
Viewing Angles (Degrees) : 178
Panel Response Speed (ms) : 7 (MPRT)
Signals
Receiving System : PAL I/BG/DK, SECAM BG/DK, NTSC M/BG 4.43
Colour System : PAL, SECAM, NTSC 3.58 / 4.43
Video Signal : 480i/480p (60Hz), 576i/576p (50Hz), 720p (50/60Hz), 1080i (50/60Hz), 1080p (24/25/30/50/60Hz) through HDMI
Video
Meta Brain Pro : Meta Brain Premium
3D Colour Management
Comb Filter : 3D Y/C (PAL & NTSC)
Intelligent Backllight Control
Exact Scan Mode
Perfect 10-bit Processing (14 bit processing)
Auto Signal Booster
Photo frame
Resolution +
Clear Scan 100 Pro
Audyssey EQ
Media Playback : Photo (JPEG) / Music (MP3) / Video (DivX)
Mpeg Noise Reduction
Real Digital Picture
Picture Mode : Store / Autoview Dynamic / Standard / Movie / Game / PC
Audio
Sound System : Dolby Digital
Stereo System : NICAM B/G, I, D/K, & German Stereo B/G, D/K
Speakers : Main (3.5 x 16cm) x 2
Audio Output (10% RMS) : 10W x 2
Connection
Antenna Input : 1
EXT 1 : Composite Video + RCA Audio
EXT 2 : Composite Video + RCA Audio
EXT 3 : HDMI Input
EXT 4 : HDMI Input
EXT 5 : HDMI Input (3.5mm mini-Jack, Common with PC Audio)
EXT 6 : HDMI Input (Side)
PC Input : D-Sub 15 Pin + 3.5mm Mini Jack (Common with HDMI 3 Audio)
USB X 2 (Side) (For Flash Drive and External HDD)
Output : Optical + Fixed Audio 3.5mm Mini-Jack
LAN Ethernet Port
General
Teletext
Multilingual OSD : English / French / Russian / Simplified Chinese / Thai / Malay / Vietnamese / Arabic / Persian
Hotel Mode
REGZA link (HDMI CEC)
Swivel Stand : Fixed Stand
DLNA
Instaport
Power Consumption (W) : 149
Dimension (W x H x D) mm without Stand 923 x 563 x 69
Dimension (W x H x D) mm with Stand 923 x 628 x 240
Weight (Net) kg without Stand 12.7
Weight (Net) kg with Stand 15.0
POWER:
Standby (Stand by mode) 1W
Voltage: automatic switching between 100-240 volts 50/60Hz for use world wide
← Back to product description



Full HD 1080p

1920x1080p resolution is an HDTV high-definition video mode characterized by 1080 horizontal lines of vertical resolution. As of 2012, most consumer televisions being sold provide 1080p inputs mainly with HDMI and support full high-def resolutions. 1080p resolution is available in all types of televisions, including plasma, LCD and LED.



Built-In Analog Pal, NTSC, and Secam TV tuner

Analog Pal, NTSC, and Secam tuner built in for world wide use for analog tuning. If you are in a country that utilizes digital tuning such as DVBT or ATSC a Cable Box or Satellite receiver is needed. If You have any questions regarding this please call us. With the appropriate setup this TV can be used anywhere in the world.




TV 3D




USB Input

USB stands for Universal Serial Bus. A USB port is a cable connection interface used on personal computers and consumer electronics. USB ports allow stand-alone electronic devices to be connected via cables to a computer or to each other.



WiFi Ready

WiFi ready means that the device is able to use WiFi but requires an adapter. WiFi adapters are fairly inexpensive and usually plug into the USB port. WiFi Ready TV's will always have a standard LAN port to utilize internet features without using WiFi.



Smart TV

A smart TV, also known as a connected TV or hybrid TV, describes the combining of the Internet and Web 2.0 features into television sets, as well as the integration between computers and these television sets. These devices focus on online interactive media, Internet TV, over-the-top content, as well as on-demand streaming media, and less focus on traditional broadcast media than traditional television sets.
← Back to product description