Details
Toshiba 1080p HDMI Region Free DVD Player Full HD output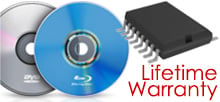 Region Free Playback Guaranteed for Life!
Unlike software or firmware solutions, our region free hardware modifications are guaranteed to play DVD Discs and DVD's from any region for the life of your player!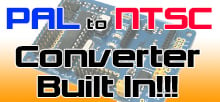 This DVD Player Requires No Extra Video Converter!
No matter where in the world you are, this player works with any TV. Built in NTSC to PAL and PAL to NTSC conversion guarantees DVD playback anywhere!
Toshiba HD1080p Region Free DVD Player Specification
Designs and specifications are subject to change without notice.
Playable Disc Types:
DVD-Video/DVD-/+R / DVD-R/+RW/-RW/+/-R (DL)/ SVCD/VCD/CD/CD-R/CD-RW
Video:
Video Upconversion 720p/1080i/1080p
Video D/A 14-Bit/108MHz
Component Video Output ColorStream ProR
Progressive Scan 3:2 Pulldown Digital Cinema Progressive
JPEG
Digital Picture Zoom
Fast Scan
Slow Motion
Multi-Camera Angle Select
Multi-Language Select
Mult-Subtitle Select
Audio:
Audio D/A 192 kHz/24-Bit
DolbyR Digital/DTSR Compatible
WMA & MP3 Playback
3D Surround Sound
Convinience:
Remote Control
Parental Lock
Screen Saver
Tray Lock
Terminals:
HDMI™ with REGZA LINKTM:1
ColorStreamR Component Video Output:1 set
RCA-Video:1
L-R Audio:1
Coaxial Out
Approximate Dimensions:
Width:16.93"
Height:1.65"
Depth:7.76"
Approximate Dimensions:
Unit:2.94 lbs
Shipping:5 lbs
1 year parts warranty / 90 days labor warranty
Toshiba HD1080p Region Free DVD Player Product Description
Video upconversion up to 1080p resolution via HDMI takes your current DVDs to a new level, for an amazing viewing experience on today's HDTVs. HDMI is a convenient, single cable AV connection. It transfers pure digital video and multi-channel audio to compatible home theater components and high definition televisions without scaling down or compressing the signal, keeping sound and picture quality pristine. This model also offers REGZA LINKTM (HDMI™ CEC) which makes controlling multiple components easy. Just connect your player to other compatible devices using an HDMI cable, and then control them using one remote, no additional programming or setup required! Multi-format playback capability supports DVD-/+R, DVD-/+RW, VCD, SVCD, CD-R, CD-RW, MP3 and WMA playback for true viewing flexibility. New slim (43mm) chassis height is combined with a high gloss black acrylic panel, silver accents, and a bright front display designed to complement today's home theaters.
Don't worry, your purchase of a new flatpanel HDTV doesn't mean "lights out" for your DVD collection. To the contrary. Your new SD7300 DVD player from Toshiba lets you enjoy your favorite DVD in high resolution thanks to the combination of video upconversion and HDMI. Using advanced pixel-interpolation technology, the SD7300 is able to convert standard 480i DVD video content up to 720p, 1080i or even 1080p resolutions, depending on the resolution of your HDTV. HDMI, or High Definition Multimedia Interface (described in detail below), delivers the expanded bandwidth capability necessary to transmit this upconverted, higher-resolution video data to your flatpanel.
DVD, Toshiba style
This single-disc DVD player from Toshiba delivers the versatility and performance power you seek in a home-theater component. The SD7300 supports a variety of audio and video formats — from DVD-Video and DVD-/+RW DL to SVCD and CD to even WMA, MP3, and JPEG. Also, powerful video and audio digital-to-analog converters enhance your home entertainment experience with high-performance signal conversion.
Great video quality
If you don't have a television with HDMI, you'll still be able to enjoy pristine video reproduction. ColorStream Pro® component video outputs allow the highest quality video signal to be sent from the Toshiba 1080p dvd player to a component-video equipped progressive-scan TV. When this connection is utilized with today's HD-compatible sets, typical NTSC artifacts like video noise, dot crawl, and flicker are virtually eliminated, resulting in a low-noise, highly detailed picture with unequaled color purity. Digital Cinema Progressive (3:2 pulldown) uses frame interpolation to deliver smooth, film-like video reproduction on any progressive-scan television.
Realistic audio
In addition to all of its video capabilities, the Toshiba Region Free DVD Player also gives you some great audio options, including Dolby Digital® and dts®-compatible output. Connected to a compatible AC-3 receiver, Dolby Digital creates a multi-channel audio experience with unsurpassed three-dimensional audio performance rivaling the best movie theaters. And the SD7300 features dts (Digital Theater Systems) compatibility. You can connect the SD7300 to a dts-compatible receiver/decoder via its digital audio outputs for playback of high-resolution multi-channel dts-encoded DVDs and CDs. The recorder's 3-D Virtual Surround Sound feature provides a simulated surround-sound effect from sources that contain only a stereo soundtrack. This is convenient when playing older DVD films or for use with home theaters not equipped with multi-channel playback compatibility. This feature is also active via the headphone output jacks.
REGZA LINK™
When it comes to firing up your home entertainment system, faster is better. REGZA LINK&trade from Toshiba makes controlling multiple components quick and easy. Simply connect your SD6100 player to REGZA LINK or other HDMI CEC-compatible devices using an HDMI cable and you can control all connected devices with a single remote. No additional programming or setup is required!
HDM Incredible
Bringing you the absolute best in connectivity , Toshiba's 1080p features an HDMI connection. HDMI (High-Definition Multimedia Interface) is the only interface in consumer electronics that can carry both uncompressed high-definition (HD) video and uncompressed multi-channel audio in all HD formats including 720p, 1080i and even 1080p. Your incoming media content comes in a variety of sizes, resolutions and formats, and with that in mind, HDMI systems automatically configure to display that content in the most effective format. Since HDMI carries all channels on video and audio, there is only one cable to plug into any HDMI-enabled source and display device. No more complicated cable set-up when installing your home theater system, and no more ugly cable mess behind your components. HDMI supports standard, enhanced, or high-definition video, plus multi-channel digital audio on this single cable. Also, HDMI is fully backward-compatible with DVI. (Please note that a physical adapter, sold separately, is needed to make the conversion from HDMI to DVI.)
Avoid the 'No Wire' ire
The advent of HDMI has been monumental in the advancement of all your favorite audio and video gadgets. Don't miss out on all that this player offers — in terms of high-definition audio and video connectivity — by leaving a set of HDMI cables off the list. Vann's sales representatives are here to explain all your options, so you can make the best purchase and get the most out of your hi-def system.
← Back to product description



DVD All Regions

Region Free DVD Playback. Code Free, Multi-Region, Multi-Zone




Will play DVD movies from anywhere in the world.




Plays DVDs from any region including region 0, 1, 2, 3, 4, 5, 6, 7 and 8


Region Free Playback Guaranteed for Life!



HDMI Output

HDMI output with output resolution selection to the max your tv can handle: 1080p, 720p, 1080i, or 720i




Progressive Scan

Progressive scan




PAL / NTSC conversion

Works on any TV, anywhere in the world.




Will convert NTSC to PAL and PAL to NTSC with perfect picture quality.




Plays Pal NTSC and Secam DVDs on any TV with Perfect video conversion.




USB Input

USB stands for Universal Serial Bus. A USB port is a cable connection interface used on personal computers and consumer electronics. USB ports allow stand-alone electronic devices to be connected via cables to a computer or to each other.
← Back to product description