Details
Sony FH-SR1D Region Free 220-240 Volts Portable Home Theater System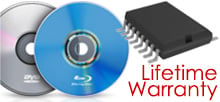 Region Free Playback Guaranteed for Life!
Unlike software or firmware solutions our region free hardware modifications are guaranteed to play Blu-Ray Discs and DVD's from any region for the life of your player!
Sony FH-SR1D Region Free 220-240 Volts Portable Home Theater System Description:
Meet your demands for intense, full sound quality with the Sony FH-SR1D Region Free 220-240 Volts Portable Home Theater System and its built-in Hi-Fi stereo with DSGX bass boost function. Perfect for the college dorm room this region free portable home theater system makes a great gift. With powerful 400 watt detachable speakers this code free system has USB/ DVD/VCD/ CD and MP3 playback. A built in carrying handle completes the package by providing ultimate mobility.
Power Output

P.M.P.O.: 400W
Total RMS: 30W
Front (RMS): 15W x 2
Power supply: 220 - 240 volts

High Lighted Function

Disc Player System: 1-Disc Tray Loading
LCD Display: 1 Line LCD (8 digit)
Bass Boost Function: DSGX
Dolby Digital/DTS: Downmix 2CH

Format/Disc Playback

DVD/VCD/CD
MPEG-4 Simple Profile
DVD-R/-RW (Video)
DVD+R/+RW
MP3/JPEG

Audio Input/Output

Audio In: 1 (RCA)

Tape Deck

Type: Single (Piano Key Type)
Recordable Deck: A/B

Speakers - Front

Operation: 2 way
Tweeter Unit: 4cm
Woofer Unit: 10cm
Lengh of Supplied Cable (m): 1

Digital FM/AM Tuner

Station Preset: FM20/AM10
Remote Commander: RM-AMU121

Size

Main Unit: 260 x 250 x 288 mm
Front Speaker: 200 x 230 x 230 mm

Weight

Main Unit: 4.2kg
Front Speaker: 2.3kg

USB Function

MP3 Playback
Movie Playback: MPEG-4 Simple Profile
Playback Format: MP3 / WMA / ACC / Xvid / MPEG4 (simple profile) / JPEG
Playback Media: Walkman
MP3 File Name/ID3Tag Ver. 1.1/ID3Tag Ver. 2.0)
Play Mode: Normal
Play Mode: Shuffle
Play Mode: Program
Play Mode: Repeat
JPEG Playback: Yes
← Back to product description



DVD All Regions

Region Free DVD Playback. Code Free, Multi-Region, Multi-Zone




Will play DVD movies from anywhere in the world.




Plays DVDs from any region including region 0, 1, 2, 3, 4, 5, 6, 7 and 8


Region Free Playback Guaranteed for Life!



DivX Compatible

With DivX® support, you are able to enjoy DivX® encoded videos.




PAL / NTSC conversion

Works on any TV, anywhere in the world.




Will convert NTSC to PAL and PAL to NTSC with perfect picture quality.




Plays Pal NTSC and Secam DVDs on any TV with Perfect video conversion.




World Wide Voltage

Works with world wide electricity 100-240 volts volts 50/60 hz. Can be used with electricity in North America or any other place in the world.ALL of our Multisystem TV's operate on ALL Global voltages, including 110, 120 Volts and 220, 230, 240 Volts.



USB Input

USB stands for Universal Serial Bus. A USB port is a cable connection interface used on personal computers and consumer electronics. USB ports allow stand-alone electronic devices to be connected via cables to a computer or to each other.
← Back to product description