Details
Firmware upgradeable: Our player is 100% Firmware upgradeable
Note about our modification: Our Region-Free modification comes with a Lifetime guarantee. We are 100% confident that you will never find a DVD disc or Blu-ray disc that will not play in our player due to regional coding.
Sony BDP-S1700 Region Free Blu-ray Player
The region-free Sony BDP-S1700 is the newest and most economical model from Sony's new lineup. This affordable player is equipped with plenty of features to keep you entertained and offers the basic convenience features that you've come to expect from a Sony product. While this model is not Wi-Fi equipped, it features an Ethernet port for a simple and solid wired internet connection. The BDP-S1700 lets you enjoy easy access to over 300 streaming apps from the Sony Entertainment Network including your favorite streaming apps & social media such as Netflix, Hulu, YouTube, Pandora and many more.
The BDP-S1700 is equipped with standard 1080p Full HD resolution and also features DVD up-conversion, which brings your non-HD DVDs up to the best video quality possible and supports an array of audio such as Dolby Digital Plus, Dolby TrueHD, DTS-HD High Resolution Audio and DTS-HD Master Audio. The frontal USB port with image, video and audio support makes it easy to plug in a portable storage device and enjoy your favorite media right on your TV in Full HD format.
Other convenient features include a quick-start mode that decreases the loading time for Blu-ray discs, support for a wide range of video formats including AVCHD, MPEG-1, MPEG-2, MPEG-4, Motion JPEG, WMV9, and XVID, plus HDMI output for the clearest audio/video experience possible.
It's no doubt that the BDP-S1700 is quite a deal, but don't forget that our models are all region-free and capable of even more. This unit features worldwide voltage (110 - 240 volts), allowing it to be used anywhere in the world without the need for a voltage converter, saving you both time and money. It also plays all regions of Blu-ray and DVD discs, and features internal PAL to NTSC conversion, eliminating the need for video converters and making it possible to playe DVDs and Blu-ray discs from any region in the world, without issue. You can literally take this player anywhere in the world, plug it into any TV and play a disc from anywhere in the world. If that's not flexibility, we're not sure what is.
Check out the specifications below for more information on the region-free BDP-S1700.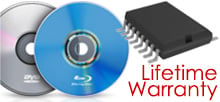 Region Free Playback Guaranteed!
Unlike software or firmware solutions, our region free hardware modifications are guaranteed to play Blu-Ray Discs and DVD's from any region! We are 100% confident that you will never find a DVD disc or Blu-ray disc that will not play in our player due to regional coding.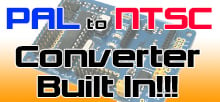 This Blu-Ray Player Requires No Extra Video Converter!
No matter where in the world you are, this player works with any TV. Built in NTSC to PAL and PAL to NTSC conversion guarantees Blu-Ray & DVD playback anywhere!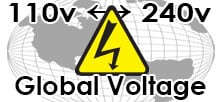 Worldwide Voltage - 110v, 120v, 220v, 230v and 240 volt!
Global Dual Voltage on this Sony BDP-S1700 Region Free Blu-Ray DVD Player this means it can be used anywhere. A Multi-voltage Blu-Ray Player can be used in any country with voltage from 110 volts to 240 volts!
All Sale Region Free Blu-ray Quick Comparison Chart
Region Free
Blu-ray Model


(Click on links to view players)

Region Free for Standard DVDs Region 0-8
Region Free for Blu-Ray
Region A, B, & C Optional
Internet Streaming Applications
Netflix, YouTube etc.
Wireless Internet Streaming
3D Compatible
4K Ultra High Definition
110-240 Volts
Full Home Theater w/ Speakers
Sony BDP-S1700
Region Free Blu-Ray
Samsung BD-J5100
Region Free Blu-Ray
Sony BDP-S3700
Region Free Blu-Ray
Samsung BD-J5700
Region Free Blu-Ray
Samsung BD-J5900
Region Free Blu-Ray
LG BP550
Region Free Blu-Ray
LG BP350
Region Free Blu-Ray
LG BP165
Region Free Blu-Ray
Panasonic DMP-BDT270
Region Free Blu-Ray
Sony BDP-S6500
Region Free Blu-Ray
Sony BDV-E3100
Region Free Home Theater
Samsung UBD-K8500
4K UHD Blu-ray Player
Sony UBP-X800
4K Ultra HD Blu-ray Player
Sony BDV-N5200w
Region Free Home Theater
Note from our Techs
:Currently, our most recommended & popular brand of Region-Free Blu-ray Players is from Sony. Known as the inventors of Blu-ray technology, Sony offers a lineup of high-quality, affordable players loaded with the latest technology, the most practical/useful features and an abundance of streaming apps. Sony's players are also the only players equipped for Amazon Instant Video on Demand.
Toshiba, Samsung and LG are excellent alternatives to Sony – they are also very popular and economical choices. For those in search of the highest quality components and performance, we would proudly recommend Yamaha, Pioneer Elite models and of course, Oppo.
Sony BDP-S1700 Region Free Blu-Ray DVD Player Features:
Stream from your favorite apps in Full HD
Access over 300 streaming services including movies, TV shows, music and more from Netflix®, YouTube®, Hulu Plus™ , Pandora®, Amazon Instant Video™, and more
Enjoy Blu-ray Disc™ movies, and even upscale your DVDs to HD quality
Enjoy all your favorite Blu-ray Disc™ movies in Full HD 1080p, or upscale your DVDs to near HD quality. You can even play your CDs for a complete entertainment experience
Easy navigation with a more user-friendly interface
A new and customizable user interface makes it easier than ever to navigate your favorite apps and control your device
Start enjoying your movies faster
The player quickly loads and starts your Blu-ray and DVD discs so you can start enjoying your movies within seconds
Enjoy your videos, photos and digital music with USB connectivity
Easily display your videos and photos on your TV or listen to your digital music by simply connecting your USB storage device to the Blu-ray player's front USB slot
Cinema-quality sound with Dolby® Digital TrueHD
Dolby® Digital TrueHD and dts® 2.0+ Digital Out codecs8 reproduce high-definition sound with 7.1 channels of discrete audio for uncompromised quality
Reduce energy with an Energy Star® 3.0 rating
With an Energy Star 3.0 rating, the player will consume less energy during its use and when it's in standby mode
Standard warranty is 1 Year parts and Labor.
Sony BDP-S1700 Region Free Blu-Ray DVD Player Specifications
General
Surround Sound Decoding Dolby Digital Plus
Dolby TrueHD
DTS-HD High Resolution Audio
DTS-HD Master Audio
4K Ultra HD No
3D Capable No
Internet Movie Streaming Netflix,Hulu,Vudu,Amazon,YouTube
Built-in Wi-Fi N/A
DLNA Certified No
Smartphone App Control Yes
DVD Video Upconversion 720p, 1080i, 1080p
Multibrand Remote Yes
Compatibility
CD-R Capable Yes
CD-R/W Capable Yes
SACD Playback No
DVD-Audio Playback No
Outputs
Digital Optical Output None
Digital Coaxial Output 1
HDMI Outputs 1
HDMI Version 1.4
Ethernet Ports 1
Analog Audio Outputs None
1080p Video Output Yes
Component Video Outputs None
RS-232C Port None
Disc Compatibility
Blu-ray: BD-ROM, BD-R, BD-RE
DVD: DVD-R, DVD-RW, DVD+R, DVD+RW
CD: CD-Audio, CD-R, CD-RW
Compatible Audio/Video/Photo Formats
Audio: MP3, WMA, AAC, AIFF, ALAC, FLAC, WAV,
Video: AVCHD, MPEG-1, MPEG-2, MPEG-4, Motion JPEG, WMV9, XVID
Photo: JPEG, GIF, PNG, BMP
← Back to product description



DVD All Regions

Region Free DVD Playback. Code Free, Multi-Region, Multi-Zone




Will play DVD movies from anywhere in the world.




Plays DVDs from any region including region 0, 1, 2, 3, 4, 5, 6, 7 and 8


Region Free Playback Guaranteed for Life!



Blu-ray All Regions

Region Free Blu-ray Playback. Code Free, Multi-Region, Multi-Zone
Will play Any Blu-ray Disc from anywhere in the world.
Plays Blu-rays from any region including regions A, B, & C




World Wide Voltage

Works with world wide electricity 100-240 volts volts 50/60 hz. Can be used with electricity in North America or any other place in the world.ALL of our Multisystem TV's operate on ALL Global voltages, including 110, 120 Volts and 220, 230, 240 Volts.



DivX Compatible

With DivX® support, you are able to enjoy DivX® encoded videos.




PAL / NTSC conversion

Works on any TV, anywhere in the world.




Will convert NTSC to PAL and PAL to NTSC with perfect picture quality.




Plays Pal NTSC and Secam DVDs on any TV with Perfect video conversion.




HDMI Output

HDMI output with output resolution selection to the max your tv can handle: 1080p, 720p, 1080i, or 720i




Video Streaming

Streams Video and Audio through the internet




USB Input

USB stands for Universal Serial Bus. A USB port is a cable connection interface used on personal computers and consumer electronics. USB ports allow stand-alone electronic devices to be connected via cables to a computer or to each other.



1080p Upconversion

HDMI upconversion will convert your analog video signals to offer a much clearer, sharper HD image, with less artifacts

Shipping Group: Bluray
← Back to product description