Details
Sharp LC-32LE240M 32" Multi system LED TV; PAL, NTSC and Secam 100-240 Volts:
The Sharp LC-32LE240M 32" Multi system LED TV is a fantastic model Multi system LED TV in the 32" size. It's uses Sharp's world class Aquos engine designed in Japan made to provide a really nice picture quality. The LED shows a much better picture then a conventional LCD. It is brighter, more vivid and a clearer image. At the same time it is a very nice looking slim designed model and is very energy efficient for those taking it to countries where electricity can be expensive. Best of all the LED bulb makes is very durable and lasts much longer then a normal LCD TV. It comes with HDMI, PC, Composite RCA, Component, USB, and other inputs. It also has a headphone output jack. Most importantly it is Multi system and supports Pal / NTSC / and Secam and can be used anywhere in the world. Of course it also supports electricity around the world and is compatible in all countries. It supports 100 volts, 110 volts, 120 volts, 220 volts, 230 volts, and 240 volts.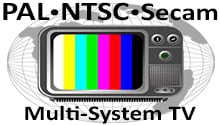 Multi-System TV - PAL, NTSC and Secam
This multisystem TV is compatible with PAL, NTSC and Secam video formats. You can use this television anywhere in the world with ANY type of video device!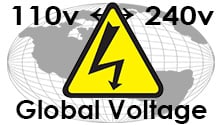 Worldwide Voltage - 110v, 120v, 220v, 230v and 240 volt!
Global Dual Voltage on this Multi-system TV means it can be used anywhere. Multi-voltage TV's can be used in any country with voltage from 110 volts to 240 volts!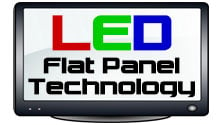 Space-Saving LED Flat Panel Technology
Multi-System LED TV's offer stunning video performance and a great value. Enjoy High Definition video in a space-saving flat panel design with this multisystem TV.
Sharp LC-32LE240M 32" Multi System LED TV Specifications:
Display
Screen Size: 32"
Resolution: 1366 x 768 px
HD-Ready/HD-ready: 1080p (1080/24P Signal Input)
High Brightness(cd/m2):( High Contrast Ratio)
Blacklight System: LED/Multi/RGB + Edge LED Blacklight
Viewing Angle (Horizontal/Vertical): Wide Viewing Angle
Digital Combfilter: 3D Y/C
Receiving System
PAL B/G, PAL D/K, PAL I
SECAM LL, SECAM B/G, Plus SECAM K/K1
NTSC, PAL60 Hz (Video System Only)
Station Presentting
Presets Analogue Tuner/Digital Tuner
Audiosystem
Digital Technology
NICAM+A2-Stereo-Decoder/Virtual Dolby/Surround (SRS TRU Surround HD)
Output Power: 5W x 2
Terminals
HDMI Input: 1
Video Input Composite RCA- X 2
PC Input / VGA input : 1
Headphone:(3,5-mm)
Videotext
Text Memory Capacity (Teletext)
General
AC 100-240 V 50/60Hz
Cabinet Colour Black
Power Consumption Stand-by(W): 0.8W
Power Consumption Operation(W): 60W
Dimensions With Stand in mm (W x H x D): 750 x 508 x 222
Dimensions (W x H x D) in mm: 750 x 478 x 55
Wallmount VESA 100mm x 100m
← Back to product description



HD 720

720p is a progressive HDTV resolution signal format with 720 horizontal lines. All major HDTV broadcasting standards include a 720p format which has a resolution of 1280×720. The number 720 stands for the 720 horizontal scan lines of image display resolution (also known as 720 pixels of vertical resolution), while the letter p stands for progressive scan.



Built-In Analog Pal, NTSC, and Secam TV tuner

Analog Pal, NTSC, and Secam tuner built in for world wide use for analog tuning. If you are in a country that utilizes digital tuning such as DVBT or ATSC a Cable Box or Satellite receiver is needed. If You have any questions regarding this please call us. With the appropriate setup this TV can be used anywhere in the world.




USB Input

USB stands for Universal Serial Bus. A USB port is a cable connection interface used on personal computers and consumer electronics. USB ports allow stand-alone electronic devices to be connected via cables to a computer or to each other.
← Back to product description