Details
Sharp LC-24LE440M Multi-System LED TV
The Sharp LC-24LE440M Multi-System LED TV with AQUOS TV's delivers Full HD 1080p that doubles the resolution of standard TVs. If true full HD performance is important to you, this is the way to go. With its compact 24 inch screen the LC-24LE440M Multi-System LED TV is perfect for the bedroom or the dorm room. A Narrow Bezel Design makes this Multi System TV ideal for wall mounting. Being compatable with PAL, NTSC and Secam video formats, the LC-24LE440M Multi-System allows you to watch TV from anywhere in the world. With all this and a 110v-240v 50/60Hz global voltage, it's a simple matter of plug and play.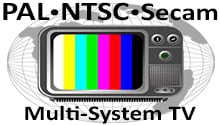 Multi-System TV - PAL, NTSC and Secam
This multisystem TV is compatible with PAL, NTSC and Secam video formats. You can use this television anywhere in the world with ANY type of video device!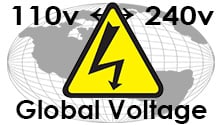 Worldwide Voltage - 110v, 120v, 220v, 230v and 240 volt!
Global Dual Voltage on this Multi-system TV means it can be used anywhere. Multi-voltage TV's can be used in any country with voltage from 110 volts to 240 volts!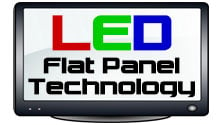 Space-Saving LED Flat Panel Technology
Multi-System LED TV's offer stunning video performance and a great value. Enjoy High Definition video in a space-saving flat panel design with this multisystem TV.
Sharp LC-24LE440M Multi-System LED TV Description:
General Features
Multi System 24" LED TV for Worldwide Use
1366 X 768 resolution with up to 1080p input
1 HDMI Input, PC input and more
Worldwide NTSC/PAL/SECAM Color System - Watch any video signal!
NTSC-M, PAL BG/PAL I/Secam BG, DK/ PAL DK TV tuners
USB for direct media playback: USB video player/ Photo Viewer/ Music Player
1080/24P Signal Input for vivid videos
Beautiful Piano Black Finish
Brightness: 450 cd/m
HDMI Inputs for Hi Definition up to 1080p TV
Dual Picture Function (P & P)
1,000,000:1 contrast ratio
Digital Comb Filter
On-screen display in: English, Simplified Chinese, Arabic, Persian, Thai, Vietnamese, Indonesian, Russian, French, Portuguese
Audyssey Spatial EQ for theater-like surround sound
Digital audio amplifier with high audio output 10w X 2
Digital Amplifier for producing clear sound
160,000-Hour Lamp Life, Sharp's LED backlight life is long enough to give you viewing pleasure for many years.
88º/88º Viewing Angles
Power saving ecological features, such as Advanced OPC (Optical Picture Control)
Built-In TELETEXT Circuit (TOP/FLOF)
RoHS Compliant
Power Consumption AC: < 1.0 W Standby
ENERGY STAR® Compliant
Voltage: Automatic switching between 100-240 volts 50/60Hz for worldwide use
1 year parts and labor Limited Warranty from Sharp
Display
Visible screen size: 24 inches
Backlight System LED/Multi/RGB+: Egde LED Backlight
Viewing angle (horizontal/vertical): Wide Viewing Angle
Audiosystem
Interfaces
USB Photo Viewer: USB - Plays Video, Photo and Music
PC-Input Analog / HDMI /: 1/2/
Other Features
110-240 V 50/60Hz
Cabinet Colour: Black
Dimensions with Stand in mm (W x H x D): 550 x 361 x 136.9
Dimensions (W x H x D) in mm: 550 x 337.5 x 58
Weight incl. Stand (kg): 4.7kg
← Back to product description



HD 720

720p is a progressive HDTV resolution signal format with 720 horizontal lines. All major HDTV broadcasting standards include a 720p format which has a resolution of 1280×720. The number 720 stands for the 720 horizontal scan lines of image display resolution (also known as 720 pixels of vertical resolution), while the letter p stands for progressive scan.



Built in NTSC/ATSC TV Tuner

Region free CodeFree Blu-ray player will allow playback of blu-rays discs from anywhere in the world. Blu-ray discs from Zone A, B, or C will play. Plays any blu-ray discs from any region, any country, anywhere in the world guaranteed




Built in DVBT and PAL Tuner

Built IN DVBT and Pal Tuner. Excellent for use outside North America with Analog Pal RF signals and DVBT RF Signals. For use in North America to watch television a Cable, box or Satellite receiver from your cable company is necessary. Or if you will not subscribe to any paid cable a ATSC digital cable converter box can be used to tune TV channels when in North America. If using outside of North America in Africa, Asia, Europe, Middle East, Oceania, or other countries with Pal or DVBT tuning, this TV will work directly with RF Antenna signal. If You have any questions regarding this please call us. With the appropriate setup this TV can be used anywhere in the world.




USB Input

USB stands for Universal Serial Bus. A USB port is a cable connection interface used on personal computers and consumer electronics. USB ports allow stand-alone electronic devices to be connected via cables to a computer or to each other.
← Back to product description