Details
Samsung PS50A410 50" Multi System Plasma TV; PAL, NTSC and Secam 100-240 Volts: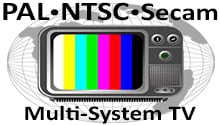 Multi-System TV - PAL, NTSC and Secam
This multisystem TV is compatible with PAL, NTSC and Secam video formats. You can use this television anywhere in the world with ANY type of video device!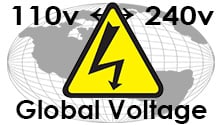 Worldwide Voltage - 110v, 120v, 220v, 230v and 240 volt!
Global Dual Voltage on this Multi-system TV means it can be used anywhere. Multi-voltage TV's can be used in any country with voltage from 110 volts to 240 volts!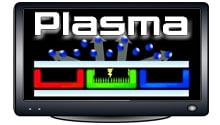 Space-Saving Plasma Flat Panel Technology
Multi-System Plasma TV's offer stunning video performance and a great value. Enjoy High Definition video in a space-saving flat panel design with this multisystem TV.
Samsung PS50A410 50" Multi System Plasma TV Specifications:
Designs and specifications are subject to change without notice.
Screen Size: 50"
Resolution: 1365 x 768
Contrast Ratio: 20,000:1
DNIe: DNIe+
Digital Noise Reduction
Brightness: 1,500cd/m²
FilterBright
Number of colors(expressed): Natural True Colour (18bit)
Grey Level(Gradation): 262,144
Cinema Progressive (Film mode)
Digital Comb Filter: 3D
Low Noise Amplifier
Silhouette Editor
Viewing Angle: over 175° (H/V)
Aspect Ratio: 16:9
Dynamic Contrast Ratio: 100,000:1
1080 24p Real Movie
Audio
Sound Output(RMS): 10W x 2
Speaker: Hidden
Sound Effect System: SRS TruSurround XT
Cabinet
Feature
Sleep Timer: (Max 180Min)
Auto Power Off: (15Min after no signal)
Anti Burn-in Technology: (APS, All white, Signal pattern, Side gray)
Melody On-Off
Plug & Play
Absent Power Off
Favorite Channel List
Teletext (TTXT): 1.5 (1,000P)
Clock & On/Off Timer
OSD Language: English
EPG
Entertainment mode (Sports, Cinema, Game)
Power Saving (Off, High, Middle, Low)
System
Tuners: NTSC 4.43, PAL-B/G, D/K, I, SECAM-B/G, D/K, AV Multi
Dimension
Set size(WXHXD) with Stand: 1230.9 x 848.4 x 315.9mm
Set size(WXHXD) without Stand: 1230.9 x 788.9 x 95.1mm
Weight
Set weight with stand: 36.9kg
Set weight without stand: 34kg
Accessory
Power Cable
Remote Control: TM95
User Manual
Battery: 2EA (AAA)
Stand
Wall Mount: VESA standard
Input & Output (side)
Composite (AV): 1
S-Video: 1
Headphone: 1
Input & Output (back)
RF input: 1
Composite (AV): 1
Component (Y/Pb/Pr): 2
PC input (D-sub): 1
HDMI: 2
Audio Monitor Out: 1
Digital Audio (Optical): 1
Power
Power Supply: 100 ~ 240V (50/60Hz)
Operation Power Consumption: 470W
Stand-By Power Consumption: < 1W
Panel Life Time
Panel Life Time: 100,000 hours
← Back to product description



HD 720

720p is a progressive HDTV resolution signal format with 720 horizontal lines. All major HDTV broadcasting standards include a 720p format which has a resolution of 1280×720. The number 720 stands for the 720 horizontal scan lines of image display resolution (also known as 720 pixels of vertical resolution), while the letter p stands for progressive scan.



Built in DVBT and PAL Tuner

Built IN DVBT and Pal Tuner. Excellent for use outside North America with Analog Pal RF signals and DVBT RF Signals. For use in North America to watch television a Cable, box or Satellite receiver from your cable company is necessary. Or if you will not subscribe to any paid cable a ATSC digital cable converter box can be used to tune TV channels when in North America. If using outside of North America in Africa, Asia, Europe, Middle East, Oceania, or other countries with Pal or DVBT tuning, this TV will work directly with RF Antenna signal. If You have any questions regarding this please call us. With the appropriate setup this TV can be used anywhere in the world.
← Back to product description