Details
Samsung DVD-C500 Region Free DVD Player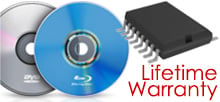 Region Free Playback Guaranteed for Life!
Unlike software or firmware solutions, our region free hardware modifications are guaranteed to play DVD Discs and DVD's from any region for the life of your player!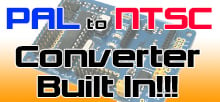 This DVD Player Requires No Extra Video Converter!
No matter where in the world you are, this player works with any TV. Built in NTSC to PAL and PAL to NTSC conversion guarantees DVD playback anywhere!
Samsung DVD-C500 Region Free DVD Player Product Description:
The New Samsung DVD-C500 Region Free DVD Player comes equipped with Anynet, which helps all components communicate and share information via HDMI-CEC (Anynet). An impressive, sleek 37mm design also houses 1080p up-conversion, delivering crisp, distinct pictures and high-quality sound. Plays DVD, DiVX, MP3, DVD-RW , VCD, Super VCD, DVD-R/DVD+RW/DVD+R/DVD/CD-RW/CD-R/CD/Video CD Playback Capability, HDMI Terminal for Digital Audio/Video out to view on 1080p, Slim design, 14-bit video DAC, HDMI-CEC (Anynet+) A true "plug and play" product, it comes with a Consumer Electronics Control (CEC) feature that lets you operate multiple HDMI products with a single remote control. HDMI 1080p Output (Up-converts normal movies to full HD 1080p). This unit features HDCP copyright protection technology, and must be connected to an HDCP-compliant device. The output resolution can be set to match the capability of the monitor or projector. HDMI connection is compatible with DVD-Video. The video output signal format can be set to 480p, 720p, 1080i OR 1080p. 720p, 768p, 1080i and 1080p up conversion from conventional DVD-Video images (for use with high-definition and HD-ready TVs). Digital Cinema Progressive Scan (3:2 Pull down). Video Adjust Menu (Sharpness, Brightness, Contrast, Gamma, Hue, Chroma Level), Video Black Level Expansion and PLUGE, 3D-DNR (Digital Noise Reduction), WMV (Windows Media Video) Compatible, Official DivX Certified Product. Compatible with All Versions of DivX Video (including DivX 6) with Standard Playback of DivX Media Files, Video Adjust Function with Sharpness/Brightness/Contrast/Gamma/Hue/Chroma Level Control, Zoom Function, 12-Bit, 108 MHz Video D/A Converter.
Samsung DVD-C500 Region Free DVD Player Specifications:
Designs and specifications are subject to change without notice.
Audio Features:
96 kHz/24-bit Audio DAC
DTS (Digital Theater System) 2-Channel Decoding
Dolby Digital Output
Dialogue Enhancer
Virtual Surround
Sound Equalizer (Rock/Pop/Live/Dance/Techno/Classic)
Dolby Digital and DTS Digital Outputs
96 kHz/24-bit D/A Converter PCM Audio Compatibility
Dynamic Range Control

Video Features:
Parental Lock
Multi-Camera Angle Select
Multi-Language Select
Multi-Subtitle Select
Wide screen, Letterbox and Normal Picture Set-up
Bit Rate Meter
Icon-Based On-Screen Display
Easy to navigate, colorful on-screen menus allow for easy operation.
Standard Remote Control

Photo Features:
Digital Photo Viewer: HD JPEG, JPEG, Konica, Fuji Photo, Kodak Photo CD
Zoom 4x-Power Picture
16X Power Picture Zoom

Other features:
Voltage: 110-240 volts optional, 110 volts comes standard. You can choose to have just 110 volts for North America, or 110-240 volts which will work anywhere in the world.
Progressive scan output: Scans individual picture lines in sequence rather than alternately, maximizing the clarity of digital images and bringing new realism to your DVD viewing experience.
HDMI (High Definition Multimedia Interface): The unit's HDMI simplifies A/V connections by carrying uncompressed SD or HD digital video and up to 8 channels of digital audio all in one cable.
Model: DVD-C500 with Diamond Series Upgrades
WMA (Windows Media Audio)/MP3/MPEG-4 AAC Compressed Music Playback Compatible

Included:
Wireless remote control
RCA Audio Video Cables
Instruction Manual
Connections:
RCA (Composite, most common cable that has yellow, white and red) Connection-Cable included at no charge, HDMI, Component Video (Y, Cr, Cb) Output, Coaxial Digital Audio Output, Analog Audio Output.
Dimensions:
Height:
1.5"
Width:
14.2"
Depth:
8.15"
Approximate Weight:
Unit:
2.78 lbs
Shipping:
4 lbs
← Back to product description



DVD All Regions

Region Free DVD Playback. Code Free, Multi-Region, Multi-Zone




Will play DVD movies from anywhere in the world.




Plays DVDs from any region including region 0, 1, 2, 3, 4, 5, 6, 7 and 8


Region Free Playback Guaranteed for Life!



DivX Compatible

With DivX® support, you are able to enjoy DivX® encoded videos.




HDMI Output

HDMI output with output resolution selection to the max your tv can handle: 1080p, 720p, 1080i, or 720i




Progressive Scan

Progressive scan




PAL / NTSC conversion

Works on any TV, anywhere in the world.




Will convert NTSC to PAL and PAL to NTSC with perfect picture quality.




Plays Pal NTSC and Secam DVDs on any TV with Perfect video conversion.




World Wide Voltage

Works with world wide electricity 100-240 volts volts 50/60 hz. Can be used with electricity in North America or any other place in the world.ALL of our Multisystem TV's operate on ALL Global voltages, including 110, 120 Volts and 220, 230, 240 Volts.



1080p Upconversion

HDMI upconversion will convert your analog video signals to offer a much clearer, sharper HD image, with less artifacts
← Back to product description