Region Free Blu-ray DVD Players • Code Free • Multi-Region • Bluray Players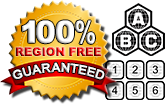 Our Region Free Blu-ray & DVD players allow you to play DVDs and Blu-ray Discs from any region in the world. While all of our players are compatible with regions 0 through 8 on DVD, some of our Blu-ray Players only come standard with Region A Blu-ray Disc compatibility (Regions B and C are always available as an upgrade). All models will play discs in any format including Pal/NTSC/Secam and many of our Region Free Blu-ray Players can actually convert any format to Pal/NTSC/Secam output, allowing you to connect your player to any TV in the world without the need for an external video converter.
See our Region Free Blu-ray DVD Player Comparison Chart and Buying Guide
Free Shipping on All Blu-ray Players!
Featured Region Free Blu-ray DVD Players
↓ Our Complete Selection of Region Free Blu-ray DVD Players ↓
Region Free
Blu-ray Model


(Click on links to view players)

Region Free for Standard DVDs Region 0-8
Region Free for Blu-Ray
Region A, B, & C Optional
Internet Streaming Applications
Netflix, YouTube etc.
Wireless Internet Streaming
3D Compatible
4K Ultra High Definition
110-240 Volts
Full Home Theater w/ Speakers
Sony BDP-S1700
Region Free Blu-Ray
Samsung BD-J5100
Region Free Blu-Ray
Sony BDP-S3700
Region Free Blu-Ray
Samsung BD-J5700
Region Free Blu-Ray
Samsung BD-J5900
Region Free Blu-Ray
LG BP550
Region Free Blu-Ray
LG BP350
Region Free Blu-Ray
LG BP165
Region Free Blu-Ray
Panasonic DMP-BDT270
Region Free Blu-Ray
Sony BDP-S6500
Region Free Blu-Ray
Sony BDV-E3100
Region Free Home Theater
Samsung UBD-K8500
4K UHD Blu-ray Player
Sony UBP-X800
4K Ultra HD Blu-ray Player
Sony BDV-N5200w
Region Free Home Theater
Note from our Techs
:Currently, our most recommended & popular brand of Region-Free Blu-ray Players is from Sony. Known as the inventors of Blu-ray technology, Sony offers a lineup of high-quality, affordable players loaded with the latest technology, the most practical/useful features and an abundance of streaming apps. Sony's players are also the only players equipped for Amazon Instant Video on Demand.
Toshiba, Samsung and LG are excellent alternatives to Sony – they are also very popular and economical choices. For those in search of the highest quality components and performance, we would proudly recommend Yamaha, Pioneer Elite models and of course, Oppo.
Region Free Blu-ray DVD players Buying Guide and Information
If you are planning to use a Multi Region Blu-Ray DVD player in the USA you need to consider a few things before you purchase. Region coding for Blu-ray discs is divided between the world in 3 regions which are A, B, and C. In addition to the regional coding, there are Pal and NTSC TV output systems. If you have a TV in the United States, chances are that TV only supports the NTSC TV system. This means if you want to play back a Pal DVD disc from Europe, Asia, the Middle East, Africa, etc., you will need a DVD player that has a video converter built in or you will need to buy an external video converter. We have packages with all of our players that do not convert so you can purchase the player with the video converter. We also sell many DVD players now that have a video converter built in. If you buy one of these you will not need anything besides the player to play Pal or NTSC discs on an NTSC TV in North America. If your TV supports both Pal and NTSC then you can play any of these discs on your TV without a video converter. If your TV is the Pal or Secam standard in Europe, Asia, Middle East, Africa, etc. then you will not need a video converter. Most of the time you will be able to play standard and/or Blu-ray DVD movies from the USA and/or overseas with just one of our Multi region Blu-ray players. However, TV's from the USA may not support the resolution HDMI input from a foreign disc, in which case you will need to purchase a video converter.
Blu-Ray DVD Regions Chart
Regions for standard Blu-ray discs may be encoded with a region code, intended to restrict the area of the world in which they can be played, similar to DVD region codes. Blu-ray players sold in a certain region should only be able to play discs encoded for that region. The purpose of this system is to allow motion picture studios to control the various aspects of a release (including content, date, and, in particular, price) according to the region. Discs may also be produced without region coding, so they can be played on all devices
Blu-Ray Region A:
North America, Central America, South America, Japan, North Korea, South Korea, Taiwan, Hong Kong and Southeast Asia
Blu-Ray Region B:
Europe, Greenland, French territories, Middle East, Africa, Australia and New Zealand
Blu-Ray Region C:
Pakistan, India, Mainland China, Russia, Central and South Asia
Standard DVD Regions Chart:
DVD Region 1:
U.S., U.S. Territories, Canada
DVD Region 2:
Albania, Andorra, Austria, Bahrain, Belarus, Belgium, Bosnia and Herzegovina, Bulgaria, Canary Islands, Croatia, Cyprus, Czech Republic, Denmark, Egypt, Estonia, European Union, Faroe Islands, Finland, France, France, Georgia, Germany, Gibraltar, Greece, Greenland, Hungary, Iceland, Iran (Islamic Republic of) Iraq, Ireland, Israel, Italy, Japan, Jordan, Kuwait, LaTVia, Lebanon, Liechtenstein, Lithuania, Luxembourg, Macedonia (the Former Yugoslav Republic), Malta, Moldova, Principality of Monaco, Netherlands, Norway, Oman, Poland, Portugal, Qatar, Romania, Russian Federation, San Marino, Saudi Arabia, Slovakia, Slovenia,South Africa, Spain, Sweden, Switzerland, Syrian Arab Republic, Turkey, Ukraine, United Arab Emirates, United Kingdom, United Kingdom (Channel Islands) Vatican City State, Yemen, Yugoslavia
DVD Region 3:
Southeast Asia, East Asia (including Hong Kong)
DVD Region 4:
Australia, New Zealand, Pacific Islands, Central America, Mexico, South America, Caribbean
DVD Region 5:
Former Soviet Union, Indian Subcontinent, Africa (also North Korea, Mongolia)
DVD Region 6:
China
DVD Region 7 & 8:
Reserved for Airlines, Cruise Ships, and Govt.