Details
Pioneer DV-220 Region Free DVD Player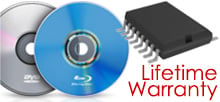 Region Free Playback Guaranteed for Life!
Unlike software or firmware solutions, our region free hardware modifications are guaranteed to play DVD Discs and DVD's from any region for the life of your player!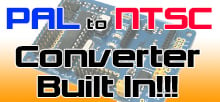 This DVD Player Requires No Extra Video Converter!
No matter where in the world you are, this player works with any TV. Built in NTSC to PAL and PAL to NTSC conversion guarantees DVD playback anywhere!
Pioneer DV-220 Region Free DVD Player Specifications
Designs and specifications are subject to change without notice.
Video:
Dual-Layer DVD-R/DVD/DVD-R/DVD-RW/ W/DVD+R/, DVD+RW Compatible, SVCD/VCD/CD/CD-R/CD-RW Compatible.
HDMI Terminal for Digital Audio/Video Out, HDMI Upscaling (to view on a 1080p display).
Official DivX Certified Product, Compatible with All Versions of DivX Video (including DivX 6) with Standard Playback of DivX Media Files.
108 MHz/12-bit Video DAC, PureCinema 2:3 Progressive Scan, USB Input for Compressed Video (DivX) and JPEG, HD JPEG Playback, JPEG PhotoViewer (Fujicolor CD).
Video Adjust Function with Sharpness/Brightness/Contrast/Gamma/ Hue/Chroma Level Control.
Zoom Function.
WMV (Windows Media Video) Compatible.
I/P Simultaneous Output.
Video Upconversion: The 1080p has the Ability to Upconvert a Standard DVD Signal to HD-compatible 720p, 1080i; and 1080p and Pass it through the HDMI Output; upconverted signals are not passed by the component Video Output.

Audio:
USB Input for Compressed Music Playback, 96 kHz/24-bit Audio DAC.
Dialogue Enhancer, Virtual Surround, Sound Equalizer (Rock/Pop/Live/Dance/Techno/Classic/Soft).
USB Input for Compressed Music Playback Compatible.
WMA (Windows Media Audio)/MP3/MPEG-4 AAC Compressed Music Playback Compatible. DTS (Digital Theater System) 2-Channel Decoding.
Dialogue Enhancer, Virtual Surround, Dolby Digital Output.
Audio D/A Converter: The Pioneer 1080p has a 96kHz/24-bit audio digital-to-analog converter for superb audio reproduction.

Convenience:
Photo + Music Mix (JPEG Slideshow with Music)
Advanced GUI: Yes
Disc Navigator for Easy Browsing: Yes
Resume Function: Yes
Screen Saver: Yes
Auto Power Off: Yes
Last (Position) Memory: 5 (DVD)/1 (VCD) It will remember your place where you left of the last disc. So you can start watching from the same spot.

Terminals:
Component Video Output (DVD, Video CD)
1 HDMI Terminal: Yes
1 USB Input: Yes
1 Coaxial Digital Output: Yes
1 Audio/1 Video Output: Yes

Approximate Dimensions:
Dimensions (W x H x D):
14-3/16 x 1-5/8 x 7-15/ 16 inches (360 x 42 x 202 mm)
Weight:
2 lbs. 14 oz. (1.3 kg)
Progressive Scan Output:
Progressive-scan video has less flicker and fewer motion artifacts than the traditional interlaced-scanning method, resulting in a superior picture. To take advantage of this feature, you must have a television with component video inputs that supports the progressive scanning mode. The Pro component outputs on this unit can be set to pass either progressive or interlaced video.
MP3/WMA Playback:
This unit will play MP3/WMA audio files recorded onto CD-ROM and CD-R discs using the ISO 9660 Level 1, Level 2 or Joliet formats. Compatible bit rates include 32-320 kbps for MP3 and 48-192 kbps for WMA. Each disc can have no more than 256 folders and 1000 files.
JPEG Disc Playback:
This unit will play JPEG files recorded onto CD-ROM and CD-R discs using the ISO 9660 Level 1, Level 2, or Joliet formats. You can select a single image or a page of 9 thumbnails. Each disc can have no more than 256 folders and 1000 files. Maximum file size is 3072 x 2048.
DivX Playback:
This unit will play DivX and MPEG-4 files recorded onto CD-ROM and CD-R discs. DivX is a compression technology. Optional DivX software allows you to create and play your own DivX videos. Video-on-demand movies are also commercially available to buy or rent. Each disc can have no more than 256 folders and 1000 files.
DivX Home Theater Certified:
Yes
Zoom:
The Zoom feature allows you to get an increasingly close-up view of the image. Each press of the Zoom button increases the magnification to 1.3x (Zoom 1), 1.5x (Zoom 2), or 2.0x (Zoom 3). You can also move the zoomed image around the screen.
Resume Play:
Resume play allows you to resume playback of a disc from the point where you last stopped. The stopping point is cleared when the Stop button is pressed more than once, the disc tray is opened, or the unit is turned off.
Bookmark:
This function allows you to store bookmarks on a disc that can be easily recalled. You can bookmark up to 3 scenes at a time.
Parental Lock Function:
You can select a parental control rating from 0-8, which is protected by a 4-digit password.
HDMI Video Upconversion -720p/1080i/1080P:
HDMI can support uncompressed digital video up to HDTV resolution. Thus the player makes use of this conduit by up-converting the standard DVD picture resolution of 720p, 1080i and 1080p. This makes a DVD player with an HDMI connection the perfect match for today's digital televisions. And because this conversion is performed in the player, the signal remains free frome excessive digital to analog artifacts. HDMI (High Definition Multimedia Interface): The unit's HDMI simplifies A/V connections by carrying video and digital audio all in one cable. This unit features HDCP copyright protection technology, and must be connected to an HDCP-compliant device. If your TV has a DVI input instead of an HDMI input, you can connect this unit to your TV using an HDMI-to-DVI adapter. You will also need to connect audio cables to the player because DVI is a video only cable.
Pioneer DV-220 Region Free DVD Player Product Description
Play any region DVD movie from anywhere in the world on any TV Guaranteed!
This player is modified For Region Free using the ULTRA ICOS Diamond Class modification backed by our Lifetime Region free Modification Guarantee. (We guarantee that this modification will allow you to play any region original DVD from anywhere in the world or your money back). Buyer beware that all modifications are not equal when comparing prices. We have been in business since 1979, been modifying DVD players for over a decade, have a physical location in IL, and a toll free number for tech support. Buying from a auction or marketplace website from a fly by night company will not get you the same region free modification as what we install in our players. Please keep this in mind when purchasing a Region Free DVD Player.
100-240 volts for world wide use.
Built in 64MB Pal <-> NTSC converter for perfect playback of foreign movies on any TV.
Play any normal DVD movie from anywhere in the world and up-converts to HD quality for your TV via HDMI.
USB input to play Audio and Video files from a USB storage device, or a MP3 Player.
CD to USB MP3 Recording / easy conversion: New feature allows you to connect a MP3 player to the DVD player using the USB input. Then you put in a Audio CD, and it automatically copies the files from your audio CDs to your MP3 player.
Play region 0,1,2,3,4,5,6,7,8 and any other region DVD movie on any TV guaranteed!!!
Plays all formats of video broadcast from anywhere in the world including Pal, Secam and NTSC, on any TV.
This player has all the outputs for older TVs and new ones. Works with simple Yellow/Red/White composite cables for older TVs, as well has component and HDMI cables for the really new TVs and everything in between.
Full 1080p Ultra High Definition up-conversion via HDMI. Also supports 480i/480p/720p/1080i and 1080P.
NO SPECIAL TV OR ADDITIONAL EQUIPMENT NEEDED TO PLAY FOREIGN FILMS OR MOVIES.
SUPERB COMPATIBILITY WITH RE-RECORDED DISCS FROM CHINA OR OTHER PLACES IN THE WORLD INCLUDING CD-R, CD-RW, DVD-R, DVD-RW, DVD+RW, DVD+R, DUAL LAYER, MPG-4, DIVX, WMA, JPGES, VCD, SVCD, MP3, WMA, AVI, and AND MANY MANY OTHER FORMATS.
This player plays almost any disc you will put in it.
Ultra 64 MB Pal <-> NTSC Video converter Built In.
Perfect picture quality even when playing foreign movies!
Virtually No picture loss when playing Pal DVD on NTSC TV or Vice Versa.
100-240 volts for world wide Use.
100% Money back guarantee. If this player does not perform as advertised, we will not only give you a full refund including shipping, but we will also pay for return shipping. This only applies if the unit does not do what we say. If you have received a defective unit, we will replace it within 30 days and pay for all shipping expenses.
Pioneer has repeatedly manufactured some of the best DVD products in the market. Here is yet another example of a job well done. After long hours of testing our techs have given this player a whooping 10/10 rating for durability, product quality and design.
← Back to product description



DVD All Regions

Region Free DVD Playback. Code Free, Multi-Region, Multi-Zone




Will play DVD movies from anywhere in the world.




Plays DVDs from any region including region 0, 1, 2, 3, 4, 5, 6, 7 and 8


Region Free Playback Guaranteed for Life!



DivX Compatible

With DivX® support, you are able to enjoy DivX® encoded videos.




HDMI Output

HDMI output with output resolution selection to the max your tv can handle: 1080p, 720p, 1080i, or 720i




Progressive Scan

Progressive scan




PAL / NTSC conversion

Works on any TV, anywhere in the world.




Will convert NTSC to PAL and PAL to NTSC with perfect picture quality.




Plays Pal NTSC and Secam DVDs on any TV with Perfect video conversion.




World Wide Voltage

Works with world wide electricity 100-240 volts volts 50/60 hz. Can be used with electricity in North America or any other place in the world.ALL of our Multisystem TV's operate on ALL Global voltages, including 110, 120 Volts and 220, 230, 240 Volts.



USB Input

USB stands for Universal Serial Bus. A USB port is a cable connection interface used on personal computers and consumer electronics. USB ports allow stand-alone electronic devices to be connected via cables to a computer or to each other.
← Back to product description