Details
Philips PET741 Portable Region Free DVD Player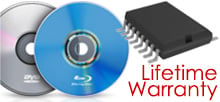 Region Free Playback Guaranteed for Life!
Unlike software or firmware solutions
our region free hardware modifications are guaranteed to play Blu-Ray Discs and DVD's from any region for the life of your player!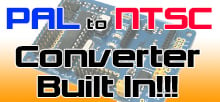 This Blu-Ray Player Requires No Extra Video Converter!
No matter where in the world you are, this player works with any TV. Built in NTSC to PAL and PAL to NTSC conversion guarantees Blu-Ray & DVD playback anywhere!
Philips PET741 Portable Region Free DVD Player Description:
Excellent Name Brand model, works anywhere in the world!
INTERNATIONAL VERSION
Code Free, Region Free, Multi Zone, Multi region
Play any region dvd, Pal or NTSC, on any TV or on Screen, anywhere in the world!!
PAL AND NTSC OUTPUT TO ANY TV, BUILT IN CONVERTER

PLAY ANY DVD ON SCREEN OR ON ANY TV NO MATTER WHAT REGION OR WHETHER IT IS PAL OR NTSC.

Plays any region Pal or NTSC movie On Screen!

Play any region Pal or NTSC on any TV!
Plays Regions 1,2,3,4,5,6,0 and all other Region discs

Plays PAL & NTSC DVD Discs

7" 16:9 TFT Widescreen Monitor
Code Free, Region Free, Multi Zone, Multi region
DVD, DVD+/-R, DVD+/-RW, (S)VCD, CD compatible
The Philips Portable DVD player is compatible with most DVD and CD discs available in the market. DVD, DVD+/-R, DVD+/-RW, (S)VCD, and CD - all of them can play on the DVD player. DVD+/-R is a shorthand term for a DVD drive that can accept both of the common recordable DVD formats. Likewise, DVD+/-RW handles both common rewritable disc types.
MP3-CD, CD and CD-RW playback
MP3 is a revolutionary compression technology by which large digital music files can be made up to 10 times smaller without radically degrading their audio quality. A singe CD can store up to 10 hours of music.
View JPEG images from picture disc
Play JPEG photos that are saved on your disc. Relive your favorite moments with family and friends anytime you want!
7" TFT color LCD display in 16:9 wide screen format
The color LCD display brings images to life, showing off your treasured photos, favorite movies and music with the same 'real life' rich detail and vibrant colors as high quality prints. The 16:9 widescreen aspect ratio is standard for universal to high-definition digital television. A native 16:9 aspect ratio means video display without bars at top and bottom of the picture and without the quality loss than comes from scaling, altering an image to fit on a different screen size.
Built-in stereo speakers
The stereo speaks provide quality sound and allow you to listen freely. Enjoy music anytime, anywhere, with built-in stereo speakers that allow the convenience and enjoyment of music playback simply by unplugging the headphone.
Few buttons for simple and easy control
This simple-to-use portable player is designed for easy operation while you are on the move. Simply load your disc into the player to enjoy your favorite DVDs. With few one-touch buttons for easy control and full compatibility with most popular DVD/VCD/CD discs, you can look forward to great entertainment wherever you go.
Up to 2-hour playback with rechargeable built-in battery*
This Philips player comes with a compact built-in rechargeable battery for long-lasting power. Up to 2 hours of continuous movie, photo and music playback enjoyment can be achieved on a single charge. Just plug in the power cable to recharge the player - it's that simple.
AC adaptor, car adaptor included
This Philips player comes with AC adaptor, car adaptor for your convenience.
Philips PET741 Portable Region Free DVD Player Specifications:
Designs and specifications are subject to change without notice.
General Features:
Code Free All Region Version

2 Hour battery built-in, (optional 8-11 hour battery available)

7" Digital TFT Clear Bright 16:9 Wide Screen LCD monitor

Anti Shock Protection

Playback of any region DVD movie from regions 1-6

Discs Supported: Any Region DVD-Video, DVD-R/RW, DVD+R/RW, Audio CD, SVCD, VCD, CD-R & CD-R

Disc Formats: DVD-Video, SVCD, VCD, MP3, MPEG-2, JPEG

Plays any region PAL and NTSC movies on its own screen plus you can output the signal to any TV.

This unit has a built-in video converter so you can even play PAL movies on an NTSC TV or NTSC movies on a PAL TV!

Lifetime All region guarantee on our Modification.

AV Out lets you watch the DVD player on an external PAL or NTSC TV!

LCD panel type: Anti-glare polarizer

Resolution: 480(w)x234(H)x3(RGB)

Brightness: 200 cd/m

Contrast ratio (typical): 250:1

Effective viewing area: 154.1x86.6mm

Pixel pitch: 0.107(w)x0.370(H)mm

Response time (typical): 30 ms

3X Zoom Screen Selector

Still Picture Display

Auto Switching Field/Frame still

Frame Advance (Forward and Reverse)

Advanced Surround

27MHz/10-bit Video D/A Converter performs video signal processing at a fast rate for enhanced DVD picture quality

Slim size credit card remote Control

Twin Laser pickup

Chapter preview

Hi-speed smooth Motion scan

On-Screen Menu Icons

Built-in Stereo Speakers

Built-in recharge function

More than 500 lines horizontal resolution

60dB Video S/N

4Hz-44KHz frequency response

97dB Dynamic range CD

AC/DC Power Operation
`Output Ports:
Composite

Analog Stereo Out
Power:
100-240 volt 50/60 Hz auto switching for use in any country!

DC Output DC 9V, 3A
Battery:
built-in battery

Voltage 9 V

Capacity 4000mAh

Charge Time 3.5 ~ 4.5 hrs
*Dimensions:
37mm High x 153mm Deep x 197mm Wide with battery
Weight:
Comes complete with:
Car power supply

Dual voltage World Wide battery charger and power supply
Warranty and Support:
1 year parts, 90 days labor, and lifetime all region warranty.
← Back to product description



Battery Hours: 2 Hours




Screen Size: 7 Inch




DVD All Regions

Region Free DVD Playback. Code Free, Multi-Region, Multi-Zone




Will play DVD movies from anywhere in the world.




Plays DVDs from any region including region 0, 1, 2, 3, 4, 5, 6, 7 and 8


Region Free Playback Guaranteed for Life!



PAL / NTSC conversion

Works on any TV, anywhere in the world.




Will convert NTSC to PAL and PAL to NTSC with perfect picture quality.




Plays Pal NTSC and Secam DVDs on any TV with Perfect video conversion.




World Wide Voltage

Works with world wide electricity 100-240 volts volts 50/60 hz. Can be used with electricity in North America or any other place in the world.ALL of our Multisystem TV's operate on ALL Global voltages, including 110, 120 Volts and 220, 230, 240 Volts.
← Back to product description