Details
LG RC897T DVD Recorder VCR Combo with HDMI 1080P Region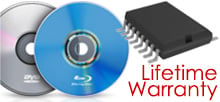 Region Free Playback Guaranteed for Life!
Unlike software or firmware solutions
our region free hardware modifications are guaranteed to play Blu-Ray Discs and DVD's from any region for the life of your player!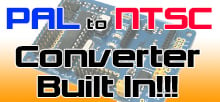 This Blu-Ray Player Requires No Extra Video Converter!
No matter where in the world you are, this player works with any TV. Built in NTSC to PAL and PAL to NTSC conversion guarantees Blu-Ray & DVD playback anywhere!
LG RC897T DVD Recorder VCR Combo with HDMI 1080P Region Description:

Code Free dvd player, Region Free & Built in 32 MB Pal -> NTSC converter
LG DVD recorder and Player Region free

Plays Any Region DVd movie including 0,1,2,3,4,5,6,etc... Pal or NTSC. Also plays DVD-Video, DVD-R & DVD-RW, DVD+R & DVD+RW, DVD-RAM, Video CD, audio CD, CD-R & CD-RW, MP3 & WMA CDs, and plays digital picture CDs (JPEG)
VCR side is NTSC only. It will play only VHS Cassettes from the USA. It will not play VHS cassettes that are Pal from Europe of other countries. It will play DVD movies that are Pal or NTSC from any region in the world.
Play and region dvd movie from any country on Standard TV in the USA. 110 volts for USA use.

Records ON +R/-R/-RW/+RW and DVD-Ram so you can buy whatever format blank media you choose. +RW, -RW, and RAM media are made for re-recording so you can make a dvd movie and then erase it and recording something new on it layer

Built in 32 MB Pal to NTSC converter so you can play foreign movies on USA TV in Perfect Picture Quality

NTSC and ATSC HDTV TV tuner to record TV programs from air in the USA. Includes analog tuner and New digital tuner so you are future proof.

DVDs recorded on this machine will play anywhere in the world

HDMI output as well as standard outputs so you can use it with any OLD tv or New plasma, LCD, or HDTV with 1080i HDMI output so everything will play be upconverted to HD quality
Playback: It will play your NTSC (North American Standard) VHS cassettes and also play any DVD movie from anywhere in the world. No matter what region code or what system Pal/NTSC/Secam you dvd disc is, it will play. Play any region DVD, DVIX, XVID, DVD +R, +RW, -R, -RW, CD, CD-R, CD-RW, VCD, SVCD. WMA files, Jpeg, MP3, MPEG, Xvid Windows Media Files and much, much more.
DIGITAL HDTV TUNER BUILT-IN, DVD Super Multi REGION FREE DVD RECORDER / VCR COMBO.
The HDMI interface provides faithful digital connections to your other A/V components.
This unit features both the digital and the analog tuners it will record all digital channels including the High Definition Channels (HD) as well as the the Standard Definition Channels (SD
The DVD made on this model will be all regions you can play it on any DVD player in the World.
CODE & REGION FREE Progressive Scan DVD PLAYER & NTSC VCR COMBINATION
DVD PLAYER
Pal and NTSC DVD's

Any region DVD: 0,1,2,3,4,5,6,7,8...

DVD-R, DVD+R, DVD-RW, DVD+RW

Video CD (VCD)

DivX®/MPEG4 Playback

Super Slim Design
Stands only 3.1" high for convenient addition to existing home theater configurations.

High Definition DVD 1080i Upconversion with HDMI Output
A special video processing circuit upconverts all signals to 1080i (more than a thousand lines of horizontal resolution) via HDMI output for use with compatible televisions. If you don't have a HD or HD ready tv, you can still use this DVD/VCR combo with the standard outputs.

Progressive Scan Technology
Video is processed faster and sequentially to produce superior, crisp, clear images.

Super Video CD (SVCD)

Audio CD

CD-R & CD-RW

JPEG Digital Still Files on CD-R/W

MPEG CD

Kodak Picture CD

MP3 Discs

Records both pal and ntsc video signals and records on DVD -R/-RW/+R/+RW and DVD RAM.
NTSC VCR FEATURES
Plays only NTSC VHS cassettes

Does not play Pal cassettes

Works with all normal USA standard NTSC TVs

No special TV required
The LG 797 DVD recorder / vcr combo rolls a DVD recorder, a VCR, and a digital TV tuner into one space-saving unit. Record your favorite shows to either VHS tapes or durable DVDs. And you can record both analog TV shows and crystal-clear digital broadcasts (all recordings are made in standard definition). Simply connect an antenna to receive free digital TV over the air, or use the LG 797 Region free HDMI dvd recorder and NTSC VCR COMBO's built-in tuner to watch and record unscrambled digital cable channels. In addition, this recorder gives you two ways to back up your home movies — either connect a camcorder to the front-panel inputs, or take advantage of the recorder's dual-deck design for quick and easy dubbing of non-copy-protected material.
Warning: All dvd recorders are encrypted by a copy-protection format that will prevent you from recording copyrighted movies. However, we do have a copy-protection eliminator boxthat will allow you to record VHS and DVD movies into this dvd recorded. Please remember that the use of this product should be for you own home use only, and should not be used for commercial duplication. These products should only be used to make backup copies of videos under "fair use". We do not promote any illegal copying of copyrighted material.
Multisystem television set is not required. It is with both Single and Dual Layer DVD Recording, HDMI, Smart Link and so much more.

LG's BRAND NEW RELEASE of the DVD Recorder with the Digital Tuner is a convenient combination unit incorporating both the digital as well as the analog tuners. An ATSC/NTSC/Clear QAM tuner which utilizes LG's powerful fifth-generation "VSB" technology. This Region Free Super Multi DVD recorder gives consumers the power to record a wide variety of sources onto any of the major blank DVD disc formats available in the market. This unit is all BLACK and has a very nice design.
This Region Free Recorder not only will play any DVD which includes PAL/SECAM/NTSC DVDs on NTSC TV as well as Region 1,2,3,4,5,6 RCE/RSS DVDs on NTSC TV it will also record from any PAL/NTSC source (non copyright material). Best price on this recorder at International Electronics 847-640-9000. High tech next generation 32MB built-in Digital Signal Converter will do the conversion on the fly. It is a great machine that will do the conversion without spending hundreds of dollars for expensive conversion equipment. With this new upgrade you can now finally do what you wanted to do for years, transfer those old PAL or NTSC tapes to the DVD that will last ages and play on your TV.
This new Region FREE DVD Recorder / VCR Combo addresses the digital TV transition that is well underway in the U.S. by providing both digital and analog tuning, as well as output connections suitable for both standard-definition and high-definition TVs including PLASMA, LCD, DLP, CRT and the standard tube TVs. PAL/NTSC on any TV with this Machine. Please call 877-578-0587 to order this model at the best price. LG's Digital Tuner Super Multi DVD Recorder / VCR COMBO will allow any HDTV owner record their HDTV channels directly to the DVD and capture TV programming from digital cable and satellite set-top boxes. It is fully compatible with the Direct TV, Dish Network, Digital Cable, DVR, and TiVO. Built-in 4-head Hi-Fi VCR with SP/SLP recording modes, DVD-to-VCR dubbing and Super VHS Quasi Playback (SQPB); one-touch dubbing
Other features on this great Region Free Super Multi Recorder are DV (1394) recording designed for or for saving home videos from digital camcorders via a DV (1394) input. To enhance ease-of-use, all LG Super Multi recorders incorporate LG's "Simple Link" technology, which allows users to control similarly equipped LG TV and AV products via convenient on-screen menus or directly from the product itself. The units are connected with a standard HDMI cable, and use the HDMI-CEC standard for direct control of equipped LG products. This region Free Recorder Super Multi DVD can record to all major blank video disc types DVD+R DL, DVD+R, DVD-R, DVD+RW, DVD-RW, DVD-RAM, making the task of selecting the right blank media an easy one.

Further addressing the digital convergence trend, the digital tuner on this REGION FREE DVD Recorder comes in handy once the broadcast signal moves over from analog to the digital. It also incorporates a USB Media Host port that can play MP3, WMA or JPEG music and photo files. And all LG DVD/VCR recorders combos incorporate one-touch dubbing between DVD and VHS, allowing for an easy-to-use recording process for non copy-protected content between the two mediums.
This multiformat REGION FREE DVD Recorder / VCR Combo features 1080p upconversion to boost the visual beauty of all of your standard DVDs. The wide range of compatible recordable disc formats makes it a cinch for you to build an archive of your favorite programs.
Just-fit recording and Instant Timer Record (ITR) make it easier to preserve programs you want to watch. Playback functions include zoom, marker, marker search, bookmark search, resume, auto play, 1.5x playback with audio, chapter skip, slow motion, repeat play, playback control on/off and closed caption. 108MHz/12-bit video digital-to-analog (D/A) conversion rate; 192kHz/24-bit audio digital-to-analog (D/A) conversion rate.
A DVD disc (DVD-R, DVD+R, DVD-RW, DVD+RW, DVD+R DL) created on this DVD Recorder will be playable on both PAL and NTSC DVD Players and Recorders WORLD-WIDE, simply connect your PAL or NTSC VCR and copy your home made tapes to the DVD. If you need to buy a PAL VCR or MultiSystem VCR, we offer a wide selection of the multisystem VCRS.
Details:

»
built-in digital (ATSC) and analog (NTSC) tuners for over-the-air TV broadcasts (antenna required)
»
built-in QAM cable TV tuner receives unscrambled programs without a set-top box (cable service required)
»
receives all HDTV/SDTV broadcast formats — records and displays in standard definition only
»
upconverts and displays video at 720p or 1080i via HDMI digital interface
»
separate adapter available for TVs with DVI input
»
selectable progressive-scan playback for smoother video with HD-compatible TVs (via the component video output)
»
5 recording quality settings
»
Time Shift recording/playback with DVD-RAM discs
»
can control most cable boxes and satellite receivers for timer recording
»
LG SimpLink allows convenient control of compatible LG products via the HDMI connection
»
optical and coaxial digital audio outputs for Dolby® Digital/DTS®/PCM
»
USB input for playing digital photos and music files from a portable USB memory drive
»
front-panel digital camcorder input (IEEE 1394)
»
2 sets audio/video inputs (composite), including 1 front-panel
»
1 set audio/video outputs (composite, S-video, and 480i/480p component video)
»
records to the following types of discs:
•
write-once DVD-Rs and DVD+Rs, for making permanent recordings
•
rewritable DVD-RWs, DVD+RWs and DVD-RAMs, for making recordings you can watch and then erase
»
plays DVD-Video, DVD-R & DVD-RW, DVD+R & DVD+RW, DVD-RAM, and Video CD
»
plays audio CD, CD-R & CD-RW, and MP3 & WMA CDs
»
plays digital picture CDs (JPEG)
»
one-touch record
»
remote control (multibrand for TV)
»
16-7/8"W x 3-3/16"H x 12"D
»
warranty: 1 year parts, 90 days labor
This DVD Recorder will record on following media: DVD-RAM, Single Layer 4.7GB DVD-R, DVD-RW, DVD+R, DVD+RW, Dual Layer 8.5 GB DVD+R. This MultiSystem LG DVD RECORDER was tested with HDMI the next generation analog and digital tuners. What a great picture with the HDMI, crystal clear crisp picture.
LG RC897T DVD Recorder VCR Combo with HDMI 1080P Region Specifications:
Designs and specifications are subject to change without notice.
Features
Overview: The LG LG 897 Region free HDMI dvd recorder and NTSC VCR COMBO is a DVD and Video Cassette recorder with a built-in digital tuner. It can control a digital cable box or a digital satellite set-top box. This unit will record on multiple DVD formats, including DVD-R, DVD-RW, DVD+R, DVD+R DL (double layer), DVD+RW, and DVD-RAM. For playback, the LG 897 Region free HDMI dvd recorder and NTSC VCR COMBO can upconvert standard DVD signals to high-definition resolutions of 720p or 1080i, and outputs them via HDMI.
Built-in Tuners: The LG 897 Region free HDMI dvd recorder and NTSC VCR COMBO has both digital and analog TV tuners built in: ATSC, NTSC, and QAM Clear Tuners. In addition, the unit can control multiple brands of digital cable boxes and digital satellite set-top boxes. An IR blaster is included.
HDMI Output: The LG RC897t Region free HDMI dvd recorder and NTSC VCR COMBO has an HDMI output, in addition to a component video, S-video, and a composite video output. The HDMI input supports both video and audio on a single digital connection. Both the DVD and VCR are output through the HDMI connection.
1080i Video Upconversion: This unit will upconvert video signals up to 720p or 1080i on the HDMI output. The component video connection can only output 480i or 480p video signals. Progressive scan does not work with the RF, Composite video, or the S-Video outputs.
Digital-to-Analog Converters: This unit is equipped with a 12-bit, 108MHz video D/A converter, and a 24-bit, 192kHz audio D/A converter.
Recordable Discs: The LG RC897 Region free HDMI dvd recorder and NTSC VCR COMBO is a Super Multi DVD recorder, making it compatible with the following recordable and playable discs:
DVD-RW: DVD-ReWritable discs--can be formatted for VR mode recording or Video mode recording--can be recorded on repeatedly, erased, and recorded on again.
DVD-R: DVD-Recordable discs--can be formatted to Video mode only--can be recorded only once.
DVD-RAM: DVD-Random Access Memory--can be formatted for VR mode recording (Ver. 2.0, 2.1, and 2.2 only)--can be recorded on repeatedly, erased, and recorded on again.
DVD+RW: DVD+ReWritable discs--can be recorded on repeatedly, erased, and recorded on again.
DVD+R: DVD+Recordable discs--playable on DVD+R compatible players--can be recorded only once.
DVD+R DL: DVD+Recordable; Double Layer discs--storage space is nearly doubled with double-layer media--playable on DVD+R compatible players--can be recorded only once.
be
Playable Discs: The LG RC897 Region free HDMI dvd recorder and NTSC VCR COMBO is capable of playing the following discs:
DVD:

DVD Video
MP3, WMA, JPEG files on DVD-R, DVD-RW, DVD+R or DVD+RW

CD:

Audio CD
CD-R, CD-RW
MP3, WMA, JPEG files on CD-R or CD-RW
USB Input: The front-panel mounted USB input allows you to connect a USB Flash drive and play MP3/WMA music files or JPEG image files. The player supports USB devices with up to 1000 files, formatted in FAT16 or FAT32.
MP3/WMA Playback: Discs containing MP3 files should be recorded at a bit rate between 8 and 320 kbps. WMA files should be recorded at a bit rate of 32 to 192 kbps. The CD-R physical format should be ISO 9660 or Joliet, while the DVD format should be ISO 9660 (UDF Bridge format). The total number of files and folders on a disc should be less than 1999.
JPEG Playback: It is recommended that JPEG image files of less than 4MB be recorded onto CDs or DVDs to avoid long file loading time. Like MP3 and WMA, no more than 1999 files and folders should be on any given disc.
Parental Control: You can limit the playback of certain rated DVDs based on their content. When the parental control function is "locked", you can select a rating of 1 (most restrictions) to 8 (least restrictive). When the function is "unlocked," parental control is not active, and the disc plays in full. Parental Control is protected by a 4-digit password.
Dynamic Range Control: When watching a DVD, you can compress the dynamic range of the audio output, allowing you to listen to a movie at a lower volume without losing sound clarity. The DRC can be turned on or off as desired.
Markers: You can start playback from up to six memorized points. You can set a marker at a point on the DVD where you'd like to quickly return. After markers are set on the disc, you can search for a specific marker by number, and begin playback from that point.
Last Scene Memory: The player memorizes the last scene from the last disc that is viewed. The last scene remains in memory even if you remove the disc from the player or switch off the player. If you load a disc that has a memorized scene, the player automatically recalls that scene.
Remote Control: The supplied remote control can operate the DVD player, as well as TVs made by LG/GoldStar, Zenith, Samsung, Sony, and Hitachi. You can control the input source, volume, and power of TV. With the supplied IR Blaster, you can control different brands of cable boxes, satellite set-top boxes, and digital video recorders.
Simplink: Some functions of this unit are controlled by the TV's remote control when this unit and an LG TV with Simplink are connected through the HDMI connection. Controllable functions by the LG TV's remote include play, pause, scan, skip, stop, and power off.]
Recording And Editing Features
DVD-VCR Dubbing: You can copy the contents of a DVD onto a VHS tape, or vice versa, using the Dubbing button. Copy-protected DVDs or VHS tapes cannot be copied
DVD Recording Speeds: The LG 797 Region free HDMI dvd recorder and NTSC VCR COMBO can record DVDs in five preset recording quality modes. The modes and the recording time on a 4.7GB blank DVD include:
XP: Highest quality setting--1 hour recording time
SP: Default quality setting--2 hours recording time
LP: Slightly lower video quality--4 hours recording time
EP: Low video quality--6 hours recording time
MLP: Longest recording time with lowest video quality--11 hours recording time
VHS Recording Speeds: This unit can record onto VHS tape in two speeds: SP (standard play) or SLP (3 times SP). A standard T-120 tape will give you two hours of recording time in SP, and six hours of recording time in SLP.
Instant Timer Recording: Instant Timer Recording allows you to easily make a recording of a preset length without using the program timer. Recording starts after the first press of the Record button, and each subsequent press of the button increases the recording time by 10 minutes on the DVD or 30 minutes on the VCR.
Timer Recording: The Timer Recording function allows you to record up to 16 programs within a period of one month. You can choose a DVD recording speed of XP, SP, LP, EP, MLP, or AT (Auto). If recording on the VCR, you can select a speed of SP, SLP, or AT (Auto). In the AT (Auto) mode, the unit determines how much time is available on the disc or tape, and switches the record mode, if necessary, to completely record the program.
AV1 Timer Recording: When the recorder is connected to an external set-top box, such as a cable box or satellite receiver, you can set the LG 797 Region free HDMI dvd recorder and NTSC VCR COMBO to record the incoming video signal on the AV1 input. You can enter the desired channel on the set-top box when the recording event is programmed, and the recorder will change the channel on the set-top box before the recording begins. Note: The set-top box must remain turned on at all times, and the supplied IR control cable must be used.
Simultaneous Play and Record: You can play a DVD while recording a program on the VCR. You cannot play or record both DVD and VCR at the same time.
Playback During Recording: When using a DVD-RAM disc, you can start playback from the beginning of a title while continuing to record it. You can watch the playback in full screen or as a Picture-in-Picture with what is currently being recorded. When viewing as PIP, you can switch between the PIP window and Main window. Playback cannot be started until at least 30 seconds after recording starts.
Recording From External Inputs: You can record from external components, such as a camcorder or VCR. The recorder has three inputs: AV1 (rear panel), AV2 (front panel) and DV (front panel). You can record onto tape or DVD from the external device.
DVD Editing: Using the Title List menu, you can edit video content. For discs recorded in the VR mode, you can directly edit the original content, or create and edit a playlist. The Playlist doesn't change the original content, but controls how the content is played back.
Finalizing Discs: In order to play DVDs on other players, the disc must be finalized. Finalizing "fixes" the recordings and edits in place so the disc can be played on a regular DVD player or computer with a suitable DVD-ROM drive.
Inputs and Outputs Notes
Inputs: The LG LG 797 Region free HDMI dvd recorder and NTSC VCR COMBO has three A/V inputs: composite video/stereo RCA audio on the back panel, composite video/stereo RCA audio on the front panel, and DV (IEEE 1394) on the front panel. The composite video inputs can be used to connect a VCR, cable boxes, or satellite set-top box. The DV input can be used to connect a digital camcorder or D-VHS video deck.
Outputs: The recorder has outputs that allow you to connect the unit to virtually any TV. You can connect the recorder to a TV via composite video, S-Video, or component video. A set of stereo RCA audio outputs is provided for each output. The unit also has an HDMI output which sends digital audio and video signals on a single cable. The output resolution for the component video output is 480i/480p, and for the HDMI output, the resolution is 480i, 480p, 720p, and 1080i.
Digital Outputs: Two digital audio outputs, one coaxial and one optical, are provided for connecting to A/V receivers with digital multi-channel decoders for Dolby Digital, MPEG 2 and DTS.
Antenna Connections: The recorder has two RF coaxial jacks for use with an over-the-air antenna or a coax cable TV connection. One jack is an input from an antenna, cable box, or wall jack. The other is an RF output for connecting an older TV without A/V connections.
USB Input: The front panel USB input is for playing MP3, WMA, or JPEG files from a USB Flash Drive. It is not compatible with USB-based hard disc drive media players.