Details
Coby 7" Portable Region Free DVD Player Multi Region Code Free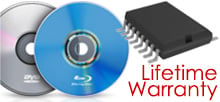 Region Free Playback Guaranteed for Life!
Unlike software or firmware solutions
our region free hardware modifications are guaranteed to play Blu-Ray Discs and DVD's from any region for the life of your player!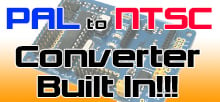 This Blu-Ray Player Requires No Extra Video Converter!
No matter where in the world you are, this player works with any TV. Built in NTSC to PAL and PAL to NTSC conversion guarantees Blu-Ray & DVD playback anywhere!
Coby 7" Portable Region Free DVD Player Multi Region Code Free Description:
INTERNATIONAL VERSION
Code Free, Region Free, Multi Zone, Multi region
PLAY ANY DVD ON SCREEN OR ON ANY TV NO MATTER WHAT REGION OR WHETHER IT IS PAL OR NTSC.

Plays any region Pal or NTSC movie On Screen!

Play any region Pal or NTSC on any TV!

Excellent Budget model, with great features and Quality. V-ZON is a line of Coby International with proven quality construction. There dvd players are made to last and also are priced very well.
Why be bored? With the V-ZON Coby TDVD706 portable media player, you can enjoy your favorite videos and music no matter where you are. It can handle virtually any disc format and with its anti-skip circuitry, neither you nor your player will miss a beat! It comes with a headphone jack for private listening, a variety of adapters to make sure you're powered up in any situation, and multiple language, subtitle, and camera angle support. Digital and Analog AV Outputs allow for use with Home Theater Systems Headphone Jack and also connect it to your tv. Rechargeable Lithium-Ion Battery Pack Unit
Coby 7" Portable Region Free DVD Player Multi Region Code Free Specifications:
Designs and specifications are subject to change without notice.
Plays Regions 1,2,3,4,5,6,7,8,0 and all other Region discs

Plays PAL & NTSC DVD Discs

7" 16:9 TFT Widescreen Monitor

DVD/MP3/CD/CD-R/CD-RW/Kodak Picture CD

Built-in Stereo Speakers

Built-in Anti-shock System

AV Output

High Capacity Rechargeable Lithium Battery

Multi Function Remote Control

7:" Color TFT (active matrix) High Resolution Display

S-Video Output

Composite Video Output

Multi-Angle Capability

Multi-Aspect Ratio Capability : 4:3, 4:3 Letterbox, 16:9

Zoom Play (2X/4X)

Fast Forward/Reverse Play (2X/4X/6X/8X)

Slow Forward/Reverse Play (2X/4X/8X)

Frame By Frame Play

Search Play

Programmable Play

Shuffle Play

Repeat Play (Title, Chapter, All, A/B)

Still Frame

Intellectual Upgrade Function

Auto Power Off

Screen Saver/Power Saving Function

2 Hi-Fi Stereo Headphone Outputs

Dolby Digital Sound Output

DTS Sound Output

HDCD Decoder

Stereo Audio Output

The 7" LCD screen gives you crystal-clear video in Widescreen 16:9 format. The screen also adjusts to fit movies recorded for standard 4:3 TV format. Built-in stereo speakers provide realistic sound. When you're feeling like relaxing at home, connect the Portable DVD to your TV and Home Theater System - it functions just like a conventional home DVD Player, complete with Remote Control.

ALLOWS YOU TO PLAY AND DVD ON SCREEN OR ON ANY TV!
PAL OR NTSC, AND ANY REGION NO PROBLEM!!!

7" LCD Screen, 16:9 Widescreen Format - Supports LCD mode switching for standard 4:3 "Full-Screen" movies

DVD, Audio CD, VCD, CD-R, CD-RW, SVCD, JPG, MP3, DVD- R and +R, Kodak picture CD

Plays Pal and NTSC TV Systems

2-4 Hour battery

2.5 mm jack Audio and Video output

PAL AND NTSC OUTPUT TO ANY TV, BUILT IN CONVERTER

PLAY ANY DVD ON SCREEN OR ON ANY TV

Stereo Audio out

Offers Excellent Picture quality!!

Less than two pounds in Weight

Plays all RCE and REA coded discs with no problem.

Dimensions - 6.75 X 1.5 X 6 (WHD)
← Back to product description



Battery Hours: 2 Hours




Screen Size: 7 Inch




DVD All Regions

Region Free DVD Playback. Code Free, Multi-Region, Multi-Zone




Will play DVD movies from anywhere in the world.




Plays DVDs from any region including region 0, 1, 2, 3, 4, 5, 6, 7 and 8


Region Free Playback Guaranteed for Life!



DivX Compatible

With DivX® support, you are able to enjoy DivX® encoded videos.




PAL / NTSC conversion

Works on any TV, anywhere in the world.




Will convert NTSC to PAL and PAL to NTSC with perfect picture quality.




Plays Pal NTSC and Secam DVDs on any TV with Perfect video conversion.




World Wide Voltage

Works with world wide electricity 100-240 volts volts 50/60 hz. Can be used with electricity in North America or any other place in the world.ALL of our Multisystem TV's operate on ALL Global voltages, including 110, 120 Volts and 220, 230, 240 Volts.



USB Input

USB stands for Universal Serial Bus. A USB port is a cable connection interface used on personal computers and consumer electronics. USB ports allow stand-alone electronic devices to be connected via cables to a computer or to each other.
← Back to product description