Details
5000 Watt Type 3 Voltage Converter • Step Up & Step Down Voltage Transformer
The International DS-5000 Diamond Series 5000 Watt Type 3 Voltage Converter is one of our most powerful voltage converters. Able to convert 110 volts to 220 volts and 220 volts to 110 volts and with an extra durable lifetime coil, this unit utilizes all the same high quality workmanship and material standards in addition to the same flawless hand soldering techniques. Use your personal computer, copy machine or laser printer with this top of the line transformer. Right now the electronics industry is experiencing copper prices that increase daily. This is being reflected in companies adopting a less is more policy. By using less copper, they wrongly think they can produce more efficient and lighter products. For you, the consumer, this only results in lower quality products. Your best bet is to use 220 Electronics Golden Rule of Voltage Converters. Use a converter that is rated 2 to 3 times higher that the wattage rating of your appliance. This allows you to use big ticket items like air compressors and table saws. Coming to America or moving overseas is no problem when you purchase this highest quality Diamond Series Voltage Converter.
Weighs 42 lbs. (19 kg)
Dimensions: 8.25 in x 12.5 in x 6.75 in (21 cm x 31.8 cm x 17.1 cm)
BEST Diamond Series 5 Year Warranty!
USA Grounded Male Plug
Extra Adapter Included to Use with 220 Volt Outlets
Converts 110/120 up to 220/240 volts and vice versa
Works Anywhere in the World
Heavy Duty for Continuous Use
Extra Durable Lifetime Coil
Recommended for High Value and/or Sensitive Items
Approved and Used by USA Military, Navy, Marines and other institutions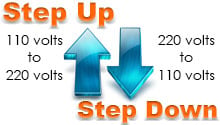 Step Up and Down Voltage Converter
This Voltage Transformer Steps 220-240 Volts Down to 110-120 Volts, which means it works in ANY country with appliances from ANY country!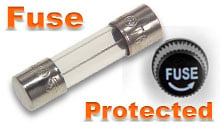 Fuse Protected Voltage Transformer for Your Safety
All of our Transformers are fuse protected for your safety and the protection of the 110 volt to 240 volt appliances which are connected to them.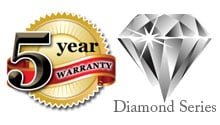 Diamond Series Voltage Converter - 5 Year Warranty
All Diamond Series Converters come with a full 5 Year Warranty. These are simply the best transformers you can get for your appliances.
Voltage Converter Comparison Chart • Voltage Transformer Comparison Chart
Roll Over
for More Information
Type 1
Type 2
Type 3


Diamond Series

Type 4
Type 5


Diamond Series

Step Down Converter
Step Up Converter
On/Off Switch
w/ Indicator Light

For Continuous Use

The Heavy Duty Design of ALL our Voltage Transformers allows them to be used on a continuous basis. Be sure to purchase the correct wattage Voltage Converter for you needs.

Heavy Duty Design

Fuse Protected

In case there is voltage irregularity, unstable voltage, voltage spikes, or surges, this converter is designed to protect your expensive equipment. In most cases, the built in fuse will blow before anything can reach your equipment.

Extra Strong
Lifetime Copper Coil
Recommended for
High Value Items
Extra Durable Lifetime Coil
Limited Warranty
1 year
1 year
5 YEAR
1 year
5 YEAR
Universal Output Plug

Built-in Voltage Regulator

In some countries, the voltage fluctuates so much that it can damage electronics. These voltage transformers with built-in voltage stabilizers protect your valuable electronics.

Starting Price...
$7.99
$9.00
$19.80
$30.00
$89.88
Star Rating
4 Stars

4½ Stars

5 Stars

4½ Stars

5 Stars

Shop Now!
Type 1
Type 2
Type 3


Diamond Series

Type 4
Type 5


Diamond Series
← Back to product description



Step Up Step Down

Step Up and Step Down Voltage Transformers allow appliances from any country to be used in any other country. This includes 110 volt to 120 volts electronics in 220 volt, 230 volt or 240 volt areas. These voltage converters also allow 220 volt, 230 volt or 240 volt appliances to be used in 110 volt or 120 volt areas.




Fuse Protected

Fuse Protected




5 Year Warranty




CE Approved
← Back to product description