Details
Toshiba 50L2300 50" Multi System LED TV Description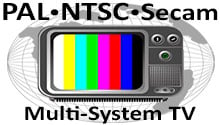 Multi-System TV - PAL, NTSC and Secam
This multisystem TV is compatible with PAL, NTSC and Secam video formats. You can use this television anywhere in the world with ANY type of video device!
Worldwide Voltage - 110v, 120v, 220v, 230v and 240 volt!
Global Dual Voltage on this Multi-system TV means it can be used anywhere. Multi-voltage TV's can be used in any country with voltage from 110 volts to 240 volts!
Bright, vivid images and exceptional contrast
The 3D backlight on the ES6200 series is automatically adjusted according to the video signal to help to deliver exceptional contrast and bright, clear images.
Toshiba 50L2300 50" Multi System LED TV Specifications
Main Specifications
Product Type:LED TV (DIRECT)
Screen Size: 50"
Series L2300
Aspect Ratio 16:9
Dynamic Contrast Ratio: 12000
Brightness (cd/m2): 300
Resolution (H x V): 1920 x 1080
Viewing Angles (Degrees): 178
Panel Response Speed (ms): 9
Visual
Video Engine: REGZA ENGINE
Video Processing: 10 bit
Active Motion Rate AMR: 100Hz
Auto Signal Booster: Yes
Auto Clean: Yes
Contrast Booster: Yes
3D Colour Management:Yes
Comb Filter: 3D Y/C (PAL & NTSC)
Intelligent Backllight Control: Yes
Mpeg Noise Reduction: Yes
Real Digital Picture: Yes
Picture Freeze: Yes
Picture Mode: Auto View/ Dynamic/ Standard/ Mild/ Movie/ Eco/ Game/ PC/ Football
Spectrum Analyser:Yes
Audio
Power Bass Booster: Yes
Audio Distortion Control: Yes
Stereo System: NICAM I, B/G, D/K, & German Stereo B/G, D/K
Speakers: (3.0 x 10cm) x 2
Audio Output: 10W X 2
Features
Media Playback Movie: (28 video format)/ Music/ Photo
External Hard Disk Compatibility: Yes
AutoView: Yes
Ambient Light Sensor: Yes
ECO Auto Power Down: Yes
Sleep Timer: Yes
Teletext: Yes
Multilingual OSD English / French / Russian / Simplified Chinese/ Thai / Malay / Vietnamese / Arabic/ Persian / Indonesian Hotel Mode: Yes
Connection
Antenna Input: 1
EXT 1 Input: Composite Video + Component + RCA Audio
EXT 2 Input: Composite Video + RCA Audio (Side)
EXT 3 Input : HDMI 1
EXT 4 Input : HDMI 2 (Side)
PC Input D-Sub 15 Pin (3.5mm Mini Jack common with HDMI 1 Audio)
Output: Fixed RCA Audio Digital Input USB x 1 (side)
Signals
Receiving System: PAL I, BG, DK & SECAM BG, DK & NTSC M, BG 4.43
Colour System: PAL (50/60Hz) & SECAM & NTSC 3.58, 4.43
Video Signal: 480i/480p (60Hz), 576i/576p (50Hz), 720p, 1080i, 1080p (50/60Hz) through HDMI
RGB Signal: VGA, SVGA, XGA, WXGA, SXGA
General Specifications
Voltage: 110-240V 50/60Hz
Power Consumption (W): 135
Standby (W): 0.4
Dimensions (W x H x D)mm without Stand: 1136x669x84
Dimensions (W x H x D)mm with Stand: 1136x743x230
Weight (Net) kg without stand: 16.3
Weight (Net) kg with stand 18.0
Accessories
Optional Accessories
Wall Mount Dimension (HxV): 200x200
Wall Mount Bracket: WAL13CS
← Back to product description



Full HD 1080p

1920x1080p resolution is an HDTV high-definition video mode characterized by 1080 horizontal lines of vertical resolution. As of 2012, most consumer televisions being sold provide 1080p inputs mainly with HDMI and support full high-def resolutions. 1080p resolution is available in all types of televisions, including plasma, LCD and LED.



Built-In Analog Pal, NTSC, and Secam TV tuner

Analog Pal, NTSC, and Secam tuner built in for world wide use for analog tuning. If you are in a country that utilizes digital tuning such as DVBT or ATSC a Cable Box or Satellite receiver is needed. If You have any questions regarding this please call us. With the appropriate setup this TV can be used anywhere in the world.




USB Input

USB stands for Universal Serial Bus. A USB port is a cable connection interface used on personal computers and consumer electronics. USB ports allow stand-alone electronic devices to be connected via cables to a computer or to each other.
← Back to product description