May we suggest
Regular Price: $299.00
Now only: $266.00
LED televisions are newer and more improved than regular LCD televisions. They are slimmer, last longer, and offer a better picture quality while using less energy. Shop Now >>
Details
Toshiba 32PB2 Multi System LCD TV; PAL, NTSC and Secam 100-240 Volts: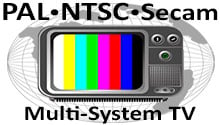 Multi-System TV - PAL, NTSC and Secam
This multisystem TV is compatible with PAL, NTSC and Secam video formats. You can use this television anywhere in the world with ANY type of video device!
Worldwide Voltage - 110v, 120v, 220v, 230v and 240 volt!
Global Dual Voltage on this Multi-system TV means it can be used anywhere. Multi-voltage TV's can be used in any country with voltage from 110 volts to 240 volts!
Space-Saving LCD Flat Panel Technology
Multi-System LCD TV's offer stunning video performance and a great value. Enjoy High Definition video in a space-saving flat panel design with this multisystem TV.
Toshiba 32PB2 Multi System LCD TV; PAL, NTSC and Secam 100-240 Volts Description:
Pwer Meta Brain
An incredibly powerful and sophisticated processor, the Meta Brain Premium video engine provides ultra-sharp images with natural gradations, textures and colours.
Game Mode
To improve the pictures quality on the TV broadcast.
10Bit Processing
Going far beyond 8bit and even 10bit processing, Toshiba's 14bit video processing greatly increases gradation levels, resulting in a much smoother and more natural picture. It also analyses every pixel to create the highest possible contrast for lifelike images.
HD Ready
The LCD panel holds the exact number of pixels (1920 x 1080) to allow pixel-to-pixel reproduction of 1080i/1080p/720p HD contents. Standard definition contents can also be enriched to fit the HD resolution, resulting in finer images on screen.
Auto Signal Booster
With a weak signal reception, even the best LCD TV cannot maximize its performance. Toshiba's built-in Auto Signal Booster improves the sensitivity to weak radio frequency (RF) signal. Image becomes clearer when the RF signal is strengthened during weak signal reception.
JPEG Playback
View Photos Stored on USB Memory Devices
Intelligent Backlight Control
Precise adjustment of the backlight behind the pixel array is necessary to obtain optimum picture quality. The Intelligent Backlight Control does this automatically, using a sophisticated histogram analysis of the brightness and location of dark portions in each scene. Deeper blacks in dark scenes are reproduced by reducing the intensity of the backlight, resulting in greatly improved contrast.
Dots Desing
To improve the pictures quality on the TV broadcast.
3D Colour Management
This advanced technology allows you to adjust hue, saturation and colour brightness for each of the six basic colours separately. You can perfectly adjust skin colour or grass colour, for example, without affecting the other colours.
AutoView
AutoView is Toshiba's most advanced solution for achieving the best possible picture quality at all times. It monitors room brightness and adjusts the backlight and various picture parameters accordingly. It also continually analyses the image (light and dark pixels), adjusting to maintain maximum contrast.
20W Audio Input
Powerful Sound in a Slim TV
PC Input
Double As Monitor for Your Computer.
HDMI Terminal
Enjoy Digital Sources at the Highest Quality
Toshiba 32PB2 46' Multi System LCD TV; PAL, NTSC and Secam 100-246 Volts Specifications:
Designs and specifications are subject to change without notice.
Dimensions
Width : 785 mm
Thickness : 76 mm
Height : 535 mm
Weight : 8 kg
Features
Multilingual OSD English, French, Russian, Simplified Chinese, Thai, Malay, Vietnamese, Arabic, Persian
Display
Panel Response Speed (ms): 20
Viewing Angle: 178
Resolution: 1366 x 768
Video Engine: Power Meta Brain
Video processing: 10 Bit
Media Playback: Photo (JPEG)
Aspect Ratio: 16
Dynamic Contrast: 50000
Picture Mode: AutoView, Dynamic, Standard, Mild, Movie, Eco mode 1, Eco mode 2, Game-PC
Comb Filter: 3D Y/C (PAL & NTSC)
Brightness: 420 cd/m2
System
Video Signal: 480i/480p 60Hz), 576i/576p 50Hz), 720p 50/60Hz), 1080i 50/60Hz), 1080p 24/50/60Hz) through HDMI
Colour System: PAL, SECAM, NTSC 3.58 / 4.43
Receiving System: PAL I/ BG/ DK, SECAM BG/ DK, NTSC M/ BG 4.43
RGB Signal: VGA, SVGA, XGA, WXGA, SXGA
Terminals
Antenna Input: 1
EXT 1: Input Composite Video - Component - RCA Audio
EXT 2: Input HDMI (3.5mm Mini Jack common with PC Audio)
Digital Audio Output(s): 3.5mm Mini Jack Audio
Power
Power Consumption: 92 W
Automatic Voltage Regulator: 110-240V 50/60Hz
Input & Output
PC Input: D-Sub 15 Pin (3.5mm Mini Jack common with HDMI Audio)
Digital input: USB
← Back to product description



HD 720

720p is a progressive HDTV resolution signal format with 720 horizontal lines. All major HDTV broadcasting standards include a 720p format which has a resolution of 1280×720. The number 720 stands for the 720 horizontal scan lines of image display resolution (also known as 720 pixels of vertical resolution), while the letter p stands for progressive scan.



Built-In Analog Pal, NTSC, and Secam TV tuner

Analog Pal, NTSC, and Secam tuner built in for world wide use for analog tuning. If you are in a country that utilizes digital tuning such as DVBT or ATSC a Cable Box or Satellite receiver is needed. If You have any questions regarding this please call us. With the appropriate setup this TV can be used anywhere in the world.




USB Input

USB stands for Universal Serial Bus. A USB port is a cable connection interface used on personal computers and consumer electronics. USB ports allow stand-alone electronic devices to be connected via cables to a computer or to each other.
← Back to product description