Details
Sony KLV-40S400A Multi System LCD TV KLV40S400A Multi-System ; PAL, NTSC and Secam 100-240 Volts:
Sony's KLV-40S400A WEGA Flat Panel LCD Television
3 X HDMI and 1 PC Inputs
Features a 16:9 HD (hi-Def)
Resolution Panel for brilliant color and rich imagery
Enhanced by a high performance
1-chip video processor and 3D comb filter with a motion adaptive IP converter
KLV-40S400A improves picture contrast and detail while it reduces video noise and image blur providing you with a rich, colorful image
Additional features include CineMotion® reverse 3:2 pulldown circuitry to provide a consistently smooth image and a Dynamic Picture Processor to deliver a crisp, realistic image
The digital amplifier with an SRS® TruSurround® audio system provides an outstanding surround sound experience for your audio pleasure
With its sleek, innovative design the KLV-40S400A will look terrific just about anywhere you put it
With a excellent 33,000:1 contrast ratio and a 1920 X 1080 Resolution it's 3 HDMi inputs provide one of the best pictures an LCD tv has to offer.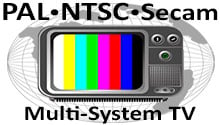 Multi-System TV - PAL, NTSC and Secam
This multisystem TV is compatible with PAL, NTSC and Secam video formats. You can use this television anywhere in the world with ANY type of video device!
Worldwide Voltage - 110v, 120v, 220v, 230v and 240 volt!
Global Dual Voltage on this Multi-system TV means it can be used anywhere. Multi-voltage TV's can be used in any country with voltage from 110 volts to 240 volts!
Space-Saving LCD Flat Panel Technology
Multi-System LCD TV's offer stunning video performance and a great value. Enjoy High Definition video in a space-saving flat panel design with this multisystem TV.
← Back to product description



Full HD 1080p

1920x1080p resolution is an HDTV high-definition video mode characterized by 1080 horizontal lines of vertical resolution. As of 2012, most consumer televisions being sold provide 1080p inputs mainly with HDMI and support full high-def resolutions. 1080p resolution is available in all types of televisions, including plasma, LCD and LED.



Built-In Analog Pal, NTSC, and Secam TV tuner

Analog Pal, NTSC, and Secam tuner built in for world wide use for analog tuning. If you are in a country that utilizes digital tuning such as DVBT or ATSC a Cable Box or Satellite receiver is needed. If You have any questions regarding this please call us. With the appropriate setup this TV can be used anywhere in the world.




USB Input

USB stands for Universal Serial Bus. A USB port is a cable connection interface used on personal computers and consumer electronics. USB ports allow stand-alone electronic devices to be connected via cables to a computer or to each other.
← Back to product description