Details
Sony KDL-46EX500 Multi-System LCD TV; PAL, NTSC and Secam 100-240 Volts:
Model: Sony KDL-46EX500 Multi-System LCD TV
Full HD 1080 with 1920 X 1080 resolution
46 inch WEGA LCD TV with 4 HDMI input and PC input
100 / 120HZ
BRAVIA Engine 3
USB Connection:Watch and play your media on this TV directly. Photo (JPEG), Music (MP3), Video (MPEG1, MPEG2 TS & PS)
24P True Cinema processor allows you to view blu-ray movies at 24 frames per second (also known as 24hz), the way you see video at the movie theatre!
World-Wide NTSC 3.58, NTSC 4.43 (AV only), PAL, PAL60 (AV in only), SECAM Color System - Watch any video signal on this TV!!
World-Wide DVBT, PAL BG, PAL I, Secam BG, DK/ PAL DK TV tuners
Supporting Video signals: 480/60i, 480/60p, 576/50i, 576/50p, 720/50p, 720/60p, 1080/60i, 1080/50i, 1080/60p (HDMI™ / Component), 1080/50p (HDMI™ / Component), 1080/24p (HDMI™)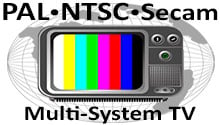 Multi-System TV - PAL, NTSC and Secam
This multisystem TV is compatible with PAL, NTSC and Secam video formats. You can use this television anywhere in the world with ANY type of video device!
Worldwide Voltage - 110v, 120v, 220v, 230v and 240 volt!
Global Dual Voltage on this Multi-system TV means it can be used anywhere. Multi-voltage TV's can be used in any country with voltage from 110 volts to 240 volts!
Space-Saving LCD Flat Panel Technology
Multi-System LCD TV's offer stunning video performance and a great value. Enjoy High Definition video in a space-saving flat panel design with this multisystem TV.
Sony BRAVIA KDL-46EX500 Multi-System LCD TV Description:
BRAVIA Engine™ 2
Enjoy sharp, vibrant, life-like images while optimizing color & contrast and significantly reducing noise with the BRAVIA Engine™ 2 fully digital processor
Full HD 1080p Resolution
Experience amazing Full HD 1080p picture quality, the highest at-home resolution. Take full advantage of HD sources like a Blu-ray Disc player or PlayStation3 gaming console via the 16:9 wide screen panel (1920 x 1080)
Motionflow™ 120Hz Technology
Experience smooth motion detail and clarity with Motionflow™ 120Hz technology. Motionflow™ 120Hz technology doubles the frame rate from the standard 60 frames per second and applies Image Blur Reduction technology to deliver a crisp, fluid and realistic viewing experience during fast-action scenes
Ambient Sensor
Get a natural looking picture whether you are watching movies late at night or playing video games during the day with an Ambient Sensor that automatically adjusts the picture color based on a room's lighting
LightSensor™ Technolog
Automatically increase or decrease the level of brightness of your TV's backlight based on a room's lighting conditions with the integrated LightSensor™ technology. Dim the lights to watch a movie and the sensor dims the backlight, which also helps reduce unnecessary power consumption
BRAVIA® Sync™ Capable
Conveniently operate and control other BRAVIA® Sync™ compatible devices - including BRAVIA® HDTVs, Blu-ray Disc™ Players, surround sound systems, Handycam® camcorders and Cyber-shot® digital still cameras, all with one remote control
USB Input
Share your photos on the big screen or listen to your favorite music. Simply connect your digital camera, USB-enabled MP3 player, or USB storage device directly to your HDTV's USB input
7 HD Inputs
Get versatile HD connection options with seven HD inputs, including four HDMI™ inputs to connect a Blu-ray Disc™ player, PlayStation®3 gaming console or any other HDMI-capable equipment. Two HD component inputs provide added HD-capable connectivity in addition a PC input (HD-15 pin) lets you use your HDTV as a computer monitor
Sony BRAVIA KDL-46EX500 Multi-System LCD TV Specifications:
Audio
Audio Power Output:20W (10W x 2)
Speaker Configuration:2
Speakers (Total):2
5.1 Channel Audio Out
5.1ch Through Out (Handycam)
Alternate Audio (Digital)
Audio Out:Fixed
Auto Mute (on no signal)
Auto SAP
Clear Voice
Dolby®:Dolby® Digital
Invisible Speaker (w/Sound Elevation)
Sound Mode:Dynamic, Standard, Clear Voice, Custom
SteadySound® Automatic Volume Control
Stereo System:MTS
Surround Effect:Cinema, Music, Live Sports, Game
Convenience
Ambient Sensor
Auto Photo Mode:via USB
Auto Picture Setting w/ HDMI™:Cinema, Photo, Graphics, Game
Auto Shut-off
BRAVIA® Sync™
BRAVIA® Sync™ Menu Button (on Remote Control)
Channel Block (with password)
Channel Jump
Channel Labels
Channel Surf
Edit Channel Labels
Favorites (Simple UI)
ID-1 Detection
Info Banner:PSIP, XDS
Input Skip:Manual
Label Inputs
Multiple Language Display:English, French, Spanish
On-Screen Display for External Input
PIP (Picture in Picture):PC Input(HD15/HDMI) & TV Channel/CVBS/(HDMI)/(Component)
Parental Control
Picture Adjustments Lock
Picture Frame Mode
Program Block
Scene Select:Auto, Cinema, Sports, Photo, Music, Game, Graphics, General
Short Banner
Show/Hide Channels
Sleep Timer
Stand Swivel
Stand Swivel Range:Left 20°/Right 20°
Start Up Sony Logo Display
Theatre Mode (Theatre Button)
USB Application(s):Photo Viewer (jpeg), Music Player (mp3), Video Player (mpeg1), Video Player (mpeg2 TS)
USB Player
White Balance:RGB Gain/Bias
Display
Aspect Ratio:16:9
Display Resolution:Full HD 1080(1920x1080)
Screen Size (cm):138.8cm
Screen Size (measured diagonally):46"
Viewing Angle (Right/Left):178(89/89)
Viewing Angle (Up/Down):178(89/89)
Backlight Type:CCFL
Display Device:LCD
Inputs and Outputs
AC Power Input:1 (Rear) Pigtail
Analog Audio Input(s) (Total):4 (1 Side / 3 Rear)
Audio Out:1(Rear)
Component Video (Y/Pb/Pr) Input(s):2 (Rear) (1 fixed/1 selectable)
Composite Video Input(s):2 (1 Side/1 Rear)
Digital Audio Output(s):Optical Digital Output - 1 (Rear)
HDMI™ Connection(s) (Total):4 (2 Side/2 Rear)
HDMI™ PC Input
PC In (D-Sub) + Audio In (Stereo Mini):1 (Rear)
RF Connection Input(s):1 (Rear)
USB 2.0:1(Side)
Regulation and Standard Compliance
VESA® Hole Pitch:400x300 (55")
VESA® Hole Spacing Compatible
Video
Video Signal:1080/60p (HDMI™ / COMPONENT), 1080/60i, 1080/24p (HDMI™ ONLY), 720/60p, 480/60p, 480/60i
24p True Cinema™ Technology
3D Comb Filter
4:3 Default
Advanced Contrast Enhancer (ACE)
Auto Wide
CineMotion® Reverse 3:2 Pulldown Technology
Cinema Mode
Live Color™ Technology
MPEG Noise Reduction
Motionflow™ Technology:120Hz
Picture Mode:Vivid, Standard, Custom
Video Processing:BRAVIA Engine 2™ Technology
Wide Mode:Normal, Zoom, Wide Zoom, Full (Full1-2 for PC)
44-1/2"W x 26-5/8"H x 4-1/8"D (28-1/4"H x 11-1/8"D on stand)
weight: 47.6 lbs. with stand; 41.2 lbs. without stand : 110-240 volts for world wide use
← Back to product description



Full HD 1080p

1920x1080p resolution is an HDTV high-definition video mode characterized by 1080 horizontal lines of vertical resolution. As of 2012, most consumer televisions being sold provide 1080p inputs mainly with HDMI and support full high-def resolutions. 1080p resolution is available in all types of televisions, including plasma, LCD and LED.



Built in DVBT and PAL Tuner

Built IN DVBT and Pal Tuner. Excellent for use outside North America with Analog Pal RF signals and DVBT RF Signals. For use in North America to watch television a Cable, box or Satellite receiver from your cable company is necessary. Or if you will not subscribe to any paid cable a ATSC digital cable converter box can be used to tune TV channels when in North America. If using outside of North America in Africa, Asia, Europe, Middle East, Oceania, or other countries with Pal or DVBT tuning, this TV will work directly with RF Antenna signal. If You have any questions regarding this please call us. With the appropriate setup this TV can be used anywhere in the world.




USB Input

USB stands for Universal Serial Bus. A USB port is a cable connection interface used on personal computers and consumer electronics. USB ports allow stand-alone electronic devices to be connected via cables to a computer or to each other.
← Back to product description