Details
Sony KDL-32CX520 Multi System Full HD LCD TV; PAL, NTSC and Secam 100-240 Volts:
Sony KDL-32CX520 advanced image processing engine analyses each scene to give optimum colour and contrast.
Full HD 1080 picture quality with CCFL backlight
Skype™ Ready (requires camera CMU-BR100)
BRAVIA Internet Video & BRAVIA Internet Widgets
Wireless LAN Ready & Wi-Fi Direct (requires Wi-Fi adaptor UWA-BR100)
X-Reality™ picture engine
Live Colour™ Technology with Advanced Contrast Enhancer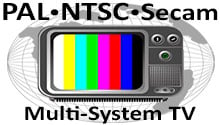 Multi-System TV - PAL, NTSC and Secam
This multisystem TV is compatible with PAL, NTSC and Secam video formats. You can use this television anywhere in the world with ANY type of video device!
Worldwide Voltage - 110v, 120v, 220v, 230v and 240 volt!
Global Dual Voltage on this Multi-system TV means it can be used anywhere. Multi-voltage TV's can be used in any country with voltage from 110 volts to 240 volts!
Space-Saving LCD Flat Panel Technology
Multi-System LCD TV's offer stunning video performance and a great value. Enjoy High Definition video in a space-saving flat panel design with this multisystem TV.
Sony KDL-32CX520 Multi system Full HD LCD TV Product Description
The Sony KDL-32CX520 Series has the new X-Reality™ picture engine for superior picture quality, as well as, state-of-the art Sony Internet TV features including BRAVIA Internet Video.
Bravia Internet Video & Widgets
Access the latest movies, TV shows, videos, and music from your favourite websites such as YouTube™, Dailymotion, and Style.com right on your television*. You can also keep up to date with the latest news, sports results, etc via customisable widgets.
Skype™ Ready
Keep in touch with friends and family easily by making and receiving Internet voice and video calls from your television. All you need is a compact microphone/camera to make free Skype-to-Skype calls and low-cost SkypeOut calls to regular telephone numbers. Skype calls require a dedicated Sony microphone/camera, CMU-BR100 (not supplied). Skype-to-Skype calls are free. SkypeOut calls carry additional charges. Skype functions require a home network and broadband Internet connection. Supports half duplex audio with the following codecs: G.711, G.729, and SILK (8 kHz, 12 kHz, and 16 kHz). Supports H.264 video at 500 kbps, SD image quality 640×480 at 30 fps. Communication speed depends on network environment. Skype software will be available from April 2011 via automatic online update.
X-Reality™
Don't let your enjoyment be hampered by low-resolution source videos. With Sony's exclusive X-Reality Engine, everything you watch – from HD movies to web videos – is analysed and selectively processed to give clean, clear, and lifelike pictures. While 3 unique noise reduction features work their magic prior to upscaling, Sony's Intelligent Image Enhancer divides the signal into four characteristics – texture, outline, contrast,and colour – and optimises each one individually for more vivid and distinct pictures.
Bravia Sync
Watching movies at home should be easy, and it doesn't get any easier than with BRAVIA Sync. Now you can startup and shut down your entire home entertainment system with just one button, as well as control all your various compatible connected devices using just your television remote control. It's the easy way to kick back and relax without any hassle or worries!
DLNA™
Wirelessly share media content stored on compatible devices such as PCs and PlayStation®3 consoles from anywhere in the house. These remote devices act as DLNA™ servers from which your BRAVIA television can access and display photos, videos, and music.
Quick Start View
With this feature, power consumption for your BRAVIA television is reduced to nearly zero while in standby mode. But if you choose to switch off the main power outlet, you'll be glad to know that the startup time after switching it on again has also been shortened by as much as 2-3 times. No matter how you choose to save power, BRAVIA televisions make it both easy and convenient.
World-wide Dual Voltage 110-240 volts 50-60 hertz. World-Wide NTSC/PAL/SECAM Color System - Watch any video signal on this TV! World-Wide DVBT /PAL BG/PAL I/Secam BG, DK/ PAL DK TV tuners.
32-inch Multi-System LCD TV
Widescreen 16 X 9 Format
100,000:1 contrast ratioprovides incredible images whether you're watching dark or bright scenes!
Skype
Smart Energy Saving
USB 2.0 (JPEG, MP3, AVI/MKV)
Full HD 1080p Resolution
Sony KDL-32CX520 Multi system Full HD LCD TV Specifications
Designs and specifications are subject to change without notice.
General Features:
LCD Screen Size: 32" (81cm), 16:9
TV System: Digital: DVB-T Analog: B/G, D/K, I, L, M
Colour System: NTSC 3.58, NTSC 4.43, PAL, SECAM
Video Signal: 480/60i, 480/60p, 576/50i, 576/50p, 720/50p, 720/60p, 1080/50i, 1080/60i, 1080/24p (HDMI™ only), 1080/50p (HDMI™ / Component), 1080/60p (HDMI™ / Component)
Display Resolution: Full HD 1080(1920 x 1080)
Video Processing: X-Realitypicture engine
Backlight Module: CCFL
Live Colour™
Deep Color
Intelligent Image Enhancer
IntelligentMPEG Noise Reduction
Advanced Contrast Enhancer(ACE)
24P True Cinema™
PhotoTV HD
Viewing Angle: 178° (Right/Left), 178° (Up/Down)
Screen Format: TV: Full/ Normal/ Wide Zoom/ Zoom/ Caption/ 14:9, PC: Full 1/ Full 2/ Normal
Picture Mode: Vivid/ Standard/ Custom/ Cinema/ Game-Standard/ Game-Original/ Graphics/ Sports/ Animation/ Photo-Vivid/ Photo-Standard/ Photo-Original/ Photo-Custom
CineMotion/Film Mode/Cinema Drive
3DComb Filter
Sound Mode: Dynamic / Standard / Clear Voice
Surround Mode: Cinema / Music / Sports / Game
Sound Enhancer
S-Master
S-Force: S-Force Front Surround3D
Dolby®: Dolby® Digital/ Dolby® Digital Plus/ Dolby® Pulse
Simulated Stereo
Stereo System: NICAM,A2
Audio Output Power: 20W (10W x 2)
HDMI™ / Audio In: 4 (1 Side/ 3 Rear)
USB 2.0: 2 (Side)
Ethernet Connection: 1 (Rear)
Composite Video Input(s): 2 (Rear/ 1 Hybrid)
Component Video (Y/Pb/Pr) Input(s): 1 (Rear/ Hybrid)
RF Connection Input(s): 1 (Rear)
HD15 PC Input / Audio: 1 (Side)
Digital Audio Output(s): 1 (Rear)
Audio Out: 1 (Side)
Headphone Out: 1 (Side)
BRAVIA Sync
DLNA
Photo Map
Quick Start & Viewing
Remote Keyboard(VAIO)
Picture Frame Mode
USB Play: Yes (Video, Music, Photo)
Scene Select: Photo/ Music/ Cinema/ Game/ Graphics/ Sports/ Animation
Parental Control
Clock
Sleep Timer
On/Off Timer
Teletext: Yes (2000 pages)
PAP(Picture And Picture): PAP(Variable)
PIP(Picture In Picture)
Swivel / Tilt: Yes (Left 20°/ Right 20°) / -
Wi-FiDirect: Network Update (requiresWi-Fiadaptor UWA-BR100)
Skype™ Ready: Yes (requires Camera CMU-BR100)
TrackID™
Video Search
Media Remote: Yes (Network Update)
What's New: Yes (Network Update)
BRAVIA Internet Video
BRAVIA Internet Widgets
Wi-Fi: Wireless LAN Ready (requiresWi-Fiadaptor UWA-BR100)
Backlight Off Mode
Presence Sensor
Light Sensor
Power Features:
Power Requirements: AC 110-240V, 50/60Hz
Power Consumption: Approx. 109W (In operation)
Standby Power Consumption: Approx. 0.25W
Dimensions & Weight:
Dimensions (W x H x D) with Stand: Approx. 799 x 532 x 230 mm
Dimensions (W x H x D) without Stand: Approx. 799 x 502 x 70 mm
Dimensions (W x H x D) with Stand: Approx. 11.4kg
Weight without Stand: Approx. 8.7kg
← Back to product description



Full HD 1080p

1920x1080p resolution is an HDTV high-definition video mode characterized by 1080 horizontal lines of vertical resolution. As of 2012, most consumer televisions being sold provide 1080p inputs mainly with HDMI and support full high-def resolutions. 1080p resolution is available in all types of televisions, including plasma, LCD and LED.



Built in DVBT and PAL Tuner

Built IN DVBT and Pal Tuner. Excellent for use outside North America with Analog Pal RF signals and DVBT RF Signals. For use in North America to watch television a Cable, box or Satellite receiver from your cable company is necessary. Or if you will not subscribe to any paid cable a ATSC digital cable converter box can be used to tune TV channels when in North America. If using outside of North America in Africa, Asia, Europe, Middle East, Oceania, or other countries with Pal or DVBT tuning, this TV will work directly with RF Antenna signal. If You have any questions regarding this please call us. With the appropriate setup this TV can be used anywhere in the world.




USB Input

USB stands for Universal Serial Bus. A USB port is a cable connection interface used on personal computers and consumer electronics. USB ports allow stand-alone electronic devices to be connected via cables to a computer or to each other.



WiFi Ready

WiFi ready means that the device is able to use WiFi but requires an adapter. WiFi adapters are fairly inexpensive and usually plug into the USB port. WiFi Ready TV's will always have a standard LAN port to utilize internet features without using WiFi.
← Back to product description