Details
Sharp LC-52LE820M 52" Multi System LED TV, PAL, NTSC and Secam 100-240 Volts:
Let your imagination soar in a borderless world with the ultra-slim Sharp Sharp LC-52LE820M Multi System LED TV. Having a 5,000,000:1 contrast ratio utilizing the latest LED technology, the Sharp LC-52LE820M Multi System LED TV delivers such sharpness and clarity that gives you true-to-life imaging that's as real as it gets. Even when it's off, the Sharp LC-52LE820M Multi System LED TV blends seamlessly into the decor of any room in your home. Sharp Sharp LC-52LE820M Multi System LED TV - It's simply more than a TV Invisible Speaker: Great sound is meant to be heard, not seen! Beautifully hidden, our Invisible Speakers are designed with simplicity and aesthetic enhancement.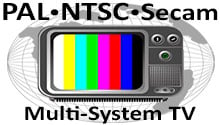 Multi-System TV - PAL, NTSC and Secam
This multisystem TV is compatible with PAL, NTSC and Secam video formats. You can use this television anywhere in the world with ANY type of video device!
Worldwide Voltage - 110v, 120v, 220v, 230v and 240 volt!
Global Dual Voltage on this Multi-system TV means it can be used anywhere. Multi-voltage TV's can be used in any country with voltage from 110 volts to 240 volts!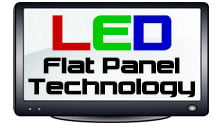 Space-Saving LED Flat Panel Technology
Multi-System LED TV's offer stunning video performance and a great value. Enjoy High Definition video in a space-saving flat panel design with this multisystem TV.
Sharp LC-52LE820M 52" Multi system LED TV Description:
Invisible Speaker:
Great sound is meant to be heard, not seen! Beautifully hidden, our Invisible Speakers are designed with simplicity and aesthetic enhancement
Clear Voice II:
Automatically enhances and amplifies the sound of the human voice frequency range to help keep dialogue audible when background noise swells.
Smart Energy Saving Plus:
Smart Energy Saving Plus is an eco-friendly way to experience unprecedented picture quality while saving energy at the same time.
Intelligent Sensor:
Intelligent sensor saves energy by decreasing power consumption. It can analyze the ambient lights in a room and adjusts the backlight of the TV automatically.
24p Real Cinema:
Films that are played at 24 frames per second are converted to play at 50 frames per second on regular TVs. Sharp 24p Real Cinema function matches the original frame rate of the film with no judder and provide the Real Cinema experience.
Simplink:
Sharp's SIMPLINK system allows you to control all the connected AV devices with one remote control. By pressing the SIMPLINK remote control key, you can switch on and control all devices connected by HDMI.
USB 2.0 (JPEG/MP3/DivX):
USB connection offers fast and easy access to multimedia. Sharing pictures, music, and movies are possible with USB 2.0 Interface.
DivX HD:
Sharp's innovative DivX HD technology delivers high definition movies and supports various types of moving pictures which can be downloaded from the internet
Sharp LC-52LE820M 52" Multi-System LED TV Specifications:
Designs and specifications are subject to change without notice.
Technology
LED
Pal / NTSC / Secam - multisystem
Sharp's UV2A technology - X-Gen Panel
Worldwide NTSC, PAL BG, PAL I, Secam BG, DK/ PAL DK TV tuners
Equipped with the world's first "Quattron" UV2A technology for the best video quality.
Audio
35W(10W + 10W + 15W woofer) high power sound
Power
AC100 - 240V 50/60Hz Power Supply
Design
Flat & thin & corner around design
Video
52 Inch
1,920 x 1080 Resolution
4 primary color technology -Quattron (Red, Green, Blue and Yellow)
Accessory
Worldwide NTSC/PAL/SECAM Color System
Eco friendly power management control Mercury free in order to save the environment
New motion GUI for easy and comfortable operation
USB terminal corresponding to photo , music and video, LAN terminal corresponding to photo and music by DLNA
Fine Motion Advanced 100/120Hz for reducing motion blur
← Back to product description



Full HD 1080p

1920x1080p resolution is an HDTV high-definition video mode characterized by 1080 horizontal lines of vertical resolution. As of 2012, most consumer televisions being sold provide 1080p inputs mainly with HDMI and support full high-def resolutions. 1080p resolution is available in all types of televisions, including plasma, LCD and LED.



Built in DVBT and PAL Tuner

Built IN DVBT and Pal Tuner. Excellent for use outside North America with Analog Pal RF signals and DVBT RF Signals. For use in North America to watch television a Cable, box or Satellite receiver from your cable company is necessary. Or if you will not subscribe to any paid cable a ATSC digital cable converter box can be used to tune TV channels when in North America. If using outside of North America in Africa, Asia, Europe, Middle East, Oceania, or other countries with Pal or DVBT tuning, this TV will work directly with RF Antenna signal. If You have any questions regarding this please call us. With the appropriate setup this TV can be used anywhere in the world.




USB Input

USB stands for Universal Serial Bus. A USB port is a cable connection interface used on personal computers and consumer electronics. USB ports allow stand-alone electronic devices to be connected via cables to a computer or to each other.
← Back to product description