Details
Sharp LC-50LE450M 50" Full HD AQUOS Multisystem LED TV 110 220 240 volts pal ntsc
World-Wide NTSC/PAL/SECAM Color System - Watch any video signal on this TV!
110 volt, 120 volt, 220 volt, 230 volt, 240 volt
Worldwide Dual Voltage
NTSC-M, PAL BG/PAL I/Secam BG, DK/ PAL DK TV tuners
50" of Full HD Panel (1920 x 1080) Resolution
2 x HDMI Ports
Advanced Optical Picture Control
Edge LED Backlight
High-Efficiency LED Backlight
Precision brightness control and high-speed response is made possible with the LEDs light source in AQUOS. With the next-generation X-Gen panel, AQUOS is able to achieve a higher contrast ratio and is able to deliver a incredibly vibrant red color
Seven Shields
Customers feel relieved and safe using our TVs under various circumstances. They are proven safe after thorough tests done for final products. The best hope is that the customer enjoys high quality TVs that are always mindful of your family's safety as well.
Seven Ecological Features
Sharp commits itself to the protection of the environment and our natural resources. The Sharp products are designed with a variety of energy saving eco-friendly features that make their TV's real energy savers. The seven incredible ecological features are built into the AQUOS series.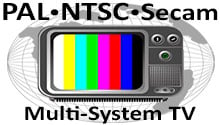 Multi-System TV - PAL, NTSC and Secam
This multisystem TV is compatible with PAL, NTSC and Secam video formats. You can use this television anywhere in the world with ANY type of video device!
Worldwide Voltage - 110v, 120v, 220v, 230v and 240 volt!
Global Dual Voltage on this Multi-system TV means it can be used anywhere. Multi-voltage TV's can be used in any country with voltage from 110 volts to 240 volts!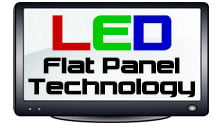 Space-Saving LED Flat Panel Technology
Multi-System LED TV's offer stunning video performance and a great value. Enjoy High Definition video in a space-saving flat panel design with this multisystem TV.
Sharp LC-50LE450M 50" Full HD AQUOS Multisystem LED TV 110 220 240 volts pal ntsc
Energy save (Eco mode) : Yes
Automatic volume level control/C : Yes
Eco picture control : Yes
Digital audio amplifier : Yes
Visible screen size : 50
Resolution : 1,920 x 3 x 1,080
Widescreen format : 16:09
Contrast ratio : Mega Contrast
Digital comb filter : 3D Y/C
PAL-B/G, PAL-D/K, PAL-I, NTSC-M : Yes
SECAM-K1, SECAM-B/G, SECAM-D/K : Yes
NTSC 4.43, PAL 60Hz, PAL, SECAM, : Yes
NICAM/A2 stereo decoder : Yes
Bass Enhancer : Yes
Output power : 8W x 2
Picture & Text : Yes
USB (Video/Photo/Music playback) : Yes
TELETEXT : Yes
Active Backlight Control : Yes
Low-power stand-by : Yes
No-signal off/No-operation off : Yes
PC input : 1
HDMI input : 2
Headphone (3.5-mm mini socket) : 1 (Shared Analogue Audio Out)
Analogue audio out : 1 (Shared Headphone)
Video : 1
Component : 1
USB : 1
Power consumption (approx.)(W) : 98
Standby mode (W) : <1
Dimension (WxHxD) : 1125 x 697 x 280
Dimensions without stand : 1125 x 669 x 66
Weight with stand : 15
Weight without stand : 14.5
← Back to product description



Full HD 1080p

1920x1080p resolution is an HDTV high-definition video mode characterized by 1080 horizontal lines of vertical resolution. As of 2012, most consumer televisions being sold provide 1080p inputs mainly with HDMI and support full high-def resolutions. 1080p resolution is available in all types of televisions, including plasma, LCD and LED.



Built-In Analog Pal, NTSC, and Secam TV tuner

Analog Pal, NTSC, and Secam tuner built in for world wide use for analog tuning. If you are in a country that utilizes digital tuning such as DVBT or ATSC a Cable Box or Satellite receiver is needed. If You have any questions regarding this please call us. With the appropriate setup this TV can be used anywhere in the world.




USB Input

USB stands for Universal Serial Bus. A USB port is a cable connection interface used on personal computers and consumer electronics. USB ports allow stand-alone electronic devices to be connected via cables to a computer or to each other.
← Back to product description