Details
Samsung PS50A450 50" Multi System Plasma TV; PAL, NTSC and Secam 100-240 Volts: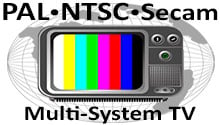 Multi-System TV - PAL, NTSC and Secam
This multisystem TV is compatible with PAL, NTSC and Secam video formats. You can use this television anywhere in the world with ANY type of video device!
Worldwide Voltage - 110v, 120v, 220v, 230v and 240 volt!
Global Dual Voltage on this Multi-system TV means it can be used anywhere. Multi-voltage TV's can be used in any country with voltage from 110 volts to 240 volts!
Space-Saving 3D Plasma Flat Panel Technology
Multi-System 3D Plasma TV's offer stunning video performance and a great value. Enjoy High Definition 3D video in a space-saving flat panel design with this multisystem TV.
Samsung PS50A450 50" Multi System Plasma TV Description:
3D image display technology
3D technology is not only being applied to PC games but beginning to be broadly expanded to film and the web. Demand for 3D capable TV is rapidly increasing, so SAMSUNG has met the challenge with this awesome array of cutting edge technologies.

How does 3D image display technology work?
Either DDD software or an nVidia Graphic card converts the3D input source material into the 3D format of your TV system with 3D depth information derived from the input source. The 450's' Real 3D Engine' produces independentimages for each eye with the redefined format and 3D depth information. Then, 'Real 3D Engine' displays 60 images per second for each eye independently, which means it displays visuals at 120Hz frame rate. An IR Emitter synchronises signals generated from the'Real 3D Engine" with special shutter glasses. The glasses and IR Emitter work together sothat each of your eyes gets its own visual information.Through this process, users can feel the excitement of the full 3D effect.

What is available in 3D?
The roster of DVDs, games and applications that use 3D is growing quickly. You can enjoy 3D web content like GoogleEarth on a big screen, in addition to over 35 previously released 3D DVDs and many more new titles scheduled to be released this year. If your PC is equipped with nVidia graphic card, you can enjoy most of the 3D PC games on the market. Current 3D web content like Google Earth 4 and World of Warcraft are also available with DDD 3D software. With SAMSUNG's new advanced 3D technology, there is an experience waiting for you that is so real you can't imagine it.
1,000,000:1 Dynamic Contrast Ratio - deeper darks and brighter lights
The phenomenal Dynamic Contrast Ratio of the PDP TV 450 (up to an incredible 1,000,000:1) provides powerful images that are vivid and lifelike. To dynamically increase the contrast ratio, SAMSUNG has developed a new solution to minimise the black level. By changing the light controlling system from analog to digital we get finer control of backlighting, virtually eliminating unwanted glow and providing deeper, richer dark colours, and brighter, more vibrant light colours.
Real 100 Hz - natural & fluid motion without blurring
Real 100Hz' enables motion display in a more fluid way without any blurring by:
Frame doubling from 50 to 100 frames per second.
Not repeating the same image to make more frames, but intelligently calculating the 'middle' image between frame A and frame B and inserting another frame A' in between.
Digital Natural Image engine+ - delivering enhanced natural images
Our upgraded advanced DNIe+ (Digital Natural Image engine+) technology creates clear, vivid images that are bathed in natural beauty. The Motion Optimiser produces soft, fluid motion and ensures that images are well defined and clear. The Colour Optimiser provides finely balanced natural colours, while the Contrast Enhancer delivers deeper black tones that appear natural to the human eye. Finally, the Detail Enhancer sharpens the edges of images to present them in crisp, lifelike detail, while Digital Noise Reduction ensures that you see images of astounding clarity and precision.
3 HDMI (1 side, 2 rear) - excellent connections
Three High Definition Multimedia Interface TM (HDMI) connections make your TV a multimedia centrepiece. Connect HD digital devices like disc players, game consoles, and satellite dish components into the 2 rear connections and use the side mounted input for cameras, camcorders, and laptops. HDMI is the best performing interface for displaying an HD source on an HDTV.
Down-firing Speaker - deep down sound
With SAMSUNG's Down-firing Speakers, now you can fill your room with deep, rich sound. Down-firing Speakers are a stylish and simple invisible speaker design that especially enhances the low frequency range. SAMSUNG's parametric EQ technology is optimised for Down-firing Speakers enabling them to reproduce deeper and clearer sound without distortion over the entire range of frequencies.
Intelligent Energy Saving - less energy and more fun
New Electricity saving design saves money will helping the envirnment.
The SAMSUNG PDP TV 450 is an environmentally friendly TV with a new power saving mode and Energy Star compliance.Preserving the environment and saving energy is important to all of us, so it is comforting to know that 450 is equipped with "Intelligent Power Saving" that allows you to set your TV to save on power usage. This new power saving mode uses area compensation technology to give you several different power saving energy use options for your TV setup, standby and viewing.
FilterBright astounding images in any light
FilterBright is a patented, two-way daylight filter that absorbs external light as it approaches the plasma screen and transmits internal light clearly increasing the contrast levels and preventing unwanted reflection. SAMSUNG's amasing new Super Black Panel absorbs external light and minimises reflection for superb picture clarity with enhanced expressionthat makes blacks dramatically darker. You get higher pictureclarity with low reflection and higher contrast than current LCD panels in bright viewing conditions producing exceptionally vivid colours and the very clearest moving images.
Natural True Colour - 18 bit colour processing
18 bit colour processing makes Rich & Natural Colours.

SAMSUNG Plasma TV's 18-bit processing capacity can display an amasing Natural & True Colours
1080 24P Real Movie - true to the original
The SAMSUNG PDP TV 450 gives you the power to watch movies in their original 24-frames-per-second format-so you can see them the way they were intended to be seen. The latest in digital technology allows Blu-Ray Disc Players or Game Consoles to output content in its original forms of 24 fps. The SAMSUNG 450 PDP TV supports these 24 fps sources through the HDMI input, and is capable of showing scenes in the maximum resolution of 1080p.
3 Entertainment Modes - a TV made for entertainment
To provide you with the best entertainment possible, the SAMSUNG PDP TV has three different picture and sound modes optimised for Sports, Movies and Games with hot keys for instant remote control access, so you can be sure that the picture quality you are experiencing is optimised for what you are watching. Fast motion imaging, dynamic detail enhancement, and down-firing speakers all combine to deliver the most exciting entertainment experience you have ever had.

Sports
Sports mode places you right in the middle of the action.Whether it"s the gridiron, the playing field, the race track, surfing or a yacht race, the action comes to life in vivid colour and detail providing a superior spectator experience for all sports. And you can enjoy upcoming big sports events, like the Olympic games, right in your living room and feel like you"re part of the action!

Cinema
Experience TV that feels just like a movie theatre. Cinema Mode guarantees the very best moving image quality while the enhanced speakers deliver powerful cinematic sound. With the specially adjusted colour temperature, you can enjoy the warm feeling of the movies right in your own living room.

Game
Game mode enhances your gaming experience by providing you with smooth moving images, incredible sharpness of detail, and sound that is clear and powerful. When the Game mode is turned on, the contrast in dark areas is amplified, the bass sound is enriched, and the response time to game console movement is shortened, creating the best possible environment for fast moving video games. Enjoy the sense of total immersion in your game and all the excitement that you can handle.
Anynet+ (HDMI CEC) - complete control
CEC (Consumer Electronic Control) Anynet+ system intelligence carries device control functions between all connected HDMI A/V devices. When you connect A/V devices such as a BD Player, AV Receiver, or home theatre system with a HDMI cable, you can enjoy one-touch control for all of them with a single remote control.
Energy Star - energy efficient, ecologically sound
The Energy Star certification means that the SAMSUNG PDP TV is dedicated to helping you do your part to protect the environment. The energy efficiency of the SAMSUNG PDP TV allows you to be secure in the knowledge that you are doingyour part to protect the delicate balance between technological advancement and conservational awareness.
Features
Native Resolution: The Samsung Multi System PS-50A450 has a display resolution of 1365 x 768. Its HDMI inputs will accept 1080p, 1080i, 720p, and 480p signals.
1,000,000:1 Dynamic Contrast Ratio: The TV has a standard contrast ratio of 30,000:1 and a dynamic contrast ratio of 1,000,000:1. These contrast and brightness levels achieve a more realistic, sharper picture quality.
Digital Natural Image Engine (DNIe): Samsung's revolutionary DNIe technology delivers digital perfection in crystal-clear images that uncover even the most subtle details. DNIe is made up of a Motion Optimizer, a Contrast Enhancer, a Color Optimizer, and a Detail Enhancer to produce life-like images that rival reality.
ACEsilhouette Editor: Samsung's exclusive silhouette-editing technology reduces the "false contour" effect to deliver clear, sharp images; even on a curvy surface, like a face. Innovative motion-estimated technology multi-tones the bright and dark parts on each angle of the line. Even in fast-action scenes, Samsung's Silhouette Editor adjusts toning so faces appear natural and free of distortion.
Anti Burn-In Technology: Samsung's Anti-burn-in technology uses auto pixel shift, signal pattern processing function, and all white screens to ensure that no images are burned into the plasma panel.
Pixel Shift: This function shifts the pixels of the displayed image every two minutes to prevent burn-in.
White: This function removes after-images on the screen by changing the color of pixels to white.
Scrolling: this function removes after-images on the screen by moving all the pixels on the PDP according to a pattern.
Side Gray: When you watch TV with the screen ratio of 4:3, the screen is prevented from any damage by adjusting the white balance on both the extreme left and right sides of the television.
3D-Ready: 3D technology gives you the benefits of both a flat-panel set and 3D movie viewing and gaming. You can enjoy the superb picture quality of a flat panel TV with enhanced 3D features. The TV is capable of displaying future 3D games, movies and other programming via 3D compatible glasses and hardware.
Picture Sizes: You can choose one of the following picture sizes:
16:9: sets the picture to 16:9 wide mode
Zoom 1: vertically enlarges the size of the picture and allows you to move the enlarged picture using the arrows on the remote
Zoom 2: vertically enlarges the size of the picture more than Zoom 1 and allows you to move the enlarged picture using the arrows on the remote
Wide Fit: proportionally enlarges the picture to fit the entire screen without changing the aspect ratio
4:3: sets the picture to 4:3 normal mode with pillars on the left and right of the screen
Just Scan: see the full image with no resizing when an HDMI input (720/1080i), Component (1080i), or DTV (1080i) signal is used
Picture Control: You can make the following adjustment for an optimum picture:
Automatic Picture Settings: choose one of three automatic picture settings:

Standard: for the optimum display in a normal environment
Dynamic: for high-definition in a bright room
Movie: for viewing movies in a dark room

Manual Picture Settings:

Cell Light: sets the pixel brightness
Contrast: adjusts the contrast level of the picture
Brightness: adjusts the brightness level of the picture
Sharpness: adjusts the edge definition of the picture
Color: adjusts the color saturation of the picture
Tint: adjusts the color tint of the picture

Detailed Picture Settings:

Black Adjust: screen depth is adjusted using Black Level, settings include Off, Low, Medium, High
Dynamic Contrast: adjust contrast to optimize the picture (Off, Low, Medium, High)
Gamma: adjust the primary colors (Red, Green, Blue) intensity
Color Space: select the color space for the most natural color (Auto, Native, Custom)
White Balance: adjust the color temperature for more natural colors (Red, Green, Blue)
Flesh Tone: Emphases the pink "flesh tone" in the picture
Edge Enhancement: edge enhancement emphasizes the boundaries of an object, it can be turned off if you prefer
Color Tone: adjust the overall color tone using one of five presets: Cool 1, Cool 2, Normal, Warm 1, Warm 2
Digital Noise Reduction: for weak TV signals, adjust Digital NR to reduce static and ghosting (Off, Low, Medium, High, Auto)
HDMI Black Level: the black level can be set to Normal or Low when using an HDMI (RGB) input
Entertainment Modes: You can set the TV for the optimal display and sound for different types of programs: Sports, Game, or Cinema.
Film Mode: The TV can be set to automatically sense and process film signals from all sources and adjust the picture for optimum quality.
Blue Only Mode: You can emphasize the Blue color by switching off the Red and Green colors. This function displays the blue signal only be removing the red and green signals from the video signal so as to provide a Blue Filter effect that is used to adjust the Color and Tint of video equipment such as DVD players and Home Theaters. Using the function, you can adjust the Color and Tint to preferred values appropriate to the signal level of each video device using the Red/Green/Blue/Cyan/Magenta/Yellow Color Bar Patterns, without using and additional Blue Filter.
Input Source Names: You can assign a preprogrammed name to each of the inputs. When input naming is completed, you will no longer have to remember which component is connected to each input when selecting a source to watch. Source names include VCR, DVD, Cable STB, Satellite STB, PVR STB, AV Receiver, Game, Camcorder, PC, TV, IPTV, Blu-Ray, HD-DVD, and Digital Media Adapter.
Channel Labels: Each analog channel programmed into memory can be labeled with a name up to 5 characters. Digital channels names are already assigned and cannot be edited.
Favorite Channel: You can create a list of your favorite channels and recall the list using the FAV.CH button on the remote.
PC-Capable: This unit has a 15-pin D-Sub (RGB) input that allows you to use it as a high-resolution computer monitor. The HDMI 2 input can also be used with a computer. The TV can be set to automatically adjust to the video signals received, or you can use the setup menu to adjust the screen quality and position. No cables are supplied for connecting the TV to a PC.
Digital Signal Strength Meter: The digital signal strength meter can be used to help you find the antenna position that delivers the highest HDTV digital signal strength.
Analog Channel Fine Tuning: The fine tuning feature allows you to manually adjust analog channels for optimal reception. A separate fine tuning setting may be put into the TV's memory for each analog channel.
Auto Volume: Auto volume automatically adjusts the volume of the desired channel, lowering the sound output when the modulation signal is high or raising the sound output when the modulation signal is low. This reduces the difference in volume when changing channels.
Automatic Sound Settings: You can choose from the following sound settings:
Standard: resets the standard factory settings
Music: for watching music videos and concerts
Movie: for watching movies
Speech: for watching a show that is mostly dialog
Custom: adjust the 5-band EQ; 100 Hz, 300 Hz, 1 kHz, 3 kHz, and 10 kHz
SRS TruSurround XT: TruSurround is a patented SRS technology for playing 5.1 multi-channel content using only two speakers, it delivers a virtual surround sound experience through two speakers (internal or external), it is fully compatible with all multi-channel formats
V-Chip: The V-Chip feature automatically locks out programs that are deemed inappropriate for children based on the user selected parental guidelines. The user must enter a 4-digit password before any of the V-Chip restriction are set up or changed.
Sleep Timer: The sleep timer switches the television off after a specified amount of time. The sleep timer can be set to 30, 60, 90, 120, 150, or 180 minutes.
On/Off Timer: The three On/Off timers allow you to program the television to turn itself on and off by selecting a specific on time and a specific off time. You also choose the On Timer's channel and Volume. The on and off timers work independently of one another.
On/Off Melody: A unique melody plays when the TV is turned on and off. The melody volume is adjustable, or you can turn this feature off if you prefer.
Auto Power Off: This function will automatically turn the television off if no controls are operated from the television or remote control for 3 hours.
Energy Saver: This feature adjust the power consumption of the television in order to save energy. You can select from Low, Medium, High or Off energy saver modes.
Mounting Options
Detachable Stand: The PS50A450 comes with a table-top stand for easy placement on top of a counter or table. On the stand, the TV can swivel 20° left or right. The television weighs 81.6 lbs with the stand attached.
Wall Mounting: You can remove the stand and mount this display on the wall using an optional wall-mount bracket. The TV has four threaded screw holes spaced to accommodate many universal wall mount brackets. The hole spacing is 600mm x 400mm and requires four M8 (8mm) machine screws. The television weighs 75.4 lbs without the stand.
Remote Control
Remote Control: The supplied remote is pre-programmed to operate this unit, plus it has controls for other Samsung units (DVD, Blu-Ray players, etc.) connected via HDMI using the Anynet+ protocol.
Anynet+: Anynet+ is an AV network system that enables you to control other components with your Samsung TV's remote. The Anynet+ system can be used only with Samsung AV devices that support the Anynet+ feature and are connected with HDMI 1.3 cables. The Anynet+ feature must be turned on in the menu to function. Anynet+ can support up to 12 AV devices in total.
Inputs and Outputs Notes
Side Panel Inputs: The PS50A450 features a set of jacks on the left side panel for easy connection:
HDMI In 3
A/V in 2 (S-video, composite video, RCA stereo audio)
Headphone out (3.5mm), the TV's internal speakers are muted when you plug in headphones
HDMI: There are three HDMI terminals, two on the rear panel and one on the side. HDMI 2 can be used for a DVI-equipped component. It has a separate analog audio connection and a DVI-to-HDMI adapter will be needed. HDMI 2 can also be used to connect a computer. The HDMI jacks accept 1080p, 1080i, 720p, and 480p signals.
PC: This input consists of a stereo mini-jack and an analog RGB (D-Sub 15-pin) jack.
Component Video Inputs: The 2 sets of component video inputs will accept 1080p, 1080i, 720p, 480p and 480i signals. One of the component video inputs can accept a composite video signal by plugging the yellow composite video plug into the green RCA jack.
Digital Audio: The optical digital output on the rear panel will output Dolby Digital (when available) or 2 channel PCM.
Ex-Link: This jack connects to an optional powered Samsung wall mount bracket, such as 305WMN5090, that will allow you to adjust the TV viewing angle using the television's remote control.
Samsung PS50A450 50" Multi System Plasma TV Specifications:
Designs and specifications are subject to change without notice.
Video
Screen Size: 50"
Resolution: 1365 x 768
Dynamic Contrast Ratio: 1,000,000:1
Viewing Angle: over 175º (H/V)
DNIe™: DNIe+
Digital Noise Reduction: Yes
Audio
Sound Effect System: SRS TruSurround XT
Sound Output (RMS): 10W x 2
Input & Output(Side)
HDMI: 1
composite (AV): 1
S-Video: 1
Headphone: 1
Input & Output(Back)
HDMI: 2
composite (AV): 1
S-Video: No
PC input (D-sub): 1
Component (Y/Pb/Pr): 2
Feature
System
Tuners: NTSC 4.43, PAL-B/G, D/K, I, SECAM-B/G, D/K, AV Multi
Dimension
Set size (WXHXD) with stand: 1230.2 x 815.2 x 316.0mm
Set size (WXHXD) without stand: 1230.2 x 755.7 x 96.2mm
Package size (WXHXD): 1355.0 x 938.0 x 425.0mm
Weight
Set weight with stand: 37.0kg
Set weight without stand: 34.1kg
Package weight: 44.5kg
← Back to product description



HD 720

720p is a progressive HDTV resolution signal format with 720 horizontal lines. All major HDTV broadcasting standards include a 720p format which has a resolution of 1280×720. The number 720 stands for the 720 horizontal scan lines of image display resolution (also known as 720 pixels of vertical resolution), while the letter p stands for progressive scan.



Built in DVBT and PAL Tuner

Built IN DVBT and Pal Tuner. Excellent for use outside North America with Analog Pal RF signals and DVBT RF Signals. For use in North America to watch television a Cable, box or Satellite receiver from your cable company is necessary. Or if you will not subscribe to any paid cable a ATSC digital cable converter box can be used to tune TV channels when in North America. If using outside of North America in Africa, Asia, Europe, Middle East, Oceania, or other countries with Pal or DVBT tuning, this TV will work directly with RF Antenna signal. If You have any questions regarding this please call us. With the appropriate setup this TV can be used anywhere in the world.




TV 3D
← Back to product description