Details
Samsung PS42A410 42" Multi System Plasma TV; PAL, NTSC and Secam 100-240 Volts:
It is hard not to be impressed by the new Samsung Plasma TV's elegant, minimalist form. And you'll be further impressed when you switch it on. With cinema quality performance and a long list of advanced features including 20,000:1 contrast ratio, Natural True Color, Real Motion Studio, Movie Mode and Game Mode, the new Samsung Plasma TV isn't just a pretty face. It even boasts a Power Saving mode for those of you who are environmentally conscious.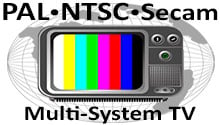 Multi-System TV - PAL, NTSC and Secam
This multisystem TV is compatible with PAL, NTSC and Secam video formats. You can use this television anywhere in the world with ANY type of video device!
Worldwide Voltage - 110v, 120v, 220v, 230v and 240 volt!
Global Dual Voltage on this Multi-system TV means it can be used anywhere. Multi-voltage TV's can be used in any country with voltage from 110 volts to 240 volts!
Space-Saving Plasma Flat Panel Technology
Multi-System Plasma TV's offer stunning video performance and a great value. Enjoy High Definition video in a space-saving flat panel design with this multisystem TV.
Samsung PS42A410 42" Multi System Plasma TV Specifications:
Designs and specifications are subject to change without notice.
Key Features
World-Wide NTSC/PAL/SECAM Color System - Watch any video signal on this TV!!
World-Wide NTSC M, PAL BG, PAL I, Secam BG, DK/ PAL DK TV tuners
42 inch LCD TV with HDMI inputs and PC input
20,000:1 Dynamic Contrast: While viewing either very bright or very dark scenes, it can be difficult to distinguish main images which blend into the background. Dynamic Contrast dramatically mitigates this problem by adjusting the backlight intensity, providing up to a 4X improvement in contrast.
Widescreen 16 X 9 Format
World-wide Dual Voltage 110-240 volts 50-60 hertz
HDTV monitor (HDTV tuner required for HD reception)
Wide Screen Mode allows you to watch conventional 4:3 aspect ratio broadcasts in wide screen (16:9) mode.
Steady Sound equalizes volume levels so there is consistent output between programs and commercials.
Built-in hidden speakers includes 2 (5W x 2) speakers to deliver dynamic sound.
Component Video Input offers the best video quality for DVD (480p and 480i), and digital set-top box (1080i, 720p, 480p and 480i) connections.
Parental Control V-chip technology allows parents to block unsuitable programming from younger viewers.
PC Input allows you to connect your PC and display the PC screen on your TV.
Surround Sound Audio Effect
More Features
Screen size 42"/106cm, Aspect Ratio :- 16:9
High Standard in Panel Luminance and Contracts Ratio
To watch hi definition you need Hi Def TV service like digital cable, digital satellite or HDMI DVD Player
Tunes TV channels for PAL BG, PAL I, SECAM DK, NTSC
1080i plasma panel 1024 X 768 resolution
20,000:1 Contrast Ratio
Brightness : 1,500cd/m2
Panel Life : 60,000hrs
Unique FC5 Digital Image Pixel Processor
Digital Color Management
Horizontal / Vertical Viewing
Convenient Swivel Stand
Audio Volume Leveler
2 HDMI digital inputs for Hi Definition TV
Component Video 480i/p / 575i/p / 720p(60) / 1080i(50/60)
Analog RGB Signal VGA - UXGA / 1080i(50/60)
Composite (RCA) X 1
S-Video X 1
Headphone X 1
Component X 2
PC input X 1
HDMI X 2
Audio out X 1
RF In X 1
Dimension without stand 1055 x 700 x 95 (W X H X D)
Dimension with stand 1055 x 759 x 316 (W X H X D)
Put it Anywhere
The 3.9" deep PS42A410 gives you the luxury of choosing between hanging your TV on the wall or placing it on a stand.
Bright and Vivid Picture
The Samsung PS42A410 offers unrivaled picture quality for your viewing pleasure. Thanks to plasma technology you can view images with amazing clarity, brightness, and contrast. The PS42A410 can display up to 1,070 million colors and is one of the brightest displays with a contrast ratio of 10000:1. All this leads to a much more vivid television experience.
← Back to product description



HD 720

720p is a progressive HDTV resolution signal format with 720 horizontal lines. All major HDTV broadcasting standards include a 720p format which has a resolution of 1280×720. The number 720 stands for the 720 horizontal scan lines of image display resolution (also known as 720 pixels of vertical resolution), while the letter p stands for progressive scan.



Built in DVBT and PAL Tuner

Built IN DVBT and Pal Tuner. Excellent for use outside North America with Analog Pal RF signals and DVBT RF Signals. For use in North America to watch television a Cable, box or Satellite receiver from your cable company is necessary. Or if you will not subscribe to any paid cable a ATSC digital cable converter box can be used to tune TV channels when in North America. If using outside of North America in Africa, Asia, Europe, Middle East, Oceania, or other countries with Pal or DVBT tuning, this TV will work directly with RF Antenna signal. If You have any questions regarding this please call us. With the appropriate setup this TV can be used anywhere in the world.
← Back to product description