Details
Samsung LA-52B550 Full HD 52" Multi system LCD TV; PAL, NTSC and Secam 100-240 Volts:
Samsung LA-52B550 multi system LCD TV is a great model in this size.
With its elegantly stylish design the Samsung LA52B550 FULL 1080p LCD TV offers an outstandingly rich Full HD TV experience. With phenomenal picture quality and superior features, sharper, clearer, more detailed images are delivered with incredible intensity on its clear panel screen, enabling you to enjoy quality and versatility that indulge all of your senses.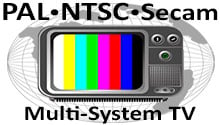 Multi-System TV - PAL, NTSC and Secam
This multisystem TV is compatible with PAL, NTSC and Secam video formats. You can use this television anywhere in the world with ANY type of video device!
Worldwide Voltage - 110v, 120v, 220v, 230v and 240 volt!
Global Dual Voltage on this Multi-system TV means it can be used anywhere. Multi-voltage TV's can be used in any country with voltage from 110 volts to 240 volts!
Space-Saving LCD Flat Panel Technology
Multi-System LCD TV's offer stunning video performance and a great value. Enjoy High Definition video in a space-saving flat panel design with this multisystem TV.
Features of Samsung LA-52B550 Full HD 52" Multi system LCD TV; PAL, NTSC and Secam 100-240 Volts:
Native Resolution: The LCD television displays all inputs at a resolution of 1080p (1920 x 1080). The television's HDMI and component video inputs will accept 1080p, 1080i, 720p, 480p and 480i video signals.
6ms Response Time: One of the most important features for an LCD panel is the pixel response time. Response time refers to the amount of time it takes a pixel to "refresh" itself-to go from being active to being inactive, (ready to be re-activated). The lower the milliseconds, the faster the response time. A television's very fast 6ms response time virtually eliminates any blurring and gives you smooth-motion action scenes
Contrast Ratio: This TV has an 60,000:1 dynamic contrast ratio, giving you brilliant brightness and contrast for superior picture and detail from both PC and TV images.
Screen Sizes: You can choose one of the following picture sizes:
16:9: sets the picture to 16:9 wide mode
Zoom 1: vertically enlarges the size of the picture and allows you to move the enlarged picture using the arrows on the remote
Zoom 2: vertically enlarges the size of the picture more than Zoom 1 and allows you to move the enlarged picture using the arrows on the remote
Wide Fit: proportionally enlarges the picture to fit the entire screen without changing the aspect ratio
4:3: sets the picture to 4:3 normal mode with pillars on the left and right of the screen
Screen Fit: see the full image with no resizing when an HDMI input (720p/1080i/180p), Component (1080i/1080p), or DTV (1080i) signal is used

Note: Screen Size settings can be stored for each external device you have connected to an input of the TV.
Crystal Design
SAMSUNG Crystal TV refers to subtle changes in the product's design. The beauty of nature lies in its ever-changing form, colors and light. New materials offer a never-seen-before TV that captures the essence of natural beauty through natural light, styles and tones which constantly appear to change with the viewing angle. SAMSUNG Crystal TV bezel is not made up solely of one colors pigment, it is a sophisticated combination of multiple colors which produces a seamless, natural gradation.
4 HDMI Inputs
Three High Definition Multimedia Interface (HDMI) connections make your TV a multimedia centerpiece. Connect HD digital devices like disc players, game consoles and satellite dish components into the 3 rear connections and use the side-mounted input for cameras, camcorders and laptops. HDMI is the best performing interface for displaying an HD source on an HDTV.
Anynet
Concentrate your control. Anynet technology enables you to direct all of your HDMICEC-compatible digital devices - whatever their manufacturer - with a single remote control, for a streamlined home-entertainment experience.
Anynet+ allows you to create a comprehensive network of connected audio and video digital devices that can be controlled by a single remote control. Simply connect all components via HDMI cables and enjoy one-touch operation of your home entertainment network.
The simple way to live in Full HD.
Its resolution (1920 x 1080) is enhanced two times to that of HD TV (1366 x 768), due to 1.5 times more scanning lines than conventional HD TVs.
DNIE+
SAMSUNG"s proprietary picture quality enhancing engine. DNIe+ Engine technology performs to optimise overall picture qualities.
High Contrast Ratio
Deeper Black with Clearer Picture. Enjoy a crisper image revealing more detail than ever before as the High Dynamic Contrast Ratio produces purer whites and richer blacks.
SWIVEL stand
A round swivel stand allows for the best possible viewing from any angle.
Wide Colour Enhancer 2
More natural & deeper colour
SAMSUNG"s Wide Colour Enhancer extended to display the natural green and blue. Additionally, Wide Colour Enhancer 2 technology is upgraded to reproduce the red area also.
Down-Firing Speakers
Better design & deeper sound creation
Samsung LA-52B550 Full HD 52" Multi system LCD TV Specifications:
Designs and specifications are subject to change without notice.
Video Features
Video Signal System: NTSC, PAL, Secam
1.3 Mega Pixel Panel
Native Resolution: 1080p, 1080i, 720p, 567p
60,000:1 Contrast Ratio
6ms Response Time
Wide Viewing Angle 178 degrees
Widescreen 16:9 aspect ratio
Multi System - Pal - NTSC - Secam compatible
High-gloss black finish
1920 x 1080 pixels
6-millisecond pixel response time
60,000:1 dynamic contrast ratio
Built-in stereo speakers (10 watts x 2)
Remote control
Anynet+ simplifies remote control for compatible Samsung components (HDMI-CEC)
Picture settings memory for each video input
5 A/V inputs, including:

1 composite video
1 component video (accepts signals up to 1080p)
3 HDMI v1.3 (accepts signals up to 1080p)

PC input: analog RGB (D-Sub 15-pin)
RF input for antenna/cable signals
Optical digital audio output for Dolby® Digital
Wall-mountable (bracket not included)
The smooth, stylish Samsung LCD TV SERIES 5 excels in every aspect. Its phenomenal Full HD 1080p images are framed perfectly by its large screen, inviting you to experience a TV that is as versatile as it is remarkable, and entertainment without limits.
Picture Control:
You can make the following adjustment for an optimum picture:
Automatic Picture Settings:
Standard: for the optimum display in a normal environment
Dynamic: for high-definition in a bright room
Movie: for viewing movies in a dark room
Manual Picture Settings:
Backlight: adjusts the brightness of the LCD backlight
Contrast: adjusts the contrast level of the picture
Brightness: adjusts the brightness level of the picture
Sharpness: adjusts the edge definition of the picture
Color: adjusts the color saturation of the picture
Tint: adjusts the color tint of the picture
Advanced Picture Settings:
Black Tone: adjusts the black level on the screen to adjust the screen depth
Dynamic Contrast: adjusts the screen contrast so that the optimal contrast is provided
Gamma: adjusts the primary color (red, green, blue) intensity from -3 to +3
Color Space: select your favorite color space (color matrix compose of red, green and blue colors) to experience the most natural color
Color Tone: adjusts the overall color tone of the televisions using one of four presets: Cool, Normal, Warm 1, Warm 2
Flesh Tone: emphasize the pink flesh tone in a picture
White Balance: adjusts the color temperature for more natural picture colors
Edge Enhancement: emphasize object boundaries in the picture
HDMI Black Level: You can select the black level on the screen to adjust the screen depth when you have a component connected via HDMI to the television. You can select either Normal or Low.
Digital Noise Reduction: If the broadcast signal received by your TV is weak, you can activate the Digital Noise Reduction feature to help reduce any static and ghosting that may appear on the screen. You can select Low, Medium, High, Auto, or Off.
Film Mode: The TV can be set to automatically sense and process film signals from all sources and adjust the picture from optimum quality.
Game Mode: When connecting the television to a game console, you can enjoy a more realistic gaming experience when selecting Game Mode.
Auto Volume: Auto volume automatically adjusts the volume of the desired channel, lowering the sound output when the modulation signal is high or raising the sound output when the modulation signal is low. This reduces the difference in volume when changing channels.
Sound Modes:
You can choose from the following sound settings:
Standard: resets the standard factory settings
Music: for watching music videos and concerts
Movie: for watching movies
Clear Voice: for watching a show that is mostly dialogue
Custom: adjust the 5-band EQ; 100 Hz, 300 Hz, 1 kHz, 3 kHz, and 10 kHz
General
SRS TruSurround HD: SRS TruSurround HD is a patented SRS technology that solves the problem of playing 5.1 multichannel content over two speakers. TruSurround delivers a compelling, virtual surround sound experience through any two-speaker playback system, including the internal television speakers. It is fully compatible with all multichannel formats.
Input Source Names: You can assign a pre-programmed name to each of the inputs. When input naming is completed, you will no longer have to remember which component is connected to each input when selecting a source to watch. Source names include VCR, DVD, Cable STB, Satellite STB, PVR STB, AV Receiver, Game, Camcorder, PC, TV, DVI PC, DVI, IPTV, Blu-Ray, HD-DVD, and Digital Media Adapter.
Channel Labels: Each analog channel programmed into memory can be labeled with a name. Digital channels names are already assigned and cannot be edited.
Favorite Channel: You can create a list of your favorite channels and recall the list using the FAV.CH button on the remote.
Digital Signal Strength Meter: The digital signal strength meter can be used to help you find the antenna position that delivers the highest HDTV digital signal strength.
Analog Channel Fine Tuning: The fine tuning feature allows you to manually adjust analog channels for optimal reception. A separate fine tuning setting may be put into the TV's memory for each analog channel.
V-Chip: The V-Chip automatically locks out programs that are deemed inappropriate for children. You can set up the parameters for the V-Chip using the TV Parental Guidelines, MPAA (movie) ratings, Canadian French, or Canadian English ratings systems. The V-Chip function is protected by a 4-digit PIN.
PC-Capable: This unit has a 15-pin D-Sub (RGB) input that allows you to use it as a high-resolution computer monitor. Any HDMI input can also be used with a computer. The TV can be set to automatically adjust to the video signals received, or you can use the setup menu to adjust the screen quality and position. No cables are supplied for connecting the TV to a PC.
Sleep Timer: The sleep timer switches the television off after a specified amount of time. The sleep timer can be set to 30, 60, 90, 120, 150, or 180 minutes.
On/Off Timer: The three On/Off timers allow you to program the television to turn itself on and off by selecting a specific on time and a specific off time. You also choose the On Timer's channel and Volume. The on and off timers work independently of one another.
Melody: A unique melody plays when the TV is turned on and off. The melody volume is adjustable (Low/Medium/High), or you can turn this feature off if you prefer.
Energy Saver: This feature adjust the brightness of the TV in order to reduce power consumption. When watching TV at night, set the Energy Saver feature to High to reduce eye fatigue as well as power consumption. You can set this feature to High, Medium, Low or Off.
Remote Control
TV Only Remote: The supplied remote control is designed to only operate the Samsung LCD television and Anynet+ connected components. You can use the remote control up to a distance of about 23 feet from TV with a direct line of sight.
Anynet+: Anynet+ is a function that enables you to control all connected Samsung devices that support Anynet+ with the Samsung television's remote control. The Anynet+ system can be used only with Samsung devices that support the Anynet+ features. The Anynet+ feature must be turned on in the menu to function.
Mounting Options
Pedestal Stand: The TV is shipped with the pedestal stand unattached. The pedestal stand consists of the three parts which need to be assembled (Stand, Cover neck, and Guide Stand). The pedestal stand then attaches to the television using the supplied hardware. The pedestal stand allows the TV to swivel left to right +/- 20-degrees.
Wall Mounting: The TV has four threaded inserts on the back for use with an optional wall-mount bracket. The spacing of the mounting holes is VESA 200 x 200 (200mm horizontal x 200mm vertical) in accordance with the industry standards set by the Video Electronics Standards Association. The threaded inserts require M6 (6mm) machine screws (not supplied). The television weighs 21.6 lbs without the stand.
Inputs and Outputs Notes
HDMI: The three HDMI inputs can be used to connect a DVD player, Game console, HDTV or Satellite Set-top box with an HDMI output. The HDMI 1 input can also be used to connect a device with a DVI output (a DVI-to-HDMI adapter cable is necessary). If a DVI-equipped device is used, separate audio cables will also be needed from the device to the "DVI In" RCA stereo audio jacks. No audio cables are needed for an HDMI-equipped device. The HDMI input can also be used to connect a PC to this TV. The HDMI jack will accept 1080p, 1080i, 720p, 480p and 480i signals.
Component Video: The Component Video jack will accept 1080p, 1080i, 720p, 480p, and 480i signals.
PC Input: This input consists of a stereo mini-jack and an analog RGB (D-Sub 15-pin) jack. This jack allows you to connect a personal computer with a D-Sub 15-pin output. When using the RGB (D-Sub 15-pin) jack, you must use the PC Audio 3.5mm input for your audio connection.
Digital Audio: The optical digital output (with plastic cover) on the rear panel will output Dolby Digital (when available) or 2 channel PCM.
EX-LINK: The EX-LINK port connects to an optional Samsung wall mount bracket which allows you to adjust the TV viewing angle using the provide remote control.
Service: USB port for installing future Samsung firmware upgrades via a USB drive that has downloaded firmware information from Samsung's website.
Dimensions:
1259 mm Wide x 853 mm High x 305mm Deep with stand
1259 mm Wide x 798 mm High x 79.9 mm Deep without stand
← Back to product description



Full HD 1080p

1920x1080p resolution is an HDTV high-definition video mode characterized by 1080 horizontal lines of vertical resolution. As of 2012, most consumer televisions being sold provide 1080p inputs mainly with HDMI and support full high-def resolutions. 1080p resolution is available in all types of televisions, including plasma, LCD and LED.



Built in DVBT and PAL Tuner

Built IN DVBT and Pal Tuner. Excellent for use outside North America with Analog Pal RF signals and DVBT RF Signals. For use in North America to watch television a Cable, box or Satellite receiver from your cable company is necessary. Or if you will not subscribe to any paid cable a ATSC digital cable converter box can be used to tune TV channels when in North America. If using outside of North America in Africa, Asia, Europe, Middle East, Oceania, or other countries with Pal or DVBT tuning, this TV will work directly with RF Antenna signal. If You have any questions regarding this please call us. With the appropriate setup this TV can be used anywhere in the world.
← Back to product description