Details
Philips 42PFL3605 Multi-System LCD TV • 100-240 Volts:
Are you ready for an incredible HD television viewing experience? This Phillips 42PFL3605 multi-system TV features brilliant full HD for a crystal-clear and razor-sharp picture, as well as 16W RMS Philips Incredible Sound that delivers powerful audio with superb clarity. This Phillips 42PFL3605 multisystem TV is suitable for use worldwide as its mutltisystem technology decodes NTSC, PAL, and Secam signals. This LCD TV also offers versatile connectivity options with 2 HDMI inputs, Easylink technology, USB photo and music playback, and PC input.
For even more versatility, this spectacular LCD TV features flexible multi-voltage technology, enabling this Philips 42PFL3605 to seamlessly operate on 110 volts to 240 volts of electrical input. Whether your region utilitzes NTSC, PAL,or Secam, this Phillips 42PFL3605 multisystem TV is sure to offer an unmatched HD television viewing experience with full multi-system compatability. Imagine the amazing convenince this Phillips 42PFL3605 Multi-system TV offers by providing dual voltage technology, allowing it to function on 110 volts, 220 volts, 230 volts, and 240 volts.
Full HD TV with Digital Crystal Clear for depth and clarity
Dynamic contrast 50000:1 for incredible rich black details
28.9 billion colors for brilliant natural images
Feel the atmosphere with 16W RMS and Incredible Surround
Seamless connectivity with 2 HDMI inputs and Easylink
Enjoy photo and music playback via USB
PC-input allows you to use your TV as a PC monitor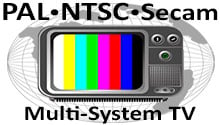 Multi-System TV - PAL, NTSC and Secam
This multisystem TV is compatible with PAL, NTSC and Secam video formats. You can use this television anywhere in the world with ANY type of video device!
Worlwide Voltage - 110v, 120v, 220v, 230v and 240 volt!
This Multisystem TV also features Dual Voltage, this ability to be used in any country with voltages from 110 volts to 240 volts is also called Multi-Voltage.
Space-Saving LCD Flat Panel Technology
Multi-System LCD TV's offer stunning video performance and a great value. Enjoy High Definition video in a space-saving flat panel design with this multisystem TV.
Philips 42PFL3605 42" Multisystem LCD TV • NTSC-PAL-Secam 100-240 Volts Description:
Digital Crystal Clear
Philips exclusive Digital Crystal Clear technology ensures that this Phillips 42PFL3605 Multi-system TV will deliver a crisp and dazzling image from any input source. This multisystem LCD TV digitally adjusts and completely optimizes picture quality to ideal color, sharpness, and contrast settings for a flawless picture every time.
Dynamic contrast ratio 50000:1
This Phillips 42PFL3605 Multisystem TV delivers vivid image quality and superlative contrast. Phillips cutting-edge video processing technology, industry-leading extreme dimming, and high tech backlight adjustment enable this dual voltage Phillips 42PFL3605 to produce a brilliant display. With a dynamic contrast ratio of 50000:1, this LCD TV exhibits superb blacklevel and pristine dark shades and colors. This 110-220 volt Philips LCD HD TV gives a radiant, lifelike picture with sparkling colors and tremendous contrast.
28.9 Billion Colors
Highly advanced color processing allows this Phillips 42PFL3605 Multi-system TV to produce vivid and sparkling images. Each RGB color channel is optimized for a total combined output of 28.9 billion brilliant colors. The advanced algorithms utilitized by this multi-voltage LCD TV detect even most subtle tones and shades, and render the most beautiful possible color.
2x8W RMS Incredible Surround
Experience every beat of your music and enjoy movies like never before. The powerful 2x8W RMS amplifiers inside this Phillips 42PFL3605 create electrifying audio and driving bass. Incredible Surround delivers theater-like surround sound that engulfs the viewer and helps compliment this LCD TV's amazing viewing experience.
2 HDMI inputs with Easylink
Phillips 42PFL3605 Multisystem TV utilizes HDMI technology to eliminate messy cables by using a single cable to carry both intense audio and gorgeous HD picture signals from your devices to your TV. HDMI transmits an uncompressed signals in order to maintain breathtaking quality from source to screen. As this multi-system LCD TV features Philips Easylink, only one remote control is needed to perform most operations on your TV, DVD player, BluRay, or home theater system.
USB for Photo & Music Playback
The convenient USB connector allows you to view and play JPEG photos and MP# music from most USB flash drives. Plug the USB device into the slot on the side of the TV and access the multimedia content using the user-friendly on-screen content browser. You can now view and share your music and photos easily directly on your Phillips 42PFL3605.
PC input (VGA)
With the handy PC input feature you can connect your Phillips 42PFL3605 Multi-system TV to a computer by a VGA cable and use the TV as a PC monitor to deliver large screen size, sharp picture and conveinent multi-functionality. Check and send email, watch YouTube videos, browse the internet and more right from your 110-220 volt LCD TV.
Philips 42PFL3605 42" MultiSystem LCD-Specifications:
Designs and specifications are subject to change without notice.
Picture/Display
Aspect Ratio: Widescreen
Brightness: 400 cd/m2
Response Time(Typical): 5 ms
Viewing Angle: 178º (H) / 178º (V)
Diagonal Screen Type: 42 inch / 107 cm
Digital Screen Type: LCD Full HD W-UXGA Act. Matrix
Panel Resolution: 1920 x 1080p
Picture Enhancement 3/2 -2/2 Motion Pull Down
3D Combfilter
Active control
Color Enhancement
Digital Crystal Clear
Digital Noise Reduccion
Dynamic Contrast Enhancement
Sharpness Adjustment
2D/3D Noise Reduction
1080p, 24/25/30 Hz processing
1080p, 50/60 Hz processing
Screen Enhacement Semi-Glare
Computer Formats
Resolution, Refresh Rate
640 x 480,60Hz
800 x 600,60Hz
1024 x 768,60Hz
1280 x 768,60Hz
1280 x 1024,60Hz
1360 x 768,60Hz
Video Formats
Resolution,Refresh Rate
480i,60 Hz
480p,60 Hz
576i,50 Hz
576p,50 Hz
720p,50,60 Hz
1080i,50,60 Hz
1080p,24,25,30,50,60 Hz
Sound
Output Power(RMS): 2 x 8 W
Sound Enhancement: Auto Volume Leveller
Incredible Surround
Smart Sound
Treble and Bass Control
Sound System: Mono,Nicam Stereo,Stereo
Convenience
Child Protection: Child Lock + Parental Control
Clock: Sleep Timer,Wake Up Timer
Connection Enhancement: Easy Link
Ease of Installation: Autostore,Fine Tuninig,PLL
Digital Tuning, Plug & PLay
Ease of Use: Auto Volumen Leveller (AVL)
On Screen Display
Side Control
Smart Picture
Smart Sound
Easy Link
On-Screen Display Languages: Arabic,English,French,Simplified Chinese,Thai,Traditional Chinese, Vietnamese
Remote Control: TV
Screen Format Adjustment: 4:3 Auto Format
Super Zoom
Movie Expand 14:9, Movie Expand 16:9
Subtitle Zoom
Widescreen
Teletext: 1000 pages Smart Text
Firmware Upgradeable: Firmware Upgradeable Via USB
Multimedia Application
Multimedia Connections: USB
Playback Formats: MP3, JPEG Still Pictures
Tuner/Broadcasting
Aerial Input: 75 ohm Coaxial(IEC75)
TV System: PAL I, PAL B/G, PAL D/K
Video Playback: NTSC, PAL
Tuner Bands: Hyperband, S-Channel, UHF, VHF
Number of Preset Channels: 99
Connectivity
AV 1: Audio L/R in, YPbPr
AV 2: Audio L/R in, YPbPr
HDMI 1: HDMI v1.3HDMI
HDMI 2: HDMI v1.3HDMI
Front / Side Connections: S-Video In, CVBS In, Audio L/R In, USB 2.0
Other Connections: Audio Constant Level Out, PC Audio In, PC-In VGA, PC-in VGA + Audio L/R In
EasyLink(HDMI-CEC): One Touch Play, System Info(menu language), EasyLink, System Audio Control, System Standby
Power
Ambient Temperature: 5 °C to 35 °C
Mains Power: AC 100 - 240V; 50/ 60Hz
Power Consumption: 180 W
Standby Power Consumption: 1W
Dimension (WxHxD)
Compatible Wall Mount: Adjustable 300 x 200mm
Set Dimensions(W x H x D): 1018.5 x 635.7 x 83
Set Dimensions with Stand(W x H x D): 1018.5 x 683.5x 236.5mm
Weight incl. Packaging: 16.7 kg
Product Weight: 11.5 kg
Product Weight(+stand): 13.5 kg
Box Dimensions(W x H x D): 1200 x 750 x 155 mm
Accessory
Table Top Stand
Power Cord
Quick Start Guide
User Manual
Warranty Leaflet
Remote Control, 2 x AAA Batteries
User Manual: Arabic, English, French, Simplified Chinese, Thai, Traditional Chinese, Vietnamese
← Back to product description



Full HD 1080p

1920x1080p resolution is an HDTV high-definition video mode characterized by 1080 horizontal lines of vertical resolution. As of 2012, most consumer televisions being sold provide 1080p inputs mainly with HDMI and support full high-def resolutions. 1080p resolution is available in all types of televisions, including plasma, LCD and LED.



Built-In Analog Pal, NTSC, and Secam TV tuner

Analog Pal, NTSC, and Secam tuner built in for world wide use for analog tuning. If you are in a country that utilizes digital tuning such as DVBT or ATSC a Cable Box or Satellite receiver is needed. If You have any questions regarding this please call us. With the appropriate setup this TV can be used anywhere in the world.




USB Input

USB stands for Universal Serial Bus. A USB port is a cable connection interface used on personal computers and consumer electronics. USB ports allow stand-alone electronic devices to be connected via cables to a computer or to each other.
← Back to product description