May we suggest
Regular Price: $299.00
Now only: $266.00
LED televisions are newer and more improved than regular LCD televisions. They are slimmer, last longer, and offer a better picture quality while using less energy. Shop Now >>
Details
Philips 32PFL3007 32" Multi-System LCD TV • 100-240 Volts: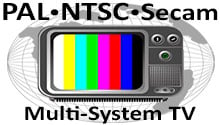 Multi-System TV - PAL, NTSC and Secam
This multisystem TV is compatible with PAL, NTSC and Secam video formats. You can use this television anywhere in the world with ANY type of video device!
Worlwide Voltage - 110v, 120v, 220v, 230v and 240 volt!
This Multisystem TV also features Dual Voltage, this ability to be used in any country with voltages from 110 volts to 240 volts is also called Multi-Voltage.
Space-Saving LCD Flat Panel Technology
Multi-System LCD TV's offer stunning video performance and a great value. Enjoy High Definition video in a space-saving flat panel design with this multisystem TV.
Philips 32PFL3007 32" Multisystem LCD TV • NTSC-PAL-Secam 100-240 Volts Description:
HD Ready with Digital Crystal Clear
Philips exclusive Digital Crystal Clear technology ensures that this Phillips 32PFL3007 Multi-system TV will deliver a crisp and dazzling image from any input source. This multisystem LCD TV digitally adjusts and completely optimizes picture quality to ideal color, sharpness, and contrast settings for a flawless picture every time.
Dynamic contrast ratio 100.000:1
For incredible rich black details
69 Billion Colors
Highly advanced color processing allows this Phillips 32PFL3007 Multi-system TV to produce vivid and sparkling images.
3 HDMI inputs with Easylink
Phillips 32PFL3007 Multisystem TV utilizes HDMI technology to eliminate messy cables by using a single cable to carry both intense audio and gorgeous HD picture signals from your devices to your TV. HDMI transmits an uncompressed signals in order to maintain breathtaking quality from source to screen. As this multi-system LCD TV features Philips Easylink, only one remote control is needed to perform most operations on your TV, DVD player, BluRay, or home theater system.
2 USB slots for fantastic multimedia playback
The convenient USB connector allows you to view and play JPEG photos and MP# music from most USB flash drives. Plug the USB device into the slot on the side of the TV and access the multimedia content using the user-friendly on-screen content browser. You can now view and share your music and photos easily directly on your Phillips 32PFL3007.
PC input
With the handy PC input feature you can connect your Phillips 32PFL3007 Multi-system TV to a computer by a VGA cable and use the TV as a PC monitor to deliver large screen size, sharp picture and conveinent multi-functionality. Check and send email, watch YouTube videos, browse the internet and more right from your 110-220 volt LCD TV.
Authentic and clear sound experience
Feel the power of 20W RMS and Incredible Surround. Hear every word with Clear Sound
Philips 32PFL3007 32" MultiSystem LCD-Specifications:
Designs and specifications are subject to change without notice.
Picture/Display
Display: LCD HD Ready
Diagonal screen size (metric): 81 cm
Diagonal screen size (inch): 32 inch
Panel resolution: 1366 x 768p
Brightness: 400 cd/m²
Picture enhancement: Digital Crystal Clear, 100 Hz Perfect Motion Rate
Sound
Output power (RMS): 20W
Sound Enhancement: Auto Volume Leveller, Clear Sound
Connectivity
Number of HDMI connections: 3
Number of component in (YPbPr): 2
Number of AV connections: 1
Number of USBs: 2
Other connections: Antenna IEC75, PC-in VGA + Audio L/R in, Composite video (CVBS) out, Analog audio Left/Right out,Headphone out
EasyLink (HDMI-CEC): System audio control, System standby, One touch play
Multimedia Applications
Playback Formats: H.264/MPEG-4 AVC, JPEG Still pictures, MP3, MPEG1, MPEG2, MPEG4
Supported Display Resolution
Video inputs: 24, 25, 30, 50, 60 Hz, up to 1920x1080p
Convenience
Screen Format Adjustments: 4:3, Auto Format, Movie expand 14:9, Movie expand 16:9, Subtitle Zoom, Super Zoom, Widescreen
Teletext: 1000 page Smart Text
Tuner/Reception/Transmission
Aerial Input: 75 ohm coaxial (IEC75)
Video Playback: NTSC, PAL
Power
Mains power: 220-240V; 50Hz
Ambient temperature: 5 °C to 35°C
Standby power consumption: <0.5
Dimensions
Box depth: 175 mm
Box height: 686 mm
Box width: 884 mm
Set Depth: 80 mm
Set Height: 509 mm
Set Width: 779 mm
Set depth (with stand): 222 mm
Set height (with stand): 553 mm
Set width (with stand): 779 mm
Accessories
Included accessories: Power cord, Remote Control, 2 x AAA Batteries, Table top stand, User Manual, Quick start guide
← Back to product description



HD 720

720p is a progressive HDTV resolution signal format with 720 horizontal lines. All major HDTV broadcasting standards include a 720p format which has a resolution of 1280×720. The number 720 stands for the 720 horizontal scan lines of image display resolution (also known as 720 pixels of vertical resolution), while the letter p stands for progressive scan.



Built-In Analog Pal, NTSC, and Secam TV tuner

Analog Pal, NTSC, and Secam tuner built in for world wide use for analog tuning. If you are in a country that utilizes digital tuning such as DVBT or ATSC a Cable Box or Satellite receiver is needed. If You have any questions regarding this please call us. With the appropriate setup this TV can be used anywhere in the world.




USB Input

USB stands for Universal Serial Bus. A USB port is a cable connection interface used on personal computers and consumer electronics. USB ports allow stand-alone electronic devices to be connected via cables to a computer or to each other.
← Back to product description