Details
Panasonic TX-37LZ80M Multi system LCD; PAL, NTSC and Secam 100-240 Volts: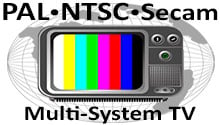 Multi-System TV - PAL, NTSC and Secam
This multisystem TV is compatible with PAL, NTSC and Secam video formats. You can use this television anywhere in the world with ANY type of video device!
Worldwide Voltage - 110v, 120v, 220v, 230v and 240 volt!
Global Dual Voltage on this Multi-system TV means it can be used anywhere. Multi-voltage TV's can be used in any country with voltage from 110 volts to 240 volts!
Space-Saving LCD Flat Panel Technology
Multi-System LCD TV's offer stunning video performance and a great value. Enjoy High Definition video in a space-saving flat panel design with this multisystem TV.
Panasonic TX-37LZ80M Multi system LCD; PAL, NTSC and Secam 100-240 Volts Descriptions:
With stunning picture quality, outstanding service, and effortless connectivity, Panasonic makes HDTV ownership a truly enjoyable and entertaining experience.
Every Seat is the Best in the House
The wide 178 viewing angle of the IPS Alpha Panel endures clear, bright images when viewed from most anywhere in the room. Contrast is enhanced between light and dark areas.
Enjoy Deeper Blacks and Crisp Color
The Clear Panel brings the unified VIERA design to LCD HDTVs. Even in a brightly lit room, deep black images appear rich and lifelike.
Take a Close, Clear Look
Motion Focus Technology detects moving pictures with text and optimizes the backlight for improving the resolution. This makes scrolling titles appear sharper and clearer, so theyre easier to read.
Realize Extraordinary Contrast and Image Quality
Improved Scene Controller (I.S.C.) combines with improved panel contrast to achieve a high, 10,000:1 contrast ratio; blacks are deepened by an expanded backlight tuning area.
PanasonicTX-37LZ80 37" Widescreen LCD Multi-System HDTV with HDMI:
Panasonic's new Arch Design TX-37LZ80M features an superior 10,000:1 Contrast Ratio to ensure you see the best color, brightness on your TV. The TX-37LZ80 also features an integrated TV tuner for a wider choice of channels in almost any country.
Panasonic TX-37LZ80M Multi system LCD; Specifications:
Designs and specifications are subject to change without notice.
Key Features
World-Wide NTSC/PAL/SECAM Color System - Watch any video signal on this TV!
World-Wide NTSC/PAL BG/PAL I/Secam BG, DK / PAL DK TV tuners
37-inch 16 X 9 LCD TV
Resolution : 1920 x1080 Full HD resolution
Widescreen 16 X 9 Format
Built-in multi system tuner for Pal, NTSC and Secam. External Digital tuner required for DVB-t or ATSC.
10,000:1 contrast ratioprovides incredible images whether you're watching dark or bright scenes!
500cd/m2 High Brightness & 600:1High Contrast Ratio
60,000-Hour Lamp Life
1.07 Billion Colors (1,024 Tones)
1/60 second Real Speed Progressive
Nicam Stereo receiver
15ms High Response Rate
170o Wide Viewing Angle
Power Swivel Table Stand
Built-inNTSC/PAL BG/PAL I/Secam BG, DK/ PAL DK TV tunersenables you to plug your cable TV line right into the TV and start watching.
Image Inverter for Custom Installations
allows you to invert the image upside-down or "mirror" image if you need to hang it in an unconventional manner.
170º/170º Viewing Anglesare so wide you can view Liquid Crystal Televisions from anywhere in the room!
Lamp Life:60,000 hours
Viewing Angles:170ºH / 170º V
Audio System:2.5W + 2.5W
HDMI Input X 2
2 Component Input (Y/Pr/Pb )
S-Video Input
Composite (AV) Video Input
Composite (AV) Video Output
Power Consumption AC:158 W
Audio Output: RCA: L/R x 1
World-wide Dual Voltage 110-240 volts 50-60 hertz
Dimensions
Dimensions (W x H x D) Without Stand: 940 x 611 x 110 mm
Dimensions (W x H x D) With Stand: : 940 x 652 x 295 mm
Weight With stand: 20.5 kg
← Back to product description



Full HD 1080p

1920x1080p resolution is an HDTV high-definition video mode characterized by 1080 horizontal lines of vertical resolution. As of 2012, most consumer televisions being sold provide 1080p inputs mainly with HDMI and support full high-def resolutions. 1080p resolution is available in all types of televisions, including plasma, LCD and LED.



Built-In Analog Pal, NTSC, and Secam TV tuner

Analog Pal, NTSC, and Secam tuner built in for world wide use for analog tuning. If you are in a country that utilizes digital tuning such as DVBT or ATSC a Cable Box or Satellite receiver is needed. If You have any questions regarding this please call us. With the appropriate setup this TV can be used anywhere in the world.
← Back to product description