May we suggest
Regular Price: $299.00
Now only: $266.00
LED televisions are newer and more improved than regular LCD televisions. They are slimmer, last longer, and offer a better picture quality while using less energy. Shop Now >>
Details
Panasonic TH-L32C4S Multi System LCD TV; PAL, NTSC and Secam 100-240 Volts: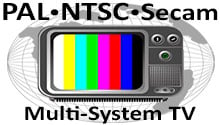 Multi-System TV - PAL, NTSC and Secam
This multisystem TV is compatible with PAL, NTSC and Secam video formats. You can use this television anywhere in the world with ANY type of video device!
Worldwide Voltage - 110v, 120v, 220v, 230v and 240 volt!
Global Dual Voltage on this Multi-system TV means it can be used anywhere. Multi-voltage TV's can be used in any country with voltage from 110 volts to 240 volts!
Space-Saving LCD Flat Panel Technology
Multi-System LCD TV's offer stunning video performance and a great value. Enjoy High Definition video in a space-saving flat panel design with this multisystem TV.
Panasonic TH-L32C4S Multi system LCD; PAL, NTSC and Secam 100-240 Volts Descriptions:
High Picture Quality
Fine Black Panel
Play Various Types of Formats Easily
Media Player (USB Playback / Photo and Music)
Simply insert a USB memory stick into the slot to enjoy previously saved photos and music on VIERA's large screen. You can also add frames and other effects to your photos and create slide shows complete with background music.
Game Mode
Smart Networking
Games are much more fun when there's no lag in operation. VIERA automatically chooses settings that provide the optimal image, so you get super-fast response and no delays. Even dark scenes with delicately rendered details are beautiful and easy to see. Game mode makes all of the game apps on VIERA Connect even more fun to play.
HDMI x 2
VIERA Tools
Equipped with an SD card slot, VIERA makes it easy to view full-HD photos and JPEG images that you shot yourself. Simply insert the SD memory card into the slot, and you're ready to view your photos on the big screen. You can make your slide shows even more impressive by adding background music and attractive frames. With VIERA's big screen and superb image quality, family and friends will love sharing your memories.
PC Input
Others
Searching for Waste and Automatically Saving Power. This mode automatically turns the power off and adjusts the brightness depending on VIERA's operating status.
Long Panel Life, Up to 60,000 Hours
Eco Mode
V-Audio
*Measured at an angle where the contrast ratio is 10:1 or higher
Panasonic TH-L32C4S Multi System LCD; Specifications:
Designs and specifications are subject to change without notice.
TV Tuner
Tuner Integrated : Y
Tuning System : PLL synthesizer 100-position auto-search tuner
CATV Compatibility : Hyper-band
Broadcast Stereo Reception : NICAM -B, G, I, German (A2)
Teletext Reception : FASTEXT Level 2.5
Receiving System: World 17-System
Display
Screen Size: 32" (80 cm) diagonal
Screen Aspect: 16 : 9 Wide
Panel: IPS-alpha (WXGA) LCD Panel
Fine Black Panel
Viewing Angle: 178 degree
Contrast (Dynamic): 20,000:1
Progressive Scan
Number of Pixels : 1,049,088 (1,366 x 768) pixels
Applicable PC signals : VGA, WVGA, SVGA, XGA, WXGA, SXGA 60Hz
Applicable Scanning Format : 525 (480)/60i, 525 (480)/60p, 625 (576)/50i, 625 (576)/50p, 750 (720)/50p, 750 (720)/60p,
Applicable Scanning Format : 1125 (1080)/50i, 1125 (1080)/60i, 1125 (1080)/24p (HDMI only), 1125 (1080)/50p (HDMI only), 1125 (1080)/60p (HDMI only)
Intelligent Scene Controller
Backlight Control
24p Playback
3D Colour Management
Sub Pixel Control
C.A.T.S. (Contrast Automatic Tracking System)
Video Noise Reduction
3D Comb Filter
Picture Mode : Dynamic/Normal/Cinema/Game
Sound
Speaker System: Bottom Speaker
Speakers: 1-way, 2-speakers
Audio Output: 20 W (10 W x 2), 10% THD
Sound Mode: Music/Speech
Surround: V-Audio
Input/Output
VIERA Image Viewer: (JPEG playback)
HDMI Input: 2 (rear)
Composite Video Input: AV1/2: RCA phono type x 1 (2 rear)
Audio Input (for Video): AV1/2: RCA phono type connectors (L, R) (2 sets rear)
Component Video Input: AV2: RCA phono type (1 sets rear)
PC Input: Mini D-sub 15-pin x 1 (rear)
Audio Input (HDMI1, PC, Component): RCA phono type connectors (L, R) (1 set, rear)
Monitor Out: RCA phono type (1 rear)
Audio Output: RCA phono type connectors (L, R) (1 set rear: co-use with monitor out)
Features
VIERA Tools
VIERA Link: (HDAVI Control 4)
Multi Window: PAT
Game Mode
Aspect Controls: 16:9/14:9/JUST/4:3/4:3 FULL (HD signal only)/Zoom1/Zoom2/Zoom3
On-Screen Display Languages: English/French/Arabic/Persian/Thai/Chinese/Indonesia/Vietnam
Off Timer
Child Lock
General
Power Supply: AC 110 - 240 V, 50/60Hz
Rated Power Consumption : 113 W
Standby Power Consumption : 0.6 W
Dimensions (W x H x D) (with TV stand) : 798 x 551 x 217 mm
Dimensions (W x H x D) (w/o TV stand) : 798 x 511 x 87 mm
Weight (with TV stand): 13.5 kg
Operating Temperature: 0°C - 40°C
← Back to product description



HD 720

720p is a progressive HDTV resolution signal format with 720 horizontal lines. All major HDTV broadcasting standards include a 720p format which has a resolution of 1280×720. The number 720 stands for the 720 horizontal scan lines of image display resolution (also known as 720 pixels of vertical resolution), while the letter p stands for progressive scan.



Built-In Analog Pal, NTSC, and Secam TV tuner

Analog Pal, NTSC, and Secam tuner built in for world wide use for analog tuning. If you are in a country that utilizes digital tuning such as DVBT or ATSC a Cable Box or Satellite receiver is needed. If You have any questions regarding this please call us. With the appropriate setup this TV can be used anywhere in the world.




USB Input

USB stands for Universal Serial Bus. A USB port is a cable connection interface used on personal computers and consumer electronics. USB ports allow stand-alone electronic devices to be connected via cables to a computer or to each other.
← Back to product description