Details
LG 42lh220h Multi System LCD TV; PAL, NTSC and Secam 110-220 Volts: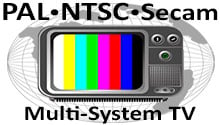 Multi-System TV - PAL, NTSC and Secam
This multisystem TV is compatible with PAL, NTSC and Secam video formats. You can use this television anywhere in the world with ANY type of video device!
Worldwide Voltage - 110v, 120v, 220v, 230v and 240 volt!
Global Dual Voltage on this Multi-system TV means it can be used anywhere. Multi-voltage TV's can be used in any country with voltage from 110 volts to 240 volts!
Space-Saving LCD Flat Panel Technology
Multi-System LCD TV's offer stunning video performance and a great value. Enjoy High Definition video in a space-saving flat panel design with this multisystem TV.
LG 42lh220h Multi System LCD TV Description
USB Player
USB Player: USB Player (MP3, JPEG, SD Divx) and USB S/W upgrade.
RJP
RJP: RJP provides a multi-media interface to the room. Plug and Play support (optional).
USB Cloning
USB Cloning: Copy and download all program settings to other TV sets via USB.
HDMI/TV Link-CEC
HDMI/TVLink-CEC: The HDMI cable allows delivery of AV signals and also controls the AV device such as IP STB.
Variable Speaker Out
Variable Speaker Out: Speaker out support 3W output with control switch.
LG 42lh220h Multi System LCD TV Specifications
Designs and specifications are subject to change without notice.
PANEL
Screen Size: 42"
Resolution: 1920x1080p
Brightness (cd/m²): 450
Dynamic Contrast Ratio: 50,000:1
Contrast Ratio: 4,000:1
Viewing Angle: 178/178
Response Time: 6.5ms
BROADCASTING SYSTEM
Analog: PAL/SECAM-BG/DK,PAL-I,NTSC-M
VIDEO
Aspect Ratio Correction: 7 Modes (16:9/Just Scan/Original/4:3/14:9/Zoom/Cinema Zoom)
Enhanced Noise Reduction
Digital Comb Filter: 3D Comb Filter
Colour Temperature Control: Yes (warm, medium, cool)
AUDIO
Mono/Stereo/Dual
Audio Output: 10 W + 10W
Surround System: SRS TSXT
Clear Voice II
SPECIAL FEATURES
USER INTERFACE (SIDE)
USER INTERFACE (REAR)
RF In: 1
Component In (Y,Pb,Pr)+Audio: 1
Variable Audio Out (Phone Jack): 1
External Speaker Out: 1
External Speaker Control (Phone): 1
HDMI/HDCP Input: 2
RGB In (D-sub 15spin) - PC: 1
PC Audio Input: 1
RS-232C (Control/SVC): 1
RJP Interface (RJ45): 1
← Back to product description



Full HD 1080p

1920x1080p resolution is an HDTV high-definition video mode characterized by 1080 horizontal lines of vertical resolution. As of 2012, most consumer televisions being sold provide 1080p inputs mainly with HDMI and support full high-def resolutions. 1080p resolution is available in all types of televisions, including plasma, LCD and LED.



Built in DVBT and PAL Tuner

Built IN DVBT and Pal Tuner. Excellent for use outside North America with Analog Pal RF signals and DVBT RF Signals. For use in North America to watch television a Cable, box or Satellite receiver from your cable company is necessary. Or if you will not subscribe to any paid cable a ATSC digital cable converter box can be used to tune TV channels when in North America. If using outside of North America in Africa, Asia, Europe, Middle East, Oceania, or other countries with Pal or DVBT tuning, this TV will work directly with RF Antenna signal. If You have any questions regarding this please call us. With the appropriate setup this TV can be used anywhere in the world.




USB Input

USB stands for Universal Serial Bus. A USB port is a cable connection interface used on personal computers and consumer electronics. USB ports allow stand-alone electronic devices to be connected via cables to a computer or to each other.
← Back to product description