Details
Yamaha BD-S671 Region Free Blu-Ray DVD Player:
The region-free Yamaha BD-s671 offers everything you can imagine from a Blu-ray player. 3D playback, PAL/NTSC conversion, DLNA compatibility, Streaming media and more make this the ideal player for your home theater.
Region-Free playback and PAL to NTSC conversion guarantees that this player will play any Blu-ray Disc or DVD from anywhere in the world on any TV! The BDs672 combines flawless audio and video quality to deliver a rich entertainment experience in the comfort of your own home. It has an attractive design featuring a stylish aluminum case, and offers all the connection options you could need for a customized setup.
Features include HDMI Output, HD Audio, USB Port Digital Audio Output, Component and Composite Video Output, 2 Channel Mixed Audio Output, Streaming Media, Ethernet Connection, and much more. This is a powerful player, manufactured by a reputable and globally trusted innovator of over 100 years.
View the details below or use the comparison chart to see how the Region-free Yamaha BD-s671 compares to the other Blu-ray players.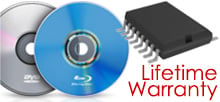 Region Free Playback Guaranteed!
Unlike software or firmware solutions, our region free hardware modifications are guaranteed to play Blu-Ray Discs and DVD's from any region!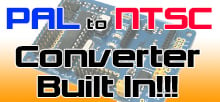 This Blu-Ray Player Requires No Extra Video Converter!
No matter where in the world you are, this player works with any TV. Built in NTSC to PAL and PAL to NTSC conversion guarantees Blu-Ray & DVD playback anywhere!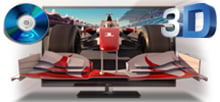 Enjoy 3D on this Region Free Blu-Ray Player
The theater comes to your living room with the latest in video technologies. Match this Region Free Blu-Ray player with a 3D ready TV and you are at the movies!
Yamaha BD-S671 Code Free Blu-Ray DVD Player Description:
SCENE with HDMI CEC Simplifies Operation
Yamaha's SCENE with HDMI CEC functionality enhances operating convenience when the BD-S671 is teamed with an AVENTAGE series receiver. Pressing the SCENE BD/DVD button on the receiver's remote control turns on power to both units and starts disc playback (of previously inserted disc). The receiver's remote unit can also be used to control play, stop, skip, and other functions.
Control4 Certification with RS-232C and IR In/Out
RS-232C and IR ports make the BD-S671 easy to integrate into a custom installation for convenient remote control operation. Control4 certification ensures expected performance and ease of custom configuration.
HD Audio Bitstream
The digital audio signals from high bit-rate audio signals (Dolby TrueHD and DTS-HD Master Audio) are output directly from the player to the receiver (via an HDMI cable), without conversion to PCM. By using a receiver with HD audio decoders, the sound you hear will be exactly the same as the originally recorded material.
Pure Direct and Multi-Channel Linear PCM via HDMI
This receiver features Pure Direct for high sound quality stereo CD playback through analog audio output. It also supports up to 7.1-channel analog audio output as well as multi-channel linear PCM output via HDMI, so the BD-S671 is fit for a wide range of audio applications.
High Definition 1080p/24Hz HDMI Output
1080p is the highest level of video resolution, and the BD-S671 can output these video signals directly to a receiver via the HDMI output. This provides a much sharper picture, with smoother motion. The BD-S671 can also playback DVDs, photos and personal video data at 1080p.
Outstanding Color
The Yamaha BD-S671 also supports x.v.Color and Deep Color compatibility for even more color definition.
Expand Your Playback Options with Streaming Internet Content
Go beyond the disc with streaming content from your favorite Internet sources. When connected to your home broadband network, the BD-S671 can bring you entertainment from Netflix, Blockbuster, YouTube, and more. This player is a certified DLNA client, so it's guaranteed to play well with your home network.
In addition to web content, two USB ports (front and rear) let you play your MP3, WAV, AAC, and WMA music files, as well as view your JPEG photos. You can even play a slideshow of your favorite photos with MP3 background music. Play high-definition DivX Plus HD video files, as well as AVCHD, WMV, MOV, MP4, and MPG files.
Make the Most of Your High-Definition Content
Blu-ray Discs are one of the best ways to take advantage of the great entertainment that high-definition video and audio make possible. Since a single-layer disc holds 25GB of data, a Blu-ray Disc stores five times more data than a standard DVD, providing superb picture resolution and surround sound. The BD-S671 offers compatibility with the latest Blu-ray Disc formats including 3D, and the finest audio and video quality as well as the latest features like Picture-in-Picture (Secondary Video/Audio) and Virtual Package.
Supports 3D and BD-Live
In addition to supporting playback of Blu-ray 3D content, use the BD-S671 to connect to the internet to access the fun and informative features that BD-Live provides. With this BD-Live player and a BD-Live compatible title, viewers can enjoy special online benefits and features that might include extra downloadable content, online bonus features, live transactions, release updates and social interaction centered on their favorite films.
BonusView Features
Secondary Video/Audio for Enhanced Commentary and Information: Secondary Video lets you view a smaller picture inside the main picture (with compatible Blu-ray Discs). Secondary Audio lets you hear the smaller picture's audio as well. Both can be selected from the BD-S671 remote control.
Virtual Package for New Entertainment Possibilities with USB Memory: This feature lets you combine information from a Blu-ray Disc with local storage information on a USB drive to enjoy additional content and services as they become available.
Blu-ray 3D™ playback, network functionality allows more content to be enjoyed, control via iPhone app, SCENE with CEC allows easier operation, design and operation matched to Yamaha AV Receivers.
Key Features:
Supports playback of Blu-ray 3D™
iPhone app compatibility for easier operation
SCENE functionality via HDMI CEC
Connect to the Internet to access the fun and informative features
BONUSVIEW™ compatibility
Netflix compatibility
YouTube Leanback compatibility
Audio playback of all current HD formats
1080p/24Hz-compatible HDMI video output
Yamaha BD-S671 Code Free Blu-Ray DVD Player Specifications:
Designs and specifications are subject to change without notice.
Video/Audio Performance
Media Compatibility: Blu-ray 3D, BD-Video, BD-R (BD Video), BD-RE (BD-Video), DVD-Video, DVD-R/-RW (DVD-Video, DVD-VR AVCHD), DVD+R/+RW (+VR, AVCHD), CD, CD-R/-RW (CD-DA), USB
File Compatibility: JPEG, WAV, AAC, MP3, WMA, MOV, MP4, MPEG, WMV and DivX Plus HD
Video Output: 1 Vp-p/75 ohms
Component Video Output: Y : 1 Vp-p/75 ohms, Pb : 0.7 Vp-p/75 ohms, Pr : 0.7 Vp-p/75 ohms
Output Level(1kHz, 0 dB): 2 ± 0.3 V (BD/DVD/CD-DA)
Connectivity
HDMI Output: 1 (480i, 576i, 480p, 576p, 720p, 1080i, 1080p, [email protected] Hz)
USB Port (Front Panel / Rear Panel): 1 / 1
Digital Audio Output (Optical / Coaxial): 1 / 1
Component Video Output: 1
Composite Video Output: 1
2-Channel Mixed Audio Output: 1
Ethernet: 1
Remote Control Input / Output: 1 / 1
General
Standby Power Consumption: 0.5W
Dimensions (W x H x D): 17-1/8" x 3-3/8" x 10-1/8"
Weight: 6.6 lbs
← Back to product description



DVD All Regions

Region Free DVD Playback. Code Free, Multi-Region, Multi-Zone




Will play DVD movies from anywhere in the world.




Plays DVDs from any region including region 0, 1, 2, 3, 4, 5, 6, 7 and 8


Region Free Playback Guaranteed for Life!



Blu-ray All Regions

Region Free Blu-ray Playback. Code Free, Multi-Region, Multi-Zone
Will play Any Blu-ray Disc from anywhere in the world.
Plays Blu-rays from any region including regions A, B, & C




World Wide Voltage

Works with world wide electricity 100-240 volts volts 50/60 hz. Can be used with electricity in North America or any other place in the world.ALL of our Multisystem TV's operate on ALL Global voltages, including 110, 120 Volts and 220, 230, 240 Volts.



Blu-Ray 3D

3D compatibility allows you to enjoy a lifelike cinema experiencein the comfort of your own home with the use of any 3D TV. Purchase yourfavorite 3D Blu-ray titles and get ready to be amazed by the intense depthoffered by 3D Blu-ray technology.




Video Streaming

Streams Video and Audio through the internet




WiFi Ready

WiFi ready means that the device is able to use WiFi but requires an adapter. WiFi adapters are fairly inexpensive and usually plug into the USB port. WiFi Ready TV's will always have a standard LAN port to utilize internet features without using WiFi.



USB Input

USB stands for Universal Serial Bus. A USB port is a cable connection interface used on personal computers and consumer electronics. USB ports allow stand-alone electronic devices to be connected via cables to a computer or to each other.

Shipping Group: Bluray
← Back to product description