May we suggest
Regular Price: $250.00
Now only: $225.00
Excellent quality player with Supurb picture and build quality. Code Free, Region Free, Multi Zone, Multi region DVD Player. 110-240 volts 50/60 hz. Can be used anywhere in the world!Shop Now >>
Details
Toshiba 9" SD-P95S Portable Region Free DVD Player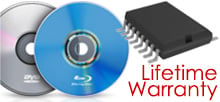 Region Free Playback Guaranteed for Life!
Unlike software or firmware solutions
our region free hardware modifications are guaranteed to play Blu-Ray Discs and DVD's from any region for the life of your player!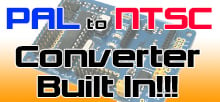 This Blu-Ray Player Requires No Extra Video Converter!
No matter where in the world you are, this player works with any TV. Built in NTSC to PAL and PAL to NTSC conversion guarantees Blu-Ray & DVD playback anywhere!
Toshiba 9" SD-P95S Portable Region Free DVD Player Description:
INTERNATIONAL VERSION
Code Free, Region Free, Multi Zone, Multi region
Play any region dvd, Pal or NTSC, on any TV or on Screen, anywhere in the world!!
PAL AND NTSC OUTPUT TO ANY TV, BUILT IN CONVERTER

PLAY ANY DVD ON SCREEN OR ON ANY TV NO MATTER WHAT REGION OR WHETHER IT IS PAL OR NTSC.

Plays any region Pal or NTSC movie On Screen!

Play any region Pal or NTSC on any TV!

Compatible with SD Cards, JPEG photo playback, WMA music playback
Plays Regions 1,2,3,4,5,6,0 and all other Region discs

Plays PAL & NTSC DVD Discs

9" 16:9 TFT Widescreen Monitor
Code Free, Region Free, Multi Zone, Multi region
General Features:
Code Free All Region Version

6 Hour battery built-in,

9" Digital TFT Clear Bright 16:9 Wide Screen LCD monitor

Lifetime All region guarantee on our Modification.

Plays any region PAL and NTSC movies on its own screen plus you can output the signal to any TV.

This unit has a built-in video converter so you can even play PAL movies on an NTSC TV or NTSC movies on a PAL TV!

AV Out lets you watch the DVD player on an external PAL or NTSC TV!
Toshiba 9" SD-P95S Portable Region Free DVD Player Specifications:
Designs and specifications are subject to change without notice.
Toshiba Region Free Portable SDP-95s Code free portable DVD player
Travel with your favorite movies as well as the ones you haven"t had time for yet. The 9.0" (diagonal) swivel LCD widescreen is a great viewing option for hours in the car or on a plane.
Features:
9.0" diagonal Widescreen TFT LCD Display with 640x234 resolution makes a great viewing experience possible, even on the road.

Up to 6 hour lithium battery life is convenient for travel and powerful enough to last the duration of the average movie without requiring recharging.
Specifications:
LCD
Panel Size 9.0" Diagonal Wide

Resolution 640 x 234

Aspect Ratio 16:9
DISC & CARD COMPATIBILITY
DVD-Video

DVD-R

DVD-RW

DVD-VR format -R/-RW

CD

CD-R

CD-RW

Memory Cards (for JPEG Viewer) SD/SDHC

MP3-Audio -R/-RW/SD/SDHC

JPEG -R/-RW/SD/SDHC
VIDEO
Video D/A Converter 108MHz/14-Bit
AUDIO
Audio D/A Converter 192kHz/24-Bit

DTS & Dolby Output Coaxial

Virtual Surround Built-in Speakers
CONVENIENCE
AC/DC Operation

Video Adjustments Brightness, Color, Contrast, Tint

JPEG Viewer

Zoom Mode

OSD Language English/French/Spanish/German/Dutch Swedish/Turkish/Italian/Greek

Power Supply AC Adapter

Supplied Battery Pack

Playback Time Up to 6 hours
TERMINALS
Inputs

Outputs

A/V 1 (Mini Jack)

Headphone x2
SUPPLIED ACCESSORIES
Battery Pack

AC Adapter (100-240V)

Car Cord Adapter

AV Cable

Remote Control Slim Type

Owner"s Manual English/French/Spanish (Simple)
Approximate Dimensions:
Width: 10.24"

Height: 1.34"

Depth: 7.52"
Approximate Weight:
Unit: 2.65 lbs

Shipping: 4.85 lbs
Warranty and Support:
1 year parts, 90 days labor, and lifetime all region warranty.
← Back to product description



Battery Hours: 5 Hours




Screen Size: 9 Inch




DVD All Regions

Region Free DVD Playback. Code Free, Multi-Region, Multi-Zone




Will play DVD movies from anywhere in the world.




Plays DVDs from any region including region 0, 1, 2, 3, 4, 5, 6, 7 and 8


Region Free Playback Guaranteed for Life!



Memory Card Reader

A memory card reader is a device usually having a USB interface. This allows it to access the data on a memory card such as a Compact Flash (CF), Secure Digital (SD) or MultiMedia Card (MMC). There are three categories of memory card readers sorted by the type and quantity of the card slots: single card reader, multi card reader and series card reader.



PAL / NTSC conversion

Works on any TV, anywhere in the world.




Will convert NTSC to PAL and PAL to NTSC with perfect picture quality.




Plays Pal NTSC and Secam DVDs on any TV with Perfect video conversion.




World Wide Voltage

Works with world wide electricity 100-240 volts volts 50/60 hz. Can be used with electricity in North America or any other place in the world.ALL of our Multisystem TV's operate on ALL Global voltages, including 110, 120 Volts and 220, 230, 240 Volts.
← Back to product description