Details
Toshiba SD-705 Region Free DVD Player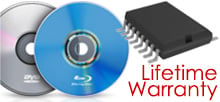 Region Free Playback Guaranteed for Life!
Unlike software or firmware solutions, our region free hardware modifications are guaranteed to play DVD Discs and DVD's from any region for the life of your player!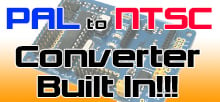 This DVD Player Requires No Extra Video Converter!
No matter where in the world you are, this player works with any TV. Built in NTSC to PAL and PAL to NTSC conversion guarantees DVD playback anywhere!
Toshiba SD-705 Region Free DVD Player Specifications
Designs and specifications are subject to change without notice.
Video Features:
JPEG Digital PhotoViewer
Digital Cinema Progressive (3:2 Pulldown)
Video Black Level Expansion and PLUGE
10-Bit, 54 mhz Video D/A Converter
Zoom 4x-Power Picture
Parental Lock
Multi-Camera Angle Select
Multi-Language Select
Multi-Subtitle Select
Wide screen, Letterbox and Normal Picture Set-up
Bit Rate Meter
With a Bit Rate Meter display, featured on all Toshiba DVD players, videophiles can monitor picture quality.
Icon-Based On-Screen Display
Easy to navigate, colorful on-screen menus allow for easy operation.
110-220 volts
Audio Features:
3D-DNR (Digital Noise Reduction)
Dolby Digital and DTS Digital Outputs
24-Bit/192 kHz PCM Audio Compatibility
Dynamic Range Control
Connections:
S-Video Output
Component Video (Y, Cr, Cb) Output
Coaxial Digital Audio Output
Analog Audio Output
DIMENSIONS:
Width: 17"
Height: 1.9"
Depth: 8.7"
Warranty and Support:
Lifetime all region guarantee
30 day replacement warranty
90 days labor warranty
1 year parts warranty
Toshiba SD-705 Region Free DVD Player Product Description
Warranty & Modification Information This DVD player has been modified to play all region DVDs. It carries a 1 year warranty for parts and labor, and if you find a problem within a month we will replace the unit. Furthermore, our modification allows the highest level of versatility for playing all region discs. It comes set as Automatic region selection, however it also has a manual scan feature that will change regions when you encounter a disc that does not play in automatic mode such as a RCE coded disc. Unlike the cheaper modifications, are modification will not require the user to memorize difficult codes to change regions. Our players will scan each region until it finds the correct one. IF YOU FIND THE SAME PLAYER WITH A BETTER MODIFICATION THAN OURS WITHIN 30 DAYS FOR EVEN TWICE THE MONEY, WE WILL GIVE YOU A FULL REFUND INCLUDING ALL SHIPPING COSTS. 100% GUARANTEED FUTURE PROOF MODIFICATION.
← Back to product description



DVD All Regions

Region Free DVD Playback. Code Free, Multi-Region, Multi-Zone




Will play DVD movies from anywhere in the world.




Plays DVDs from any region including region 0, 1, 2, 3, 4, 5, 6, 7 and 8


Region Free Playback Guaranteed for Life!



DivX Compatible

With DivX® support, you are able to enjoy DivX® encoded videos.




Progressive Scan

Progressive scan




PAL / NTSC conversion

Works on any TV, anywhere in the world.




Will convert NTSC to PAL and PAL to NTSC with perfect picture quality.




Plays Pal NTSC and Secam DVDs on any TV with Perfect video conversion.




World Wide Voltage

Works with world wide electricity 100-240 volts volts 50/60 hz. Can be used with electricity in North America or any other place in the world.ALL of our Multisystem TV's operate on ALL Global voltages, including 110, 120 Volts and 220, 230, 240 Volts.



USB Input

USB stands for Universal Serial Bus. A USB port is a cable connection interface used on personal computers and consumer electronics. USB ports allow stand-alone electronic devices to be connected via cables to a computer or to each other.
← Back to product description