Details
Toshiba 55ZV600D 55" Multi System LCD TV; PAL NTSC SECAM 100-240 Volts:
Toshiba's new 55" Z series 55ZV600D gives you a full HD 1080p TV in a sleek REGZA style. Use it world wide in any country. Limited stock so order one today!
Toshiba 55ZV600D Multisystem LCD TV
World-Wide NTSC/PAL/SECAM Color System - Watch any video signal on this TV!
World-Wide NTSC/PAL BG/PAL I/Secam BG, DK/ PAL DK TV tuners
Full HD 55-inch LCD TV with 1920 x 1080, 1080p Resolution
HD Ready TV
Built-in NTSC/PAL BG/PAL I/Secam BG, DK/ PAL DK TV tuners enables you to plug your cable TV line right into the TV and start watching.
110-240 volts
50,000:1 Dynamic Contrast Ratio
100/120 hz plus ClearCan 200 techonology equivalent to 200HZ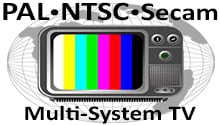 Multi-System TV - PAL, NTSC and Secam
This multisystem TV is compatible with PAL, NTSC and Secam video formats. You can use this television anywhere in the world with ANY type of video device!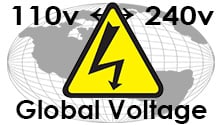 Worldwide Voltage - 110v, 120v, 220v, 230v and 240 volt!
Global Dual Voltage on this Multi-system TV means it can be used anywhere. Multi-voltage TV's can be used in any country with voltage from 110 volts to 240 volts!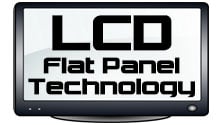 Space-Saving LCD Flat Panel Technology
Multi-System LCD TV's offer stunning video performance and a great value. Enjoy High Definition video in a space-saving flat panel design with this multisystem TV.
Toshiba 55ZV600D 55" Multi System LCD TV; PAL NTSC SECAM 100-240 Volts:
ClearScan 200
Image flicker, which causes the blurring of a moving picture, is directly linked to frame rate frequencyAt 50Hz, the eye detects flicker, so motion blur is a problem. At 100Hz, the problem is greatly resolved, but Toshiba has gone even further with Clear Scan 200, which combines a 100Hz rate with scanning backlight technology to achieve the equivalent of a 200Hz effectThe backlight control is split into three sections, and by synchronizing the control and video signals, motion blurring is virtually eliminated.
RESOLUTION+
Resolution+ is a new Toshiba technology that elevates standard definition images up to high definition quality. It upscales the image to HD-level resolution, then downscales it and compares the two images. The differences (noise, etc., that degrade the original image) are removed, so the remaining SD image that's output is much closer in quality to the HD image. Only Toshiba's powerful image processing can achieve this. Resolution+ also analyses and refines the picture to improve the rendering of edges, textures and depth.
14 BIT Video Processing
Going far beyond 8-Bit and even 10-Bit Video Processing, Toshiba's 14-Bit Video Processing greatly increases gradation levels, resulting in a much smoother and more natural picture. It also analyses every pixel to create the highest possible contrast for lifelike images.
Autoview
AutoView is Toshiba's most advanced solution for achieving the best possible picture quality at all times. It monitors room brightness and automatically adjusts the backlight and various picture parameters accordingly. It also continually analyses the image (light and dark pixels), adjusting to maintain maximum contrast. The ZV600 Series takes AutoView another step further, by allowing manual adjustment of backlight, colour temperature and dynamic contrast.
Regza Woofer
LCD TVs are thin, which makes them nice to look at, but not to listen to, because there is no space for large speakers, especially subwoofers. Toshiba solved this problem with the new REGZA WOOFER. It's slim enough to fit into the cabinet, yet extremely powerful it even has its own 30W power amp!. Ordinary LCD TVs only output sounds down to 150Hz, but the REGZA WOOFER extends below 100Hz, for deep, dynamic bass that improves overall sound quality, making music and movies much more enjoyable.
Toshiba 55ZV600D 55" Multi System LCD TV; PAL NTSC SECAM 100-240 Volts Specifications:
Designs and specifications are subject to change without notice.
Widescreen 16 X 9 Format
Perfect 10 bit processing
Intelligent Back light control
Exact Scan Mode
Teletext
Multi Lingual OSD
Swivel Stand 15° left and 15° right
Panel Response Speed 6 ms
Native scan Capture (1080p, 60/50/24 Hz)
3D color Management
Dual HDMI 1.3 Terminal
REGZA Link (HDMI CEC)
Super Slim Speaker System
SRS Now
Piano Black Finish
50,000:1 Dynamic Contrast Ration provides incredible images whether you're watching dark or bright scenes!
500cd/m2 High Brightness & 600:1High Contrast Ratio
60,000-Hour Lamp Life
1.07 Billion Colors (1,024 Tones)
1/60 second Real Speed Progressive
6.22 Million Pixels Over-sampling and Scaling System
Real digital picture
New Digital Platform
Magic Square Algorithm
Real speed Progressive Scan
RGB PC Terminal
Over Sampling Scaling
Nicam Stereo receiver
15ms High Response Rate
176 degree Wide Viewing Angle
30 degree Horizontal Swivel Table Stand
Toshiba's LCD backlight life is long enough to give you viewing pleasure for many years.
Image Inverter for Custom Installations
allows you to invert the image upside-down or "mirror" image if you need to hang it in an unconventional manner.
170º/170º Viewing Angles are so wide you can view Liquid Crystal Televisions from anywhere in the room!
PC Input lets you connect your computer and view your PC images on the WXGA panel
Lamp Life: 60,000 hours
Viewing Angles: 176
Comb Filter 3D Y/C
PC Input
Audio System: 10W + 10W
RF input for PAL, NTSC and Me-secam
2 Component Input (Y/Pr/Pb )
S-Video Input
2 Composite (AV) Video Input
Composite (AV) Video Output
3.5mm Mini Jack Head Phone Jack
Power Consumption AC: 250W
Audio Output: RCA: L/R x 1
ENERGY STAR Compliant
World-wide Dual Voltage 110-240 volts 50-60 hertz
PC Input : D-Sub 15-Pin+3.5mm Mini Jack (Audio Common with HDMI Audio)
Monitor Output : Composite Video + RCA Audio
Digital Input : USB, SD Card
Headphone : 3.5mm Mini Jack
Main
Product Type: FULL HD LCD TV
Screen Type: 55
Aspect Ratio: 16:9
Dynamic Contrast Ratio: 50000:1
Panel Contrast Ratio: 1100:1
Brightness: 500
Resolution: 1920 x 1080
Viewing Angles (Degrees): 178
Panel Response Speed (ms): 7 (MPRT)
Signals
Receiving System: PAL I, BG, DK, SECAM BG, DK, NTSC M, B/G 4.43
Colour System: PAL, SECAM, NTSC 3.58 / 4.43
Video Signal: 480i/480p (60Hz), 576i/576p (50Hz), 720p (50/60Hz), 1080i (50/60Hz), 1080p (24/25/30/50/60Hz) through HDMI
RGB Signal
VGA: 640 X 480 /60Hz: 60 / 72/ 75Hz
SVGA: 800 X 600 /60Hz: 60 / 72 / 75Hz
XGA: 1024 X 768 /60Hz: 60 / 72 / 75Hz
S-XGA: 1280 X 1024 /60Hz: 60 / 75 Hz (Compressed)
W-XGA: 1360 X 768 /60Hz: 60Hz
Visual
Meta Brain Pro: Power Meta Brain
3D Colour Management
Comb Filter: 3D Y/C (PAL & NTSC)
Intelligent Backllight Control
Native Scan Capture: -
Exact Scan Mode
Perfect 10-bit Processing: (14 bit)
Audio
Sound System: -
Stereo System: NICAM B/G, I, D/K, & German Stereo B/G, D/K
Speakers: Main L&R (6.5 x 16cm) x 2, Tweeter (dia 3.2cm), Regza Woofer (dia 6.5cm) x 2
Audio Output (10% RMS): 10W x 2 + 30W
Connection
Antenna Input: 1
EXT 1: Input:Component Video + RCA Audio
EXT 2: Input: S-Video + Composite Video + RCA Audio
EXT 3: Input: Component Video + RCA Audio
EXT 4: Input: Component Video + RCA Audio
EXT 5: Input: HDMI 1
EXT 6: Input: HDMI 2
EXT 7: Input: HDMI 3
PC Input: D-Sub 15 Pin + RCA (Audio Common Use with HDMI)
Monitor Output: Composite Video + RCA Audio
Headphone: 3.5 mm Mini Jack
EXT 8: Input: HDMI 4 (side)
EXT 9: Input: PC
Digital Input: SD Card, USB (JPEG Playback)
Features
Teletext
Multilingual OSD: English/ French/ Persian/ Russian/ Simplified Chinese/ Malay/ Vietnamese/ Thai/ Arabic
Hotel Mode
REGZA link: n/a
Swivel Stand: Fixed Stand
General
Power Consumption (W): 107
Dimensions (W x H x D)mm without Stand: 1362 x 839 x 102
Dimensions (W x H x D)mm with stand: 1362 x 901 x 396
← Back to product description



Full HD 1080p

1920x1080p resolution is an HDTV high-definition video mode characterized by 1080 horizontal lines of vertical resolution. As of 2012, most consumer televisions being sold provide 1080p inputs mainly with HDMI and support full high-def resolutions. 1080p resolution is available in all types of televisions, including plasma, LCD and LED.



Built-In Analog Pal, NTSC, and Secam TV tuner

Analog Pal, NTSC, and Secam tuner built in for world wide use for analog tuning. If you are in a country that utilizes digital tuning such as DVBT or ATSC a Cable Box or Satellite receiver is needed. If You have any questions regarding this please call us. With the appropriate setup this TV can be used anywhere in the world.




USB Input

USB stands for Universal Serial Bus. A USB port is a cable connection interface used on personal computers and consumer electronics. USB ports allow stand-alone electronic devices to be connected via cables to a computer or to each other.
← Back to product description