May we suggest
Regular Price: $185.99
Now only: $135.00
This Sharp LC-19LE150 has WXGA 720p Resolution,1 HDMI port and 1 USB port, and is a world wide dual voltage LED TV!Shop Now >>
Details
Toshiba 19HV10 19" Multi System Slim LED TV; PAL, NTSC and Secam 110 - 240 Volts:
This Toshiba 19HV10 19" multi-system LED TV delivers a compact design for maximum portability, as well as a stylish and sleek design, a brilliant picture, and economical power consumption. With industry-leading LED backlight technology, this multisystem Toshiba 19HV10 includes HDMI video input for a beautiful HD picture. This multi-voltage LED TV also features multi-system technology, allowing it to decode worldwide NTSC, PAL, and Secam signals. This Toshiba 19HV10 offers great versatility with dual voltage technology, allowing it to function on 110 volts, 220 volts, 230 volts, and 240 volts, as well as 50/60hz, of electrical input. If you are in search of a slim, attractive and adaptable LED TV, this multi-system Toshiba 19HV10 is a fantastic choice.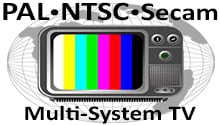 Multi-System TV - PAL, NTSC and Secam
This multisystem TV is compatible with PAL, NTSC and Secam video formats. You can use this television anywhere in the world with ANY type of video device!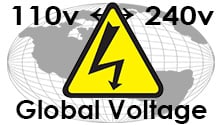 Worldwide Voltage - 110v, 120v, 220v, 230v and 240 volt!
Global Dual Voltage on this Multi-system TV means it can be used anywhere. Multi-voltage TV's can be used in any country with voltage from 110 volts to 240 volts!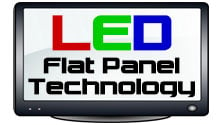 Space-Saving LED Flat Panel Technology
Multi-System LED TV's offer stunning video performance and a great value. Enjoy High Definition video in a space-saving flat panel design with this multisystem TV.
Toshiba 19HV10 19-inch Multi System World Wide LED TV Description:
LED Benefits:
LED TV's are LCD TV's with a LED back light. They reproduce a much brighter better quality picture then conventional LCD TVs. In addition to that they use less energy / electricity, the last much longer, and they a slimmer then conventional LCD tv's.
This is a Multi System TV:
All Multi System TVs in the market do not have a ATSC digital TV tuner: What does this mean? To watch digital channels (ATSC Broadcasting in US) you need adigital source/tuner like a cable box, digital tuner, satellite service, etc. If you don't have this, you will need to purchase a Set Top TV converter box. You may purchase one of these from usfor $49 if you wish. However, to get the best quality video on this TV you need a source that has a digital connection like HDMI or component.
Toshiba 19HV10 19-inch Multi System World Wide LED TV Specifications:
Designs and specifications are subject to change without notice.
Benefits:
Better Picture,Last Longer / More Durable, Slimmer thinner design, and uses Less electricity
16 X 9, 1366 X 768 Resolution
Wide Screen LED Hi Definition TV; Toshiba 19HV10
NTSC/PAL/PAL-60/SECAM/ Color System - Watch any video signal on this TV!
World Wide NTSC M/ PAL/Mesecam BG, DK, I TV tuners enables you to plug your cable TV line right into the TV and start watching
HDMI input supports HDTV up to 1080p Resolution. Supports 480i/480p(60Hz), 576i/576p(50Hz), 720p(50/60Hz), 1080i(50/60Hz), 1080p(50/60Hz) through HDMI
19" Active Matrix TFT ASV (Advanced Super View) LED Panel.
170 /170 Viewing Angles are so wide you can view LED from anywhere in the room!
Carry Handle/Table Stand is the ultimate in convenience! Carry it easily from room to room or detach the one-piece stand for wall mounting
Video Engine Meta Brain Pro
Video processing 8 Bit
Comb Filter 2D Y/C (PAL & NTSC)
Stereo System NICAM B/G, I, D/K, & German Stereo B/G, D/K
Speakers Main (4.2 x 7.5cm) x 2
Audio Output 5W X 2
4-line digital comb filter
High Brightness and Contrast ratio for excellent picture quality
Lamp Life: 60,000 hours
Wall Mountable with separate wall mount
Easy Setup with Auto Clock Function
Color Adjustment
Brightness Adjustment
On-Screen Display Languages English/ French/ Russian/ Thai/ Malay/ Vietnamese/ Arabic/ Persian
Sleep Timer, Wake-Up Timer
Picture Flip Function
Audio System: 2.5W + 2.5W
Brightness(cd/m2): 230
Resolution: 1366 x 768
Viewing Angle (Degrees): 170
Panel Response Speed (ms) 6
Antenna Input
2 X Composite inputs
Component INPUT (blue/green/red) + RCA audio
EXT 3 HDMI
Voltage: Automatic Switching Between 100-240 Volts 50/60Hz for Use World Wide
Energy Saving Power Consumption (W) 22 Watts Very low Watts Less Then Normal Light Bulb
Dimension (W x H x D) mm without Stand: 454 x 312 x 50
Dimension (W x H x D) mm with Stand: 454 x 320 x 95
Weight (Net) kg without Stand: 2.9
Weight (Net) kg with Stand: 3.0
Wall Mount Bracket Sold Separately.
← Back to product description



HD 720

720p is a progressive HDTV resolution signal format with 720 horizontal lines. All major HDTV broadcasting standards include a 720p format which has a resolution of 1280×720. The number 720 stands for the 720 horizontal scan lines of image display resolution (also known as 720 pixels of vertical resolution), while the letter p stands for progressive scan.



Built-In Analog Pal, NTSC, and Secam TV tuner

Analog Pal, NTSC, and Secam tuner built in for world wide use for analog tuning. If you are in a country that utilizes digital tuning such as DVBT or ATSC a Cable Box or Satellite receiver is needed. If You have any questions regarding this please call us. With the appropriate setup this TV can be used anywhere in the world.
← Back to product description