Details
Sony DAV-SZ1000W Region Free DVD Home Theater System:
The Sony DAV-SZ1000W multi-region DVD home theater system features dazzling video and driving audio with a stunning monolithic design. Delivering 1080p full HD through HDMI output with upscaling, this amazing Sony DAVSZ1000W code free DVD player delivers pristine audio and video quality with superb clarity. This region-free Sony DAV-SZ1000W 5.1 channel home theater system delivers a thunderous 1000 watts of total power output through a 5.1 channel 2-way speaker system. This multiregion DVD home theater system also offers USB video playback, as well as USB Music Record and Play. BRAVIA Sync allows this multi-region Sony DAV-SZ1000W communicate with other BRAVIA Sync-compatible equipment using HDMI CEC (Consumer Electronics Control).
Best of all, this DAVSZ1000W home theater system it is fully region free and will play standard DVD movies from anywhere in the world regardless of what region code they are. For even more versatility, this code free Sony DAV-SZ1000W is also multi-voltage, making it compatible with 110 volt, 220 volt, 230 volt and 240 volt electrical sources.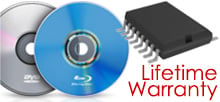 Region Free Playback Guaranteed for Life!
Unlike software or firmware solutions our region free hardware modifications are guaranteed to play Blu-Ray Discs and DVD's from any region for the life of your player!
Sony DAV-SZ1000W Code Free DVD Home Theater System Specifications
Designs and specifications are subject to change without notice.
Output

Power Output - Front (RMS): 167W
Power Output - Center (RMS): 167W
Power Output - Surround (RMS): 167W
Power Output - Subwoofer (RMS): 165W
Power Consumption (in Operation): 110W
Power Consumption (in Standby): 0.3W
Power Output - Total (RMS): 1000W
Power Supply: 110 - 240 volts

AMPLIFIER:

S-Master: 48-Bit
Audio Line: Analogue 5 IN
Video Signal Composite 1 OUT
Video Signal: HDMI 1 OUT
USB
Speaker Terminal: Front/Centre/Surround/Subwoofer
Movie Mode
Portable Audio Enhancer
Dolby Digital
DTS
BRAVIA Sync
DEMO Mode
Dimmer
A/V SYNC (Lip Sync)
Audio Line: Optical 1 IN
Video Signal: Component 1 OUT
D.C.A.C (Auto Calibration)
Audio Return Channel: HDMI
Bass Boost Function: Dynamic Bass on RM
Night Mode: Normal/Plus
S-AIR Wireless
Dolby Pro Logic
Video Signal: HDMI OUT Upscale 720p/1080i for DVD

USB MEMORY

Decoding Format for Sound (Playback): MP3/WMA9/AAC
Decoding Format for Picture (Playback): JPEG
Decoding Format for Video (Playback): Xvid Home/MPEG4 Simple Profile
Encoding Format for Sound (Record): MP3/WMA9/AAC
MP3 File Name/ID3Tag Ver. 1.1/ID3Tag Ver. 2.0
Play Mode: Normal
Play Mode: Shuffle
Play Mode: Repeat
Play Mode: Resume

TUNER

Band: FM
External FM/AM Antenna: 75ohm
Station Preset: FM20

DVD/SACD/VCD/CD PLAYER

Type: 1-Disc Tray (Dust-Proof)
DVD/CD/Video CD
CD TEXT
CD-R/CD-RW Playback
DVD-R/+R/+RW/-RW/-RW(VR) Playback (Some discs may not be played back)
MPEG4 Simple Profile Playback
JPEG Playback
MP3 Playback
MP3/ID3Tag Ver.1.1/iD3Tag Ver.2.0
Multi Disc Resume (DVD,VCD): 10 discs
New OSD
Progressive Scan: NTSC/PAL
Precision Cinema Progressive
Tray Lock

SPEAKERS

Front Speaker Type (Grill): Tallboy (Fixed / Punched Metal)
Front Speaker System: 2 way
Front Speaker Woofer Unit: 65mm
Centre Speaker System: 1 way
Centre Speaker Unit: 1
Centre Speaker Woofer Unit: 65mm
Surround Speaker Type (Grill): Tallboy (Fixed / Punched Metal)
Surround Speaker System: 2 way
Surround Speaker Woofer Unit: 65mm
Subwoofer - Active/Passive Passive
Subwoofer Speaker Unit: 1
Front Speaker Length of Supplied Cable: 4
Centre Speaker Type (Grill): Fixed / Punched Metal
Centre Speaker Length of Supplied Cable: 2
Surround Speaker Length of Supplied Cable: 6
Subwoofer Length of Supplied Cable: 3
Front Speaker Tweeter Unit: 40mm
Surround Speaker Unit: 2
Surround Speaker Tweeter Unit: 40mm

WEIGHT & DIMENSIONS

Main Unit Size (W x H x D): Approx. 430 x 74 x 355 mm, Approx. 430 x 74 x 385 (with wireless transmitter)
Main Unit Weight: Approx. 3.5kg
Front Speaker Size (W x H x D): Approx. 260 x 1185 x 260 mm (with stand), Approx. 108 x 595 x 79 (w/o stand)
Front Speaker Weight: Approx. 2.7kg
Centre Speaker Size (W x H x D): Approx. 261 x 82 x 79 mm
Centre Speaker Weight: Approx. 0.6kg
Surround Speaker Size (W x H x D): Approx. 260 x 1185 x 260 mm (with stand), Approx. 108 x 595 x 79 mm (w/o stand)
Surround Speaker Weight: Approx. 2.7kg
Subwoofer Size (W x H x D): Approx. 230 x 400 x 305 mm
Subwoofer Weight: Approx. 6.4kg
← Back to product description



DVD All Regions

Region Free DVD Playback. Code Free, Multi-Region, Multi-Zone




Will play DVD movies from anywhere in the world.




Plays DVDs from any region including region 0, 1, 2, 3, 4, 5, 6, 7 and 8


Region Free Playback Guaranteed for Life!



DivX Compatible

With DivX® support, you are able to enjoy DivX® encoded videos.




HDMI Output

HDMI output with output resolution selection to the max your tv can handle: 1080p, 720p, 1080i, or 720i




Progressive Scan

Progressive scan




World Wide Voltage

Works with world wide electricity 100-240 volts volts 50/60 hz. Can be used with electricity in North America or any other place in the world.ALL of our Multisystem TV's operate on ALL Global voltages, including 110, 120 Volts and 220, 230, 240 Volts.



USB Input

USB stands for Universal Serial Bus. A USB port is a cable connection interface used on personal computers and consumer electronics. USB ports allow stand-alone electronic devices to be connected via cables to a computer or to each other.



1080p Upconversion

HDMI upconversion will convert your analog video signals to offer a much clearer, sharper HD image, with less artifacts
← Back to product description