Details
Sharp LC-32L400M 32" Multi system LCD TV; PAL, NTSC and Secam 100-240 Volts:
TRUE Hi Def 32" wide LCD Screen
HDMI input, PC input
32"Hi definition wide LCD Screen
Newly Developed Real 16x9 WXGA (1366 x 768) ASV & Black TFT LCD Panel
World-Wide NTSC/PAL/SECAM Color System - Watch any video signal on this TV!
NTSC M, PAL BG/PAL I/Secam BG, DK/ PAL DK TV tuners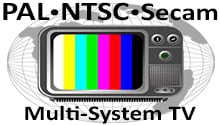 Multi-System TV - PAL, NTSC and Secam
This multisystem TV is compatible with PAL, NTSC and Secam video formats. You can use this television anywhere in the world with ANY type of video device!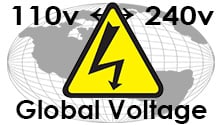 Worldwide Voltage - 110v, 120v, 220v, 230v and 240 volt!
Global Dual Voltage on this Multi-system TV means it can be used anywhere. Multi-voltage TV's can be used in any country with voltage from 110 volts to 240 volts!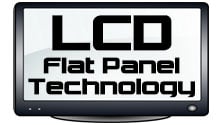 Space-Saving LCD Flat Panel Technology
Multi-System LCD TV's offer stunning video performance and a great value. Enjoy High Definition video in a space-saving flat panel design with this multisystem TV.
Sharp LC-32L400M 32" Multi system LCD TV Description:
WXGA ASV LCD Panel by Sharp ASV LCD Technology (1366 x 768)
Piano Black Finishing to match any rooms Elegance
Dynamic Contrast Ratio 25,000:1
HDMI terminal (V1.3)for digital and simple connection with AV equipment
6ms Response Time
Digital Amplifier for producing clear sound
Power saving ecological features such as OPC (Optical Picture Control)
Built In TELETEXT Circuit (TOP/FLOF)
Muilt System TV Tuner (PAL/SECAM/NTSC)
Complied with RoHS
Sharp LC-32L400M 32" Multi system LCD TV Specifications:
Designs and specifications are subject to change without notice.
Worldwide NTSC/PAL/SECAM Color System
Worldwide PAL BG, PAL I, Secam BG, DK/ PAL DK TV tuners
World-wide Dual Voltage 110-240 volts 50-60 hertz
25,000:1 Dynamic Contrast Ratio
1080/24P Signal Input
HDMI terminal
Advanced OPC (Optical Picture Control)
Antena Booster
5W X 2 Speakers
Built-in RS-232C
Display
Screen Size: 32 inches
Resolution: 1,366 x 768
1080/24p
Luminance (cd/m©÷): 300
Contrast Ratio: 25,000: 1
Viewing Angle (H/V): 176¨¬/176¨¬
Digital Comb Filter: 3D Y/C
Tuner
TV Receiving Systems: PAL-B/G, PAL-D/K, PAL-I,-60, NTSC-M, SECAM-B/G,SECAM-D/K, SECAM-K/K1'
Video Color Systems: PAL / SECAM / NTSC 3.58 / NTSC 4.43 / PAL 60Hz
Audio
Amplifier: Digital
Automatic volume level
control/ Clear voice
Audio Output: 5W x 2
Stereo decoder: NICAM/A2
Bass Enhancer
Surround
Videotext
Conveniences
OSD Language: English, Simplified Chinese, Traditional Chinese, Arabic
TELETEXT
Eco Features
Active Backlight Control
Low Power stand by
OPC (optical picture control)
Interfaces
S-Video: 1
Composite Video: 2
Component: 1
PC Analogue input: 1
HDMI input: 1
RS-232C: 1
General
Power Supply: 110-240 V 50/60Hz
Power Consumption (approx.) : <112W
Dimensions without Stand: 797 x 535 x 115 (mm) (WxHxD)
Dimensions with Stand: 797 x 580 x 262 (mm) (WxHxD)
Net Weight without Stand (approx.): 10.0 (KG)
Net Weight With stand (approx.): 11.0 (KG)
Visible screen size: 32"
Resolution: 1366 x 768
Station Presetting
Automatic Channel sorting
Audio System
Digital Technology
Automatic Volume Control
NICAM+A2-Stereo-Decoder/Virtual Dolby/Surround/no/yes
Output power: 5W + 5W
Videotext
Interfaces
S-Video/Video (Cinch) / Y/PB(CB)/PR(CR) via VGA Adapter/yes
PC-Input Analog / HDMI / RS-232C/yes/yes
General
Cabinet Colour: Black
Power Consumption Stand-by (W): 1W
Power Consumption Operation (W): 112W
Dimensions with Stand in mm (W x H x D)
Dimensions (W x H x D) in mm: 797 x 535 x 115
Weight incl. Stand (kg): 11
Wallmount: 400 x 400
← Back to product description



HD 720

720p is a progressive HDTV resolution signal format with 720 horizontal lines. All major HDTV broadcasting standards include a 720p format which has a resolution of 1280×720. The number 720 stands for the 720 horizontal scan lines of image display resolution (also known as 720 pixels of vertical resolution), while the letter p stands for progressive scan.



Built-In Analog Pal, NTSC, and Secam TV tuner

Analog Pal, NTSC, and Secam tuner built in for world wide use for analog tuning. If you are in a country that utilizes digital tuning such as DVBT or ATSC a Cable Box or Satellite receiver is needed. If You have any questions regarding this please call us. With the appropriate setup this TV can be used anywhere in the world.
← Back to product description