Details
Samsung UA40D5000 Multi-System 40" LED TV; PAL, NTSC and Secam 100-240 Volts:
For those looking for a premium TV that is practical as it is stylish, look no further. For the best possible Full HD picture quality the LED TV Series 5000 has Clear Motion Rate 100, the unique Hyper Real Engine and Wide Colour Enhancer Plus. And like other higher models, the Full HD Series 5000 comes with standard, cutting-edge features such as Anynet technology, ConnectShare Movie and HDMI inputs, and SRS Theatre Sound for a full entertainment experience.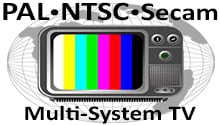 Multi-System TV - PAL, NTSC and Secam
This multisystem TV is compatible with PAL, NTSC and Secam video formats. You can use this television anywhere in the world with ANY type of video device!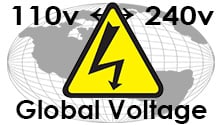 Worldwide Voltage - 110v, 120v, 220v, 230v and 240 volt!
Global Dual Voltage on this Multi-system TV means it can be used anywhere. Multi-voltage TV's can be used in any country with voltage from 110 volts to 240 volts!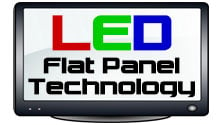 Space-Saving LED Flat Panel Technology
Multi-System LED TV's offer stunning video performance and a great value. Enjoy High Definition video in a space-saving flat panel design with this multisystem TV.
Samsung UA-40D5000 Multisystem LED TV 40" Description:
The ultimate home-base of entertainment
Supreme connectivity enables you to enjoy all your digital content and interactions in one place. AllShare lets you connect your TV wirelessly to all your compatible digital devices, unlocking the music, movies and photos stored there. AllShare PC software is also available for download and ensures that your PC content can be searched, streamed and played back on your TV. High Definition Multimedia Interface inputs allow you to directly connect up to four devices, providing you with much more to watch and share. For a theatre-like movie viewing experience, Cinema Black automatically adjusts the letterbox-effect lighting. And for super-convenience, the Anynet concentrates the functions of all your separate remotes into a single, stylish controller.
Experience enhanced image detail, color reproduction and control
Enjoy unprecedented picture quality with Samsung"s super-advanced imaging technology. The superior Micro Dimming technology delivers outstanding contrast ratios, with purer whites and deeper blacks for your viewing pleasure. And with no halo effect, you"ll enjoy the tiniest picture details that are normally never seen. The HyperReal Engine and LED backlight enhances images and optimises performance for crystal-clear Full HD images. And Wide Colour Enhancer Plus technology deploys complex algorithms to make colours more life-like, and reveal tones and hues otherwise invisible.
Full HD 1080p
Get closer to reality. Samsung"s full HD Plasma TVs boast twice the resolution of standard HD TVs, for richly textured, naturalistic pictures that captivate your mind and elevate your viewing experience.
Digital Noise Filter
Watch crystal-clear analog programming as if it was being broadcasted digitally with Samsung"s Digital Noise Filter. The filter helps to eliminate some of the digital "noise" that are seen on your screen.
Wide Colour Enhancer Plus
See the world"s true colours. Samsung"s Wide Colour Enhancer Plus uses an advanced algorithm to drastically improve image quality - even displaying subtle tones and details that less advanced TVs cannot reproduce.
Ultra Clear Panel
Say goodbye to blurring. Samsung"s new filter and panel construction eliminates dual and layered images, so you enjoy precise, crystal-clear TV pictures from almost every viewing angle.
Clear Motion Rate
Experience the true meaning of motion clarity with Samsung''''s Clear Motion Rate. Unlike the "refresh rate." which explains a part of picture quality, Clear Motion Rate determines the motion of an image by using three factors: chipset, TV panel, and backlight. WIth the new standard in motion measurement and control, you will clearly see the difference.
Allshare
Bring it all together. AllShare wirelessly connects to compatible mobile devices through DLNA technology so the movies, photos and music stored on them can be viewed, listened to and shared on your smart TV.
HDMI 1.4
Multiply your media. Four High Definition Multimedia Interface (HDMI) inputs allow you to speed high-definition digital data from several devices straight to your smart TV, giving you more content to enjoy on screen.
Planet First
Be a friend to the planet. Samsung"s new TVs are constructed using more efficient technology, fewer components and non-toxic materials, so are kinder on the environment.
Samsung UA-40D5000 Multisystem LED TV 40" Specifications:
Designs and specifications are subject to change without notice.
General
Model: Samsung UA-40d5000 Multi System LED TV
FULL HD 1920 X 1080p resolution
World-Wide NTSC/PAL/SECAM Color System - Watch any video signal on this TV!
World-Wide PAL BG, PAL I, Secam BG, DK/ PAL DK TV tuners with DVB-T Digital Tuner. This model does not have a digital tuner for the US which is known as a ATSC tuner. So a cable box, satellite receiver, or a digital tv converter box will be required to watch tv in the United states using this TV.
40" LED TV with 2 HDMI inputs and PC input
100 Hertz for the best video processing
3,000,000:1 Dynamic Contrast
Widescreen 16 X 9 Format
World-wide Dual Voltage 110-240 volts 50-60 hertz
HDTV monitor (HDTV tuner required for HD reception)
Wide Screen Mode allows you to watch conventional 4:3 aspect ratio broadcasts in wide screen (16:9) mode.
Steady Sound equalizes volume levels so there is consistent output between programs and commercials.
Built-in hidden speakers includes 2 (5W x 2) speakers to deliver dynamic sound.
Component Video Input offers the best video quality for DVD (480p and 480i), and digital set-top box (1080p, 1080i, 720p, 480p and 480i) connections.
Parental Control V-chip technology allows parents to block unsuitable programming from younger viewers.
PC Input allows you to connect your PC and display the PC screen on your TV.
Surround Sound Audio Effect
Video Signal System: NTSC, PAL, Secam
Display Resolution: 1920 x 1080p
Native Resolution: 1080p, 1080i, 720p
Full Digital Image Processor
3,000,000:1 Contrast Ratio
10-bit processor with 12.8 billion colors
15 degree swivel stand
8ms Response Time
Wide Viewing Angle 178 degrees
Brightness 500cd/m2
3D Y/C Comb Filter
3:2 Pulldown technology
PIP (for Freeze Function)
Vertical Frequency (Hz): 56 / 60 / 72 / 73 / 75
Contrast Ratio: TBD
Horizontal Scan (KHz) for PC: 31/ 31.5 / 35.2 / 37.9 / 46.9 /47.4 / 47.7 / 47.8 / 56.5 / 60 / 60.3
Overscan: Normal, +1, +2
Viewing Angle: Right/Left: 170°, Up/Down: 170°
Display Response Time: TBD
Vertical Size: +10 to -10 (TV) +50 to -50 (PC)
Vertical Center: +10 and -10 (Zoom) +10 and -10 (Wide Zoom)
Horizontal Center: +10 to -10 (TV) +50 to -50 (PC)
Screen or Display Technology: LED
Tuner: Analog
Video Processing: One-chip Video Processor
Color Temperature: Cool, Neutral, Warm
Noise Reduction
Screen Modes (4:3): Wide Zoom, Normal, Full, Zoom
Screen Modes (16:9): Wide Zoom, Normal, Full, Zoom, Off
Wide Mode (16:9): Wide Zoom, Full, Zoom
Wide Mode (4:3): Wide Zoom, Normal, Full, Zoom
Comb Filter: 3D Digital Comb Filter
Phase (PC Only)
Pitch (PC Only)
Light Sensor
Picture Modes: Vivid, Standard, Pro
Speaker Type: Oval cone
Speakers (Total): 2
Full Range Speaker Size: 55 x 150mm (Oval)
Audio Power Output: 20W Total (10W x 2)
Tone Control(s): Treble and Bass
Sound Mode: Dynamic, Natural, Clear Voice, Mode Memory,Simulated
Digital Amplifier
Audio Mute
Speaker On/Off
Simulated Surround: Yes
Stand Tilt Range: L/R: 15°
Stand Swivel Range: Forward 3° / Back 8°
Channel Label
Channel Skip/Add
Channel Jump
Favorite Channel
Speed Surf Channel Selection
Program Guide Access
Auto Channel Programming
Multiple Language Display: English; Español; Français
Mode Memory
Info Banner
Sleep Timer: 15, 30, 45, 60, 90, Off
Timer Events: Timer 1, Timer 2
Freeze Memo Screen Freeze (with PIP)
Clock
Picture-in-Picture
Power Save Mode: Standard, Reduced, Picture Off
Built-In AC Adaptor
Inputs and Outputs
HDMI input X 4
USB X 2
PC Input x 1
Component X 2 (Y/Pb/Pr )
Audio In x 2
Composite In x 2
S-Video X 1
Composite Out x 1
Headphone Out x 1
RF Connection Input
Power:
World Wide Voltage Supply AC 100-240V, 50/60Hz
Internal Power Supply
Power Consumption (in Operation): Less than 155W
Power Consumption (in Standby): Less than 1W
Energy Star Compliant
Dimensions and Weight:
Approx. 972 x 656 x 255mm - without stand Approx. 15.7kg
Approx. 972.0 x 596.0 x 29.9mm - with stand Approx 12.1kg
← Back to product description



Full HD 1080p

1920x1080p resolution is an HDTV high-definition video mode characterized by 1080 horizontal lines of vertical resolution. As of 2012, most consumer televisions being sold provide 1080p inputs mainly with HDMI and support full high-def resolutions. 1080p resolution is available in all types of televisions, including plasma, LCD and LED.



Built in DVBT and PAL Tuner

Built IN DVBT and Pal Tuner. Excellent for use outside North America with Analog Pal RF signals and DVBT RF Signals. For use in North America to watch television a Cable, box or Satellite receiver from your cable company is necessary. Or if you will not subscribe to any paid cable a ATSC digital cable converter box can be used to tune TV channels when in North America. If using outside of North America in Africa, Asia, Europe, Middle East, Oceania, or other countries with Pal or DVBT tuning, this TV will work directly with RF Antenna signal. If You have any questions regarding this please call us. With the appropriate setup this TV can be used anywhere in the world.




USB Input

USB stands for Universal Serial Bus. A USB port is a cable connection interface used on personal computers and consumer electronics. USB ports allow stand-alone electronic devices to be connected via cables to a computer or to each other.
← Back to product description