Details
Samsung UA24H4053 24" Multi system LED TV 110 220 240 volts pal ntsc secam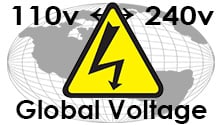 Worldwide Voltage - 110v, 120v, 220v, 230v and 240 volt!
Global Dual Voltage on this Multi-system TV means it can be used anywhere. Multi-voltage TV's can be used in any country with voltage from 110 volts to 240 volts!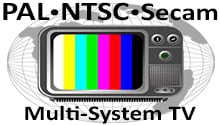 Multi-System TV - PAL, NTSC and Secam
This multisystem TV is compatible with PAL, NTSC and Secam video formats. You can use this television anywhere in the world with ANY type of video device!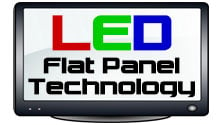 Space-Saving LED Flat Panel Technology
Multi-System LED TV's offer stunning video performance and a great value. Enjoy High Definition video in a space-saving flat panel design with this multisystem TV.
Samsung UA24H4053 24" Multi system LED TV 110 220 240 volts pal ntsc secam
Samsung LED TV Series 4000 UA24H4053 provides picture quality, layout and high functioning at an inexpensive price. Wonderful quality on TV is created from a combination of features HD, Clear Motion Rate 50, and Wide Color Enhancer Plus that will keep you fascinated. In addition, you can appreciate progressive qualities such as technology Connect Share Movie and 1 HDMI port to love video on the laptop in a screen of 24 ". Watch TV Straight From USB ConnectShare Movie convert your TV into a home entertainment theater. Just implant the drive USB, memory or hard disk drive and the TV is equipped to show the content movies, photos and music stored on screen clearly. Multimedia Experience Straight in Living Room; Samsung LED TV 4000 series is furnished with inputs High Definition Multimedia Interface (HDMI) to one port , giving a lot of things to view and share. Cinema Black immediately modifies the lighting letter-box to get a superior spectacle like a movie in a theater. Color Brighter For Finest Picture Samsung's Wide Color Enhancer Plus uses an sophisticated algorithm to radically increase quality, where Conventional TV is not able to do so. With the Samsung LED TV Series 4000 UA24H4053, you will get to appreciate pictures and movies in color brighter and richer.
Samsung UA24H4053 24" Multi system LED TV 110 220 240 volts pal ntsc secam Specifications:
Designs and specifications are subject to change without notice.
What's in the box:
1 x Samsung 24 "LED TV Black Model UA24H40531 x Remote1 x Cable Adapter
General Features:
SKU: SA848ELAIX1NANID-452 515
Price: RP 1.894 million
Color: Black
Features: HD
Screen size: 24.0
Input: USB | HDMI
Model: SA848ELAIX1NANID-452 515
Size (L x W x H cm): 70x48x13
Product warranty: Samsung Authorized Warranty 1 Year
Weight (kg): 7.2
Screen Resolution: 1366 x 768
USB Port: 1x
Power Consumption (W): 33 Watt
← Back to product description



HD 720

720p is a progressive HDTV resolution signal format with 720 horizontal lines. All major HDTV broadcasting standards include a 720p format which has a resolution of 1280×720. The number 720 stands for the 720 horizontal scan lines of image display resolution (also known as 720 pixels of vertical resolution), while the letter p stands for progressive scan.



USB Input

USB stands for Universal Serial Bus. A USB port is a cable connection interface used on personal computers and consumer electronics. USB ports allow stand-alone electronic devices to be connected via cables to a computer or to each other.
← Back to product description