Details
Samsung LA40D550 40" Multi System LCD TV; PAL, NTSC and Secam 100-240 Volts:
Take your entertainment to a new level with , this one comes with all the outstanding features of Samsung LA40D550 40" smart TVs like web browser, internet connection capabilities and built in Skype, coupled with world class One design and full HD technology, watching this TV gives you an experience to remember.
FULL HD 1920 X 1080p resolution and 60,000 Contrast Ratio make for the absolute best video quality!
40 inch LCD TV with 4 HDMI inputs and PC input
World-Wide NTSC/PAL/SECAM Color System - Watch any video signal on this TV!
TV Tuners: PAL BG, PAL I, Secam BG, DK/ PAL DK, PAL DVB-T Digital Tuner
Digital PAL TV tuner - DVT-B, no Digital tuner for NTSC
TV Tuners: PAL BG, PAL I, Secam BG, DK/ PAL DK, PAL DVB-T Digital Tuner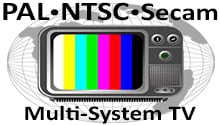 Multi-System TV - PAL, NTSC and Secam
This multisystem TV is compatible with PAL, NTSC and Secam video formats. You can use this television anywhere in the world with ANY type of video device!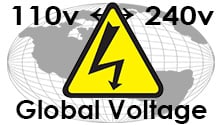 Worldwide Voltage - 110v, 120v, 220v, 230v and 240 volt!
Global Dual Voltage on this Multi-system TV means it can be used anywhere. Multi-voltage TV's can be used in any country with voltage from 110 volts to 240 volts!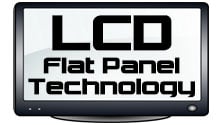 Space-Saving LCD Flat Panel Technology
Multi-System LCD TV's offer stunning video performance and a great value. Enjoy High Definition video in a space-saving flat panel design with this multisystem TV.
Samsung LA40D550 40" Multi System LCD TV Descriptions:
With its elegantly stylish design the SAMSUNG LA40D550 FULL 1080p LCD TV offers an outstandingly rich Full HD TV experience. With phenomenal picture quality and superior features, sharper, clearer, more detailed images are delivered with incredible intensity on its clear panel screen, enabling you to enjoy quality and versatility that indulge all of your senses.
Crystal Design
SAMSUNG Crystal TV refers to subtle changes in the product's design. The beauty of nature lies in its ever-changing form, colors and light. New materials offer a never-seen-before TV that captures the essence of natural beauty through natural light, styles and tones which constantly appear to change with the viewing angle. SAMSUNG Crystal TV bezel is not made up solely of one colors pigment, it is a sophisticated combination of multiple colors which produces a seamless, natural gradation.
4 HDMI Inputs
Three High Definition Multimedia Interface (HDMI) connections make your TV a multimedia centerpiece. Connect HD digital devices like disc players, game consoles and satellite dish components into the 3 rear connections and use the side-mounted input for cameras, camcorders and laptops. HDMI is the best performing interface for displaying an HD source on an HDTV.
2 USB INPUTS
Crystal / Slim / HyperReal / Anynet / ConnectShare Movie / Full HD / AllShare / PlanetFirst
Enhance and optimize the potential of your digital devices
Advanced connectivity lets you enjoy all your digital content and interactions in one place. Samsung AllShare technology links your TV wirelessly to all your compatible digital devices, unlocking the content stored within. Use the four High Definition Multimedia Interface inputs to connect non-wireless devices. ConnectShare Movie lets you plug a separate drive directly into your TV especially for streaming films | Cinema Black automatically reproduces the letterbox-effect lighting you get when viewing movies in a theatre.
The simple way to live in Full HD.
Pictures that surpass your imagination come as standard with the LCD. Its HyperReal Engine enhances definition and optimises performance for the most vibrant and crystal-clear images - it"s the Full HD experience you"ve been waiting for. Full 1080-pixel resolution produces pictures twice as sharp as conventional HDTV; Wide Colour Enhancer deploys complex algorithms to make colours more life-like than ever.
Pure design for a seamless viewing experience
Your TV"s looks should complement your viewing experience and enhance the beauty of your home. So the LCD features Samsung"s exquisite Crystal design, inspired by the beauty of a natural sunset. Shaped from a unique, black-rose material that subtly changes colour under different lighting conditions, your TV"s surround brings beauty and warmth to any room. Seamless, one-piece moulding and a super thin bezel framing the screen complete the elegant, understated effect.
The smooth, stylish SAMSUNG LCD TV SERIES 5 excels in every aspect. Its phenomenal Full HD 1080p images are framed perfectly by its large screen, inviting you to experience a TV that is as versatile as it is remarkable, and entertainment without limits.
ConnectShare Movie
With the ConnectShare Movie capability, transform your TV into a home entertainment theatre. Simply plug in your USB memory drive or HDD into your Samsung Smart TV and instantaneously enjoy a range of movies, photos and music on your TV. So instead of watching movies on your PC, you can download them onto a USB and watch them in the comfort of your living room on your TV.
Eco Sensor
Brightness Sensor
The Eco Sensor measures the intensity of the light in the room and then automatically calibrates the brightness of the image on the TV. Under bright situations, the sensor will increase the brightness of an image while the sensor will reduce the brightness under darker situations. That means the Eco Sensor controls the amount of light used to create its images.
DNIE+
SAMSUNG"s proprietary picture quality enhancing engine. DNIe+ Engine technology performs to optimise overall picture qualities.
High Contrast Ratio
Deeper Black with Clearer Picture. Enjoy a crisper image revealing more detail than ever before as the High Dynamic Contrast Ratio produces purer whites and richer blacks.
SWIVEL stand
A round swivel stand allows for the best possible viewing from any angle.
Wide Colour Enhancer 2
More natural & deeper colour
SAMSUNG"s Wide Colour Enhancer extended to display the natural green and blue. Additionally, Wide Colour Enhancer 2 technology is upgraded to reproduce the red area also.
-->
SRS TheatreSound
Hyper Real Engine
Experience super-lifelike HD pictures. Samsung"s revolutionary HyperReal Engine optimises performance and enhances images for a high-definition viewing experience that"s so intense you"ll forget you"re watching TV.
Allshare
Bring it all together. AllShare wirelessly connects to compatible devices through DLNA technology so the movies, photos and music stored on them can be viewed, listened to and shared on your TV.
Anynet
Concentrate your control. Anynet technology enables you to direct all of your HDMICEC-compatible digital devices – whatever their manufacturer – with a single remote control, for a streamlined home-entertainment experience.
Planet First
Be a friend to the planet. Samsung"s new TVs are constructed using more efficient technology, fewer components and non-toxic materials, so are kinder on the environment.
Hear how beautiful sound can truly be with Samsung"s SRS Theatre Sound. The Samsung LCD TV is equipped with "invisible" speakers so you can enjoy the benefits of true surround sound without any distractions or additional equipment. Let Samsung"s LCD TV deliver a full entertainment experience so that you can hear what"s on your screen.
Better design & deeper sound creation
Samsung LA-40D550 Full HD 40" Multi system LCD TV Specifications:
Designs and specifications are subject to change without notice.
Key Features:
Model: Samsung LA-40d550 Multi System LCD TV
FULL HD 1920 X 1080p resolution and 60,000 Contrast Ratio make for the absolute best video quality!
World-Wide NTSC/PAL/SECAM Color System - Watch any video signal on this TV!
TV Tuners: PAL BG, PAL I, Secam BG, DK/ PAL DK, PAL DVB-T Digital Tuner
Digital PAL TV tuner - DVT-B, no Digital tuner for NTSC
40inch LCD TVwith 4 HDMI inputs and PC input
60,000:1 Contrast Ratio for the best and clearest video
480i, 576i, 480p, 576p, 1080i, 720p, 1080p Video Signal INPUT
World-Wide NTSC/PAL/SECAM Color System - Watch any video signal on this TV!!
World-Wide NTSCM, PAL BG, PAL I, Secam BG, DK/ PAL DK TV tuners
40-inch WEGA GATE LCD TVwith 4 HDMI inputs and PC input
Widescreen 16 X 9 Format
World-wide Dual Voltage 110-240 volts 50-60 hertz
HDTV monitor (HDTV tuner required for HD reception)
Display Resolution: 1920 x 1080
Native Resolution: 1080p, 1080i, 720p, 567p
Easy Operation Guide is a new feature that allows you to easily navigate to the most convenient TV functions: favorite channels, TV channel list, external input list or settings.
CineMotion® technology provides an optimized picture by automatically detecting film content and applying a reverse 3:2 pulldown process. Moving pictures will appear clearer and more natural-looking.
Wide Screen Mod: allows you to watch conventional 4:3 aspect ratio broadcasts in wide screen (16:9) mode.
VESAcompliant mounting holes.
Favorite Channelswith the WEGA GATE function, allows you to select from eight of your favorite channels.
Steady Sound® equalizes volume levels so there is consistent output between programs and commercials.
Built-in Speakersincludes 2 (5W x 2) speakers to deliver dynamic sound.
Component Video Inputoffers the best video quality for DVD (480p and 480i), and digital set-top box (1080i, 720p, 480p and 480i) connections.
Parental ControlV-chip technology allows parents to block unsuitable programming from younger viewers.
Caption Vision/Info Bannerallows closed caption and/or Channel Programming information to be displayed.
PC Inputallows you to connect your PC and display the PC screen on your TV.
SRS® TruSurround® Audio Effect
Video Features
Video Signal System: NTSC, PAL, Secam
1.3 Mega Pixel Panel
Native Resolution: 1080p, 1080i, 720p, 567p
70,000:1 Contrast Ratio
6ms Response Time
Wide Viewing Angle 178 degrees
widescreen 16:9 aspect ratio
Multi System - Pal - NTSC - Secam compatible
high-gloss black finish
1920 x 1080 pixels
6-millisecond pixel response time
200,000:1 dynamic contrast ratio
built-in stereo speakers (10 watts x 2)
remote control
Anynet+ simplifies remote control for compatible Samsung components (HDMI-CEC)
picture settings memory for each video input
PC input: analog RGB (D-Sub 15-pin)
RF input for antenna/cable signals
optical digital audio output for Dolby® Digital
wall-mountable (bracket not included)
Video
Screen Size: 40
Resolution: 1,920 x 1,080
Clear Motion Rate: 50
Picture Engine: HyperReal Engine
Dynamic Contrast Ratio: High Contrast
Wide Colour Enhancer (Plus): Wide Colour Enhancer
Audio
Dolby: Dolby Digital Plus, Dolby Pulse
SRS: SRS TheaterSound
dts 2.0 + Digital Out
Sound Output (RMS): 10W x 2
Speaker Type: Down Firing + Full Range
Feature
Allshare** (powerd by DLNA)
Smart Phone Remote support
Wireless LAN Adapter Support
One Foot Connection
ConnectShare (USB2.0): Movie
Anynet+ (HDMI-CEC)
Auto Channel Search
EPG
Teletext (TTXT)
OSD language: Local Languages
Auto Volume Leveler
Auto Power Off
Clock & on/off timer
Sleep timer
Game mode
Picture-in-Picture: 1 Tuner PIP
System
DTV Tuner Built-in
Inputs and Outputs Notes
HDMI: 4
USB: 1
Component In (Y/Pb/Pr): 2
Composite In (AV): 2 (Common Use for Component Y)
Digital Audio Out (Optical): 1
PC In (D-sub): 1
RF In (Terrestrial/Cable Input): 1
Headphone: 1
PC Audio In (Mini Jack): 1
DVI Audio In (Mini Jack): 1 (Common Use for PC Audio in)
Ethernet (LAN): 1
Design
Design: Crystal Design
Bezel Type: Normal
Slim Type: Normal
Front Colour: Charcoal Black
Stand Type: Square
Swivel (left/right)
EcoEco Sensor
Power
Power Supply: AC 110-240V 50/ 60Hz
Power Consumption (Stand-by): Under 0.3W
Dimension
Set Size (WxHxD) with Stand: 980.2 x 660.9 x 255.0mm
Set Size (WxHxD) without Stand: 980.2 x 597.0 x 80.3mm
Weight
Set weight with stand: 18.5kg
Set weight without stand: 15.1kg
Accessory
Vesa Wall Mount Support (Wall Mount Sold Separately)
Remote Controller Model: TM950
Batteries (for Remote Control)
Power Cable
E-Manual
User Manual
← Back to product description



Full HD 1080p

1920x1080p resolution is an HDTV high-definition video mode characterized by 1080 horizontal lines of vertical resolution. As of 2012, most consumer televisions being sold provide 1080p inputs mainly with HDMI and support full high-def resolutions. 1080p resolution is available in all types of televisions, including plasma, LCD and LED.



Built in DVBT and PAL Tuner

Built IN DVBT and Pal Tuner. Excellent for use outside North America with Analog Pal RF signals and DVBT RF Signals. For use in North America to watch television a Cable, box or Satellite receiver from your cable company is necessary. Or if you will not subscribe to any paid cable a ATSC digital cable converter box can be used to tune TV channels when in North America. If using outside of North America in Africa, Asia, Europe, Middle East, Oceania, or other countries with Pal or DVBT tuning, this TV will work directly with RF Antenna signal. If You have any questions regarding this please call us. With the appropriate setup this TV can be used anywhere in the world.




USB Input

USB stands for Universal Serial Bus. A USB port is a cable connection interface used on personal computers and consumer electronics. USB ports allow stand-alone electronic devices to be connected via cables to a computer or to each other.



WiFi Ready

WiFi ready means that the device is able to use WiFi but requires an adapter. WiFi adapters are fairly inexpensive and usually plug into the USB port. WiFi Ready TV's will always have a standard LAN port to utilize internet features without using WiFi.
← Back to product description