Details
Samsung's new PS-50A550 Full HD 1080 Multi-System Plasma TV; PAL, NTSC and Secam 100-240 Volts:
Samsung's new PS-50A550 Full HD 1080 Multi-System Plasma TV has an elegant design with features to match! And you'll be further impressed when you switch it on. With cinema quality performance and a long list of advanced features including 1,000,000:1 contrast ratio, Natural True Color, Real Motion Studio, Movie Mode and Game Mode, the new Samsung Plasma TV isn't just a pretty face. It even boasts a Power Saving mode for those of you who are environmentally conscious.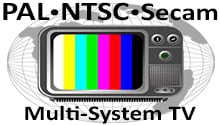 Multi-System TV - PAL, NTSC and Secam
This multisystem TV is compatible with PAL, NTSC and Secam video formats. You can use this television anywhere in the world with ANY type of video device!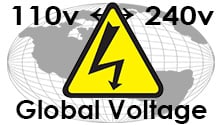 Worldwide Voltage - 110v, 120v, 220v, 230v and 240 volt!
Global Dual Voltage on this Multi-system TV means it can be used anywhere. Multi-voltage TV's can be used in any country with voltage from 110 volts to 240 volts!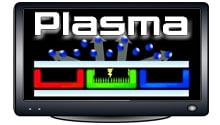 Space-Saving Plasma Flat Panel Technology
Multi-System Plasma TV's offer stunning video performance and a great value. Enjoy High Definition video in a space-saving flat panel design with this multisystem TV.
Samsung's new PS-50A550 Full HD 1080 Multi-System Plasma TV Description:
Designs and specifications are subject to change without notice.
Key Features:
Model: PS-50A550 Multi-System Plasma TV
Screen size 50"/127cm, Aspect Ratio :- 16:9
Tunes TV channels for PAL BG, PAL I, SECAM DK, NTSC M
This is a multisystem TV. All Multi System TVs in the market do not have a digital TV tuner: What does this mean? To watch digital channels (ATSC Broadcasting in US and DVBT broadcasting overseas) you need a digital source/tuner like a cable box, digital tuner, satellite service, etc. To get the best quality video on this TV you need a source that has a digital connection like HDMI or component. We suggest you take a few minutes and read more about this topic on our Help Page at: https://www.world-import.com/info.htm#tuners
1920 x 1080 Full HD - Presenting Full HD Perfection
1,000,000:1 Dynamic Contrast Ratio - Deeper darks and Brighter lights
Brightness : 1,500cd/m2
Filter Bright- astounding skin/common_files/images in any light
Panel Life : 60,000hrs
DNIe+:- Digital Natural Image engine+ - delivering enhanced natural skin/common_files/images
Digital Noise reduction
High Standard in Panel Luminance and Contracts Ratio
1080 24P Real Movie- true to the original
3 Entertainment Modes - A TV made for entertainment
WISELINK expanded capabilities
SRS TruSurround XT
Sounds Output 10 W x 2
Unique FC5 Digital Image Pixel Processor
Digital Color Management
Viewing Angle 175°
Horizontal / Vertical Viewing
Convenient Swivel Stand
Audio Volume Leveler
3 HDMI digital inputs for Hi Definition 1080p HDTV
Component Video 480i/p / 575i/p / 720p(60) / 1080i(50/60) / 1080p
Analog RGB Signal VGA - UXGA / 1080i(50/60)
Composite (RCA) X 1
S-Video X 1
Headphone X 1
Component X 2
PC input X 1
HDMI X 2
RF In X 1
Size (WXHXD) with stand 1231.0 x 849.0 x 316.0mm - Weight 44KG
Size (WXHXD) without stand 1231.0 x 789.0 x 95.0mm - Weight 42KG
Voltage: automatic switching between 100-240 volts 50/60Hz for use world wide
Put it Anywhere
The 3.9" deep PS50A550 gives you the luxury of choosing between hanging your TV on the wall or placing it on a stand



Bright and Vivid Picture

The Samsung PS50A550 offers unrivaled picture quality for your viewing pleasure. Thanks to plasma technology you can view images with amazing clarity, brightness, and contrast. The PS50B450 can display up to 1,070 million colors and is one of the brightest displays with a contrast ratio of 30000:1. All this leads to a much more vivid television experience.


16:9 Wide Screen

You no longer have to deal with cropped off images while watching some of your favorite movies. With its wide screen 16:9 aspect ratio you can now watch movies in their original format. In fact, the 16:9 aspect ratio is one of the most important aspects of the PS50A550 since all future HDTV signals will be broadcast in this format.


Wide Viewing Angle

The PS50A550 offers a completely flat viewing surface with a 160 degree viewing angle. The expansive viewing angle means that you can watch your favorite programs from nearly anywhere in your living room without distortions common to rear-projection TV's or TFT monitors.
Cure for Sore Eyes
Traditionally, video signals are transmitted using an interlacing format where two separate frames are transposed to create one single frame. This results in flicker that can lead to eye fatigue and soreness. This flicker problem is eliminated with the progressive scanning process where video images are transmitted in one single complete frame. The PS50A550 is compatible with all progressive scanning signals from high quality DVD players and HDTV decoders, and other high-end video equipment to produce brilliant flicker-free images.


PC Ready
The PS50A550 is PC ready. You now have the ability to use your plasma TV with any SXGA, XGA, SVGA, or VGA computer video signals*. With Samsung's PS50A550 you not only have a TV, but a 42" computer monitor as well.
Digital Television for Today and Tomorrow
The Samsung PS50A550 allows you to enjoy your favorite TV programming today while being prepared for the future. The PS50A550 is an HDTV monitor and can support both HDTV (1080p, 1080i and 720p) and EDTV/SDTV (480p and 480i) input signals**. This allows you to enjoy the shows of today, with much better picture quality, and be prepared for the future of HDTV offerings
Samsung's new PS-50A550 Full HD 1080 Multi-System Plasma TV Specifications:
Designs and specifications are subject to change without notice.
General Features:
Power Consumption: 380W
Size (WXHXD) with stand 1231.0 x 849.0 x 316.0mm - Weight 44KG
Size (WXHXD) without stand 1231.0 x 789.0 x 95.0mm - Weight 42KG
* An external digital TV decoder is required to view digital television broadcasts where available. Depending on the capabilities of the external digital TV decoder, an external over-the-air antenna may be required to receive over-the-air digital TV broadcasts. At the time of this printing, standards for cable digital TV connectivity have not been finalized. Please check with your cable company for digital broadcast availability and compatibility with your digital TV decoder.
← Back to product description



Built in DVBT and PAL Tuner

Built IN DVBT and Pal Tuner. Excellent for use outside North America with Analog Pal RF signals and DVBT RF Signals. For use in North America to watch television a Cable, box or Satellite receiver from your cable company is necessary. Or if you will not subscribe to any paid cable a ATSC digital cable converter box can be used to tune TV channels when in North America. If using outside of North America in Africa, Asia, Europe, Middle East, Oceania, or other countries with Pal or DVBT tuning, this TV will work directly with RF Antenna signal. If You have any questions regarding this please call us. With the appropriate setup this TV can be used anywhere in the world.
← Back to product description