Details
Pioneer HTZ-767 Multi-System Code Free DVD Home Theater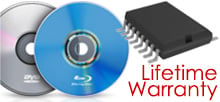 Region Free Playback Guaranteed for Life!
Unlike software or firmware solutions our region free hardware modifications are guaranteed to play Blu-Ray Discs and DVD's from any region for the life of your player!
Pioneer HTZ-767 Multi-System Code Free DVD Home Theater Description:
We will beat any price by 10% of the difference in cost.
Although our modifications are the best in the industry and we offer our Lifetime all region guarantee, we are so confident that our pricing is better than any legitimate competitor that we will not only match it, we will beat it by 10% off the difference to thank you for bringing it to our attention.
Pioneer"s HTZ767DVD 110/220V Home Theater System is powerful home Theater system that delivers clear, quality sound. Featuring four slim and stylish 'tallboy' speakers, the HTZ767DVD is easy to set up and use,and it plays back all the most up-to-date formats, including DivX, the latest video compression technology. The HTZ767DVD also features a USB front input which allows you to connect and play your MP3/WMA/AAC files via a USB memory device. It also has an HDMI output for HD conversion for highest resolution HD video to your plasma, lcd, or hd ready tv. The HTZ-767 is a complete Home theater system with HDMI output, 600 watts power outut, 7500 watts PMPO. It will play movies from any region and convert Pal to NTSC and NTSC to pal so it will play any region dvd on any tv guaranteed.
Pioneer HTZ-767 Multi-System Code Free DVD Home Theater Specifications:
Designs and specifications are subject to change without notice.
Features:
Region Free- All our DVD players will play dvd movies from any region 0,1,2,3,4,5,6,7,8 from anywhere in the world and is backed by our 100% Life Time All Region Guarantee!

NOT ALL CODE FREE MODIFICATIONS ARE THE SAME!!
OUR MODIFICATIONS ARE GUARANTEED FOR LIFE, OFFER EXCELLENT PAL TO NTSC CONVERSION, AND DON'T REQUIRE THE USER TO DO ANYTHING WHEN PLAYING DIFFERENT REGION DVD MOVIES. Our 20 Years of experience with Multi System Pal/NTSC/Secam Electronics has allowed us to perfect our modification technology allowing viewers to watch all kinds of dvd movies from anywhere in the world. Setup is just like any other dvd player. No special instructions or things to do.
Liberate your digital content from the confines of portable devices and PCs as well. This Home Theater System also comes with a USB host terminal, which gives you additional connection possibilities. You can even view a JPEG slideshow, and simultaneously play your favorite music files. Now you can display your photos on your TV for family and friends, all accompanied by your favorite music soundtracks. With an official DiVX certification, this system also lets you create and play DiVX videos beyond your PC. An easy Room Set Up feature, fine-tunes the sound output according to your own environment - you're ready to press play in no time.
DVD Player Features:
Code Free playback of all DVD movies from region 1-6 including RCE/REA movies
Wide disc compatibility: Playback of ALL PAL/NTSC DVD
This player does not need a multi-system TV or a external video converter. Built-in 16MB video converter allows playback of and DVD on any NTSC, Pal or Multi-System TV!
Also plays: DVD-Video, DiVX, DVD+R/+RW, DVD-R/-RW, Video CD/SVCD, CD-R/CD-RW
DiVX: DivX 3.11, DivX 4.x, DivX 5.x, DivX 6.0, DivX Ultra, MPEG1, MPEG2, MPEG4
Music: CD, CD-R/RW and MP3-CD
Picture CD (JPEG) with music (MP3) playback
HDMI output
USB input for direct playback of your MP3 music through the home Theater
Superb audio and video performance
Advanced Class D Amplifierfor compact, powerful sound
DTS, Dolby Digital & Pro Logic II surround sound
Progressive Scan for razor-sharp and flicker free images
Quick and easy set-up
Color-coded Easy-Fit connectors simplify set-up
Easy set-up to initialize your total home entertainment
Power main: 180 Watts (10% THD @ 1 kHz, RMS) - Surround 360 Watts (10% THD @ 1 kHz, RMS)
Progressive Scan
Disc Compatibility
DVD-RW (compatible with CPRM)/DVD-R/DVD+RW/DVD+R/DVD/CD-RW/CD-R/CD/Video CD Playback Capability
Video Processing
DVD - 12-bit / 108 MHz
DivX Certified
DVD Video Conversion - HDMI - DVD 720P & 1080i
Windows Media Compatible
Dolby(R) Digital/Pro Logic II and DTS(R) Decoders
Advanced Surround
6 (Sound Field)
5 Channel Stereo
Bass Modes
2 - Music & Cinema
Bass & Treble Control
Speaker Balance Adjust
6 channel
USB Input - Simultaneous Music and Photo (JPEG / WMA / MP3 / MPEG 4 / AAC Playback
Front Stage Surround
HDMI Output
Component Video Output
Analog Audio Inputs
Headphone Output
Room Setup
AM/FM Tuner
30 AM/FM presets
Sleep Timer
Easy installation with Color Coded Speaker Wires
Front Stage Surround Advance (Focus 5.1/Wide 5.1)
Down-Firing Subwoofer
Power Output RMS 100 W x 6 (satellite x 5, subwoofer)
4 functions (DVD/Tuner/USB/Line)
DVD/SVCD/VCD/CD player
HDMI Digital Interface
USB Terminal
MCACC Mic Input
Progressive Scan (PAL/NTSC)
Built-in DTS/Dolby Digital/Dolby Pro Logic II Decoders
DivX/WMA (Windows Media Audio)/MPEG-4 AAC/MP3 Playback
PhotoViewer (JPEG Playback)
Sound Retriever
PHOTO + MUSIC MIX PLAYLIST for easy song selection
GigaByte Music (DVD Data Disc Playback)
FM/AM 30 Preset Stations
Tall Speaker units: 7.7 cm x 2 + 2.6 cm 2-way, Small Speaker and Centre Speaker units: 7.7 cm, Subwoofer unit: 16 cm
HDMI Digital Interface
HDMI (High Definition Multimedia Interface) is an uncompressed, all-digital audio/video interface. With compatible monitors such as plasma displays, you can enjoy all digital, superior images with no loss in signal processing. A single-cable connection transmits video signals with no D/A or A/D conversion.
Down-Firing Subwoofer
The down-firing subwoofer efficiently disperses sound with little distortion, to fill your room with rich, deep bass. The new innovative design gives quality performance, as well as a stylish look to match your room decor.
Front Stage Surround Advance
Front Stage Surround Advance allows you to enjoy surround sound with all the speakers placed in front. Since wall reflections are not used, the setup is less dependent on the room environment, and speakers can be aligned in front without cumbersome wiring running to the back of your room. Front Stage Surround Advance works by creating a difference in sound pressure perceived by the left and right ears, without altering the sound frequency response. This DSP technology creates excellent sound image and natural sound. Unlike conventional virtual surround methods, you are not left with the feeling of a simulated listening experience even after prolonged periods.
Multi-Channel Acoustic Calibration System (MCACC)
Experience the ultimate home Theater at a push of a button. MCACC creates the ideal acoustic environment for any room with the provided microphone. The self-calibration feature detects speakers and measures the sound field, then fine tunes each speaker to compensate for uneven speaker distance, frequency response, and sound pressure levels. Now you can enjoy soundtracks and music as they were intended by the original sound engineers.
Full-Digital Amplifier
Full digital amplification all the way to the output stage helps minimize sound degradation, and delivers superb sound quality. The compact size of the digital amplifier also provides a slim and stylish design.
Sound Retriever
Compressed audio files such as WMA, MP3, and MPEG-4 AAC, are a great way to store and carry music, but reduced file size means compromised sound quality. Pioneers Sound Retriever DSP technology offers a solution to this problem by restoring the audio data lost during the compression process. The result is high quality, beautifully detailed sound with all the power and life brought back to your favourite music.
Refinement in Every Detail
Foam rubber is used for the speaker edge, giving clear-cut, quality sound reproduction. The subwoofer unit features a new rubber edge and improved damper width. This gives 1.5 times more amplitude than previous models, resulting in rich low frequency sound. Every detail is refined to realize high quality sound.
USB Memory Audio Ready
The units come with a USB terminal on the front panel, allowing easy connection with your digital audio player or USB memory. Music or still photos from various sources can be easily shared with friends and family in the comfort of your living room.
PLAYLIST for Easy Song Selection
No more fuss in skipping songs. The Playlist lets you store your favourite tunes for instant recall and playback. You can create 3 Playlists each containing a maximum of 30 selections.
PHOTO + MUSIC MIX
Play back JPEG still photos and WMA/MPEG-4 AAC/MP3 music files at the same time, with Pioneers PHOTO + MUSIC MIX. You can enjoy watching digital still photos enlarged on your TV screen while your favourite tunes play in the background an ideal feature for parties and various other occasions.
GigaByte Music (DVD Data Disc Playback)
Now you can enjoy your whole archive of PC music in your living room, thanks to Pioneers GigaByte Music System. Just burn your music collection to a DVD data disc for instant playback on your Pioneer home Theater system. The system becomes a jukebox with over 1,000 songs available on a single disc.
DivX Video Playback
The units allow playback of DivX videos burned on a CD-R/CD-RW/DVDR/DVD-RW disc. DivX is a popular media technology including digital video, which ensures a high compression rate and fast transfer speed without appreciably compromising the picture quality. Create a DivX movie on your PC, burn it to a disc, and play it on the Pioneer DVD home Theater system.


Warranty: 1 Year Parts, 90 Days Labor
← Back to product description



DVD All Regions

Region Free DVD Playback. Code Free, Multi-Region, Multi-Zone




Will play DVD movies from anywhere in the world.




Plays DVDs from any region including region 0, 1, 2, 3, 4, 5, 6, 7 and 8


Region Free Playback Guaranteed for Life!



DivX Compatible

With DivX® support, you are able to enjoy DivX® encoded videos.




HDMI Output

HDMI output with output resolution selection to the max your tv can handle: 1080p, 720p, 1080i, or 720i




Progressive Scan

Progressive scan




PAL / NTSC conversion

Works on any TV, anywhere in the world.




Will convert NTSC to PAL and PAL to NTSC with perfect picture quality.




Plays Pal NTSC and Secam DVDs on any TV with Perfect video conversion.




World Wide Voltage

Works with world wide electricity 100-240 volts volts 50/60 hz. Can be used with electricity in North America or any other place in the world.ALL of our Multisystem TV's operate on ALL Global voltages, including 110, 120 Volts and 220, 230, 240 Volts.



USB Input

USB stands for Universal Serial Bus. A USB port is a cable connection interface used on personal computers and consumer electronics. USB ports allow stand-alone electronic devices to be connected via cables to a computer or to each other.



1080p Upconversion

HDMI upconversion will convert your analog video signals to offer a much clearer, sharper HD image, with less artifacts
← Back to product description