Details
Pioneer HDMI 1080p Region Free DVD Player With USB input and Divx
Modified to Play any region DVD movie from anywhere in the world, on any TV guaranteed or your money back! Play Divx, WMA, Xvid, MP3, MPEG4, and many other downloads from your computer. USB input to play Audio and Video files from a USB storage device, or a MP3 Player. Upgraded 100-240 volts power supply, resistors, transistors, and diodes for Longest durability. LIFETIME guarantee on our Region free modification. Play any region DVD movie from anywhere in the world on any TV Guaranteed. This player is modified For Region Free using the ULTRA ICOS Diamond Class modification backed by our Lifetime Region free Modification Guarantee. (We guarantee that this modification will allow you to play any region original DVD from anywhere in the world or your money back).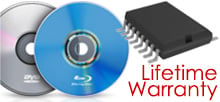 Region Free Playback Guaranteed for Life!
Unlike software or firmware solutions, our region free hardware modifications are guaranteed to play DVD Discs and DVD's from any region for the life of your player!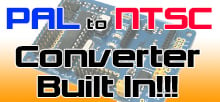 This DVD Player Requires No Extra Video Converter!
No matter where in the world you are, this player works with any TV. Built in NTSC to PAL and PAL to NTSC conversion guarantees DVD playback anywhere!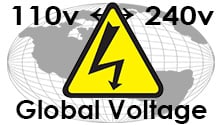 Worldwide Voltage - 110v, 120v, 220v, 230v and 240 volt!
Global Dual Voltage on Blu-Ray Player means it can be used anywhere. Multi-voltage Blu-Ray Player can be used in any country with voltage from 110 volts to 240 volts!
Pioneer 1080p HDMI Multi Region DVD Player Specifications
Designs and specifications are subject to change without notice.
Plays:
DVD-Video, SVCD, VCD, CD, CD-R/-RW
DVD-R/-RW, DL/-RW (Video mode, VR mode with CPRM)
DVD+R/+RW, DL/+RW (Video mode)
File formats: DivX, MP3, WMA and JPEG
Terminals
1 x USB (Playback)
1 x HDMI out
1 x Coaxial out
1 x Video out
1 x Audio out
1 x Component Video out
1 x Mic In
HDMI (+): Yes
Sound Retriever (+): Yes
Video Signal D/A Converter 108MHz/12-bit
Dimensions (W x H x D): 360 x 42 x 200 mm
Weight: 1,3 kg
Power Consumption (in use/standby)(+): 11 W / 0.7 W
Playback
DivX (+): Yes
JPEG Playback (+): Yes
JPEG with music playback Yes
MP3 (+): Yes
WMA (+): Yes
10-Key Direct Search & Play (+): Yes
Audio Features
96 kHz/24-bit D/A Converter: Yes
Dolby Digital (+): Yes
DTS: Yes
Digital Audio Output DTS (DVD) & Dolby Digital, MPEG Audio, Linear PCM
DSP Modes Rock, Pop, Live, Dance, Techno, Classic, Soft
Dynamic Range Control: Yes
Dialogue (+): Yes
Total Harmonic Distortion(+): 0,0065%
Frequency Response: 4 Hz - 44 k Hz
Signal-to-Noise Ratio (+): 115 dB
Dynamic Range (+): 88 dB
Video Features
HDMI 1080P Upscaling

PAL/NTSC Dual System: Yes
PureCinema Progressive Scan: Yes
I/P Simultaneous Output (+): Yes
Video Adjust (+): Yes
Deep Colour (+): Yes
Miscellaneous
Remote Control Unit: Yes
Auto Power-Off: Yes
Power Requirements AC 110 - 120 - 220 - 240V, 50/60 Hz
Pioneer 1080p HDMI Code Free DVD Player Product Description
100-240 volts for world wide use
Built in 128 MB PalNTSC converter for perfect playback of foreign movies on any tv
Play any normal DVD movie from anywhere in the world and up-converts to HD quality for your TV via HDMI
USB input to play Audio and Video files from a USB storage device, or a MP3 Player
CD to USB MP3 Recording / easy conversion: New feature allows you to connect a MP3 player to the dvd player using the USB input. Then you put in a Audio CD, and it automatically copies the files from your audio CDs to your MP3 player.
Play region 0,1,2,3,4,5,6,7,8 and any other region DVD movie on any tv guaranteed!!!
Plays all formats of video broadcast from anywhere in the world including Pal, Secam and NTSC, on any TV.
This player has all the outputs for older TVs and new ones. Works with simple Yellow/Red/White composite cables for older TVs, as well has component and HDMI cables for the really new TVs and everything in between
Full 1080p Ultra High Definition up-conversion via HDMI.
Also supports 480i/480p/720p/1080i and 1080P
NO SPECIAL TV OR ADDITIONAL EQUIPMENT NEEDED TO PLAY FOREIGN FILMS OR MOVIES
SUPERB COMPATIBILITY WITH RE-RECORDED DISCS FROM CHINA OR OTHER PLACES IN THE WORLD INCLUDING CD-R, CD-RW, DVD-R, DVD-RW, DVD+RW, DVD+R, DUAL LAYER, MPG-4, DIVX, WMA, JPGES, VCD, SVCD, MP3, WMA, AVI, and MANY OTHER FORMATS.
This player plays almost any disc you will put in it.
Ultra 128 MB PalNTSC Video converter Built In
Perfect picture quality even when playing foreign movies!
Virtually No picture loss when playing Pal DVD on NTSC tv or vice versa
100-240 volts for world wide Use
100% Money back guarantee. If this player does not perform as advertised, we will not only give you a full refund including shipping, but we will also pay for return shipping. This only applies if the unit does not do what we say. If you have received a defective unit, we will replace it within 30 days and pay for all shipping expenses.
← Back to product description



DVD All Regions

Region Free DVD Playback. Code Free, Multi-Region, Multi-Zone




Will play DVD movies from anywhere in the world.




Plays DVDs from any region including region 0, 1, 2, 3, 4, 5, 6, 7 and 8


Region Free Playback Guaranteed for Life!



DivX Compatible

With DivX® support, you are able to enjoy DivX® encoded videos.




HDMI Output

HDMI output with output resolution selection to the max your tv can handle: 1080p, 720p, 1080i, or 720i




Progressive Scan

Progressive scan




PAL / NTSC conversion

Works on any TV, anywhere in the world.




Will convert NTSC to PAL and PAL to NTSC with perfect picture quality.




Plays Pal NTSC and Secam DVDs on any TV with Perfect video conversion.




World Wide Voltage

Works with world wide electricity 100-240 volts volts 50/60 hz. Can be used with electricity in North America or any other place in the world.ALL of our Multisystem TV's operate on ALL Global voltages, including 110, 120 Volts and 220, 230, 240 Volts.



USB Input

USB stands for Universal Serial Bus. A USB port is a cable connection interface used on personal computers and consumer electronics. USB ports allow stand-alone electronic devices to be connected via cables to a computer or to each other.



1080p Upconversion

HDMI upconversion will convert your analog video signals to offer a much clearer, sharper HD image, with less artifacts
← Back to product description