Details
Pioneer DV-430 Region Free DVD Player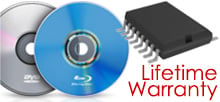 Region Free Playback Guaranteed for Life!
Unlike software or firmware solutions, our region free hardware modifications are guaranteed to play DVD Discs and DVD's from any region for the life of your player!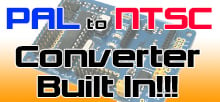 This DVD Player Requires No Extra Video Converter!
No matter where in the world you are, this player works with any TV. Built in NTSC to PAL and PAL to NTSC conversion guarantees DVD playback anywhere!
Pioneer DV-430 Region Free DVD Player Specifications
Designs and specifications are subject to change without notice.
Video:
Dual-Layer DVD-R/DVD/DVD-R/DVD-RW/DVD+R/DVD+RW CompatibleSVCD/VCD/CD/CD-R/CD-RW CompatibleHDMI Upscaling (to View on 1080p) & Terminal for Digital Audio/Video OutWMV (Windows Media Video) CompatibleOfficial DivX Certified ProductCompatible with All Versions of DivX Video (including DivX 6) with Standard Playback of DivX Media Files108 MHz/12-bit Video DACPureCinema 2:3 Progressive ScanI/P Simultaneous OutputJPEG PhotoViewer (Fujicolor CD)Video Adjust Function with Sharpness/Brightness/Contrast/ Gamma/Hue/Chroma Level ControlZoom Function: Yes
Audio:
96 kHz/24-bit Audio DACUSB Input for Compressed Music PlaybackWMA (Windows Media Audio)/MP3/MPEG-4 AAC Compressed Music Playback CompatibleDTS (Digital Theater System) 2-Channel Decoding & Dolby Digital OutputDialogue EnhancerVirtual SurroundSound Equalizer (Rock/Pop/Live/Dance/Techno/Classic/Soft)
Convenience:
Photo + Music Mix (JPEG Slideshow with Music)
Advanced GUI: Yes
Disc Navigator for Easy Browsing: Yes
Resume Function: Yes
Screen Saver: Yes
Auto Power Off: Yes
Last (Position) Memory: 5 (DVD)/1 (VCD) It will remember your place where you left of the last disc. So you can start watching from the same spot.
Terminals:
Component Video Output (DVD, Video CD)
1 HDMI Terminal: Yes
1 USB Input: Yes
1 Coaxial Digital Output: Yes
1 S-Video Output: Yes
1 Audio/1 Video Output: Yes
Approximate Dimensions:
Width: 16-9/16" (420mm)
Height: 1-15/16" (49.5mm)
Depth: 8-7/16" (215mm)
Approximate Weight:
Net: 3 lbs. 15 oz. (1.8 kg)
Shipping: 9 lbs.
Pioneer DV-430 Region Free DVD Player Product Description
6 FT Heavy Duty Professional Grade V1.3a HDMI cable, Gold plated. $59 Value.
The latest revision for HDMI V1.3a doubles the bandwidth of the original and has opened the door for a host of potential new advancements in Home Theater Audio/Video performance. New features such Dolby True HD, DTS HD Master Audio, and Deep Color require higher bandwidth cables than ever before. Equipment manufacturers are bringing out new devices to take advantage of these new features. We recommend to use V1.3 Gold Plated High quality Heavy Duty HDMI cables with your new purchase. With our Special offer, you will receive this cable free with your purchase of this item.

LCD and Plasma Screen Cleaner and Micro Fiber Fleece Cloth $39 Value.
Everyone now knows how important it is to use the proper cleaner and cloth on your LCD or Plasma TV. LCD and Plasma screens are not actually glass and can not be cleaned with a glass cleaner. You need to use a special micro fiber fleece cloth and a special non-drip cleaning liquid to clean your TV. Using an improper cleaner may cause damage to your screen and cause scratches, streaks, or may strip away the protective finish of your TV; We always recommend to use Special Screen clean and fleece cloth to clean your TV. As a bonus we will include a full size 200ml bottle (good for about 50 cleanings) and a Micro Fiber Fleece Cloth with your order. We would like you to enjoy your new purchase with a clean LCD or Plasma TV with no dust, fingerprints, or dirt.
Free upgrade to Expedited ground Delivery, Guaranteed within 1-5 Business days. (Pay for normal shipping and get expedited shipping)
← Back to product description



DVD All Regions

Region Free DVD Playback. Code Free, Multi-Region, Multi-Zone




Will play DVD movies from anywhere in the world.




Plays DVDs from any region including region 0, 1, 2, 3, 4, 5, 6, 7 and 8


Region Free Playback Guaranteed for Life!



DivX Compatible

With DivX® support, you are able to enjoy DivX® encoded videos.




HDMI Output

HDMI output with output resolution selection to the max your tv can handle: 1080p, 720p, 1080i, or 720i




Progressive Scan

Progressive scan




PAL / NTSC conversion

Works on any TV, anywhere in the world.




Will convert NTSC to PAL and PAL to NTSC with perfect picture quality.




Plays Pal NTSC and Secam DVDs on any TV with Perfect video conversion.




World Wide Voltage

Works with world wide electricity 100-240 volts volts 50/60 hz. Can be used with electricity in North America or any other place in the world.ALL of our Multisystem TV's operate on ALL Global voltages, including 110, 120 Volts and 220, 230, 240 Volts.



USB Input

USB stands for Universal Serial Bus. A USB port is a cable connection interface used on personal computers and consumer electronics. USB ports allow stand-alone electronic devices to be connected via cables to a computer or to each other.
← Back to product description